Bella Hadid Shares Adorable Throwback Snaps of First Job
Bella Hadid has shared throwback photos of her first job.
Before establishing herself as one of the most sought after models in the fashion industry, Hadid previously worked at Sunlife Organics as a 15-year-old.
Hadid, now 24, took to Instagram to share three pictures of herself working in the Malibu, California juice bar.
In the snaps, she's seen pitting dates, holding an acai bowl, and holding a massive ginger root.
She used the throwback post to tease an upcoming announcement, writing in the caption: "15 yr old Me @ my first job would have never expected to have achieved what is about to happen tomorrow.
"I am so grateful!!!!! I can't wait to show you one of the biggest blessings in my life... Stay tuned."
Older sister and fellow model Gigi Hadid commented commending the skills she picked up while working there, writing "U made rlly good bowls ngl."
Former step-sister Erin Foster joked: "I have a photo of you flipping me off standing in that same spot."
Hadid's father real estate developer Mohamed commented "Fill me in people."
It's Hadid's latest throwback post, having previously shared photos of her and Gigi as children in a photo dump.
In the first snap, she and Gigi pose in identical outfits complete with matching flower crowns, while in another they both showcase their early modelling talents in headshots with pigtails and floral bandanas on the beach.
Speaking to Harper's Bazaar last month, 26-year-old Gigi explained their family dynamic: "When dealing with family stuff and world issues, my mom calls me the brain and Bella the heart.
"My brother is half and half. Whatever the family dinner-table discussion is, Bella will be very emotional and compassionate, and I'm sitting there pulling up charts and infographics," she said
"My mom is just very Dutch and to the point. And my dad's a storyteller."
Hadid was photographed in London recently hanging out with singer and her younger brother Anwar's girlfriend Dua Lipa.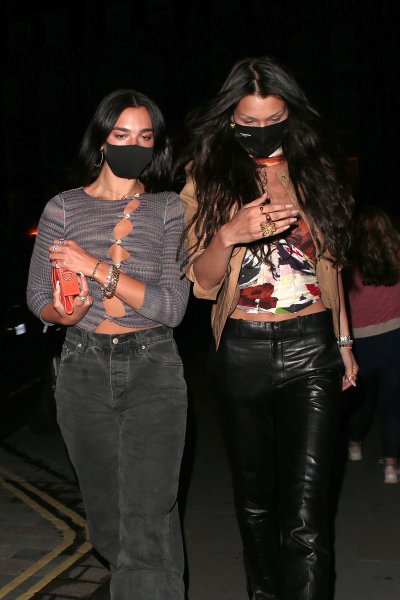 The pair were spotted heading to celebrity favorite hangout Persian restaurant Berenjak.
Sunlife Organics was co-founded in 2011 by recovering heroin addict Khalil Rafati.
After living in Skid Row, Rafati decided to get clean and sober and was introduced to juicing by a friend.
He would regularly visit a juice bar where Hayley Gorcey worked and they would talk about organic superfoods.
While still studying at UCLA, Gorcey quit her job to help Rafati run his sober living facility Riviera Recovery before he sold it and the pair opened Sunlife Organics.