Bella Hadid has blown fashion fans away with a striking red carpet appearance at this year's Cannes Film Festival.
The 24-year-old model turned heads in a jaw-dropping statement piece from the Schiaparelli Haute Couture Fall-Winter 2021/22 collection.
Taking to the red carpet at the 74th annual Cannes Film Festival for the premiere of Tre Piani (Three Floors) by Nanni Moretti, Hadid wore an avant-garde gown designed by Daniel Roseberry.
The dress itself features an eye-catching gold-dipped and rhinestone-adorned necklace in the shape of the bronchi passageway of the lungs.
The hardware feature of the gown is offset by the black form-fitting wool column dress.
According to the Schiaparelli website, the dress is made of wool crepe and the necklace is "gilded brass necklace in the shape of trompe l'oeil lungs, which is adorned with rhinestones."
The dress has wowed Cannes viewers and fashion fans alike, with photos of Hadid circulating prominently on social media.
"Bella Hadid wearing Schiaparelli Couture Fall 2021 at #Cannes2021. Look at that NECKLACE," read one tweet.
Another added: "BELLA HADID IN SCHIAPARELLI AW21 COUTURE????? HELLO??????"
One viral tweet, with almost 300,000 likes, is simply captioned: "HELLO??????????????????????????????????????????"
While another added: "No one's doing the Cannes red carpet like her. NOBODY."
Another tweet read: "This is beautiful, incredible and everything all at once."
Meanwhile, designer and illustrator Hayden Williams described the look at "breathtaking."
Hadid has used the Cannes red carpet to show off many of her daring looks in the past.
On Cannes' opening night last week, Hadid wore a vintage white Jean Paul Gaultier column gown with a dramatic black sheer train and halter-neck and completed the look with Chopard jewelry in what was the model's biggest red carpet event since before the pandemic.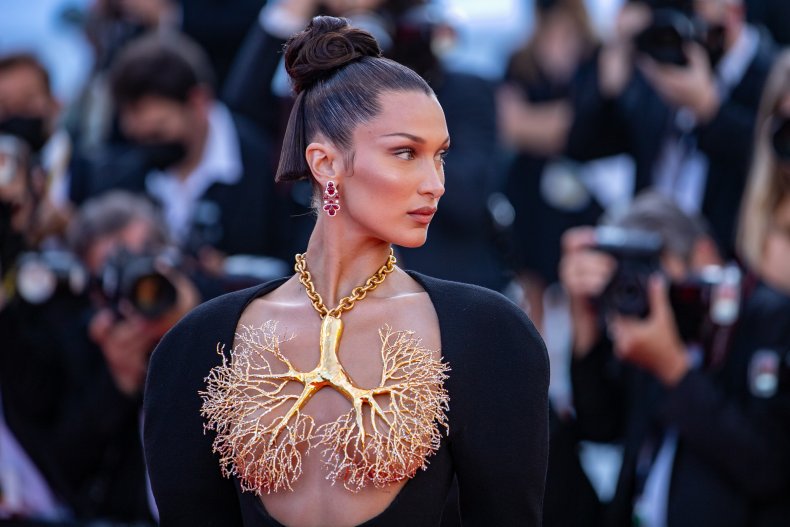 Speaking about life during lockdown, Hadid spoke to Elle about missing seeing people and working.
"I miss smiling at people. I miss hugging, a lot," she said and discussed how she missed New York after quarantining on her family's Pennsylvania farm.
"I miss walking around and listening to music," she said. "It's different when you're in the city. You can walk forever—going nowhere and somehow still feeling like you've got somewhere to be."
Of working, she added: "After a few years of being a workaholic—not being home for more than five days—I found spending three months at home [intense]."