Bella Thorne and Other Celebs Who Came Out As Pansexual
In an interview for ABC News earlier this week, Bella Thorne revealed that she is pansexual rather than bisexual. Thorne had come out as bi on Twitter in 2016, but the former Disney star says she now identifies differently.
"I realized recently I'm actually pansexual and I didn't know that," she said. "Somebody explained to me really thoroughly what that is and I am pan."
Someone who identifies as pansexual is attracted to a person of any gender and any kind of sexuality. It is defined as, "not limited in sexual choice with regard to biological sex, gender, or gender identity."
Thorne explained, "You like beings. You like what you like. Doesn't have to be a girl or a guy or a he, a she, a they, or this, or that. It's literally you like personality. You just like a being." Thorne was in a polyamorous relationship with YouTuber Tana Mongeau until earlier this year. She's currently dating Italian singer Benjamin Mascolo.
Thorne has been very open about her sexuality and body in the past. She had recently been the center of controversy when a hacker threatened to leak her nude photos. She took a pre-emptive strike and posted several of the photos to her own Instagram story. She explained in a notes app image, "For too long I let a man take advantage of me over and over and I'm . . . sick of it. I'm putting this out because it's MY DECISION NOW U DONT GET TO TAKE YET ANOTHER THING FROM ME."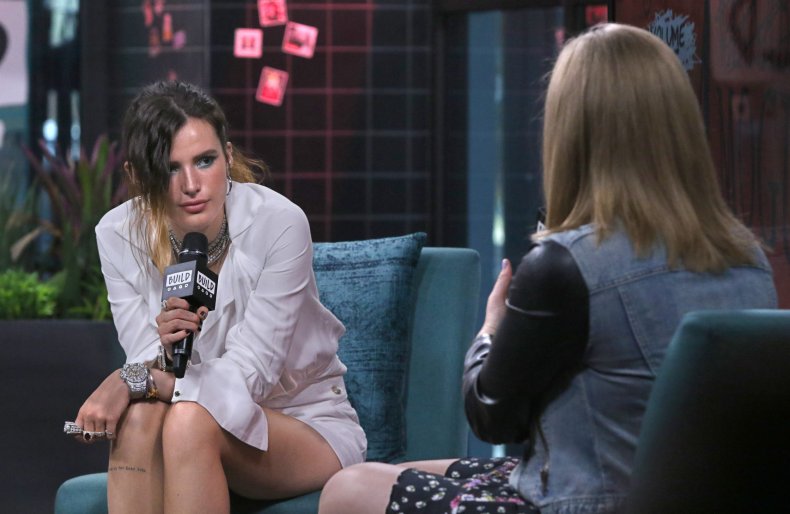 Thorne is not the first celebrity to go public as pansexual. In fact, it was singer Janelle Monáe, when she came out as pansexual in a Rolling Stone interview in April, 2018, who brought the concept into the mainstream. According to Junkee.com, online searches for the term 'Pansexual' rose by 11,000% following the release of the Rolling Stone interview.
After initially identifying as bisexual, Monáe said in the interview, "but then later I read about pansexuality and was like, 'Oh, these are things that I identify with too.' I'm open to learning more about who I am."
Singer Miley Cyrus is also pansexual, and she told Elle on July 11 that she was "still very sexually attracted to women despite being married to Liam Hemsworth."
In 2016, she told Variety, "I went to the LGBTQ center here in L.A., and I started hearing these stories. I saw one human in particular who didn't identify as male or female. Looking at them, they were both: beautiful and sexy and tough but vulnerable and feminine but masculine."
Other celebrities who have come out as pansexual or gender fluid include but are not limited to Sia, Kesha, Héloïse Letissier from Christine and the Queens, Amber Heard, Courtney Act and Sarah Paulson.