Bellator 214: Jake Hager Moves from the Squared Circle to the Ring for His MMA Debut
There's a short list of professional wrestlers who made the jump to the MMA world, and an even shorter list of those who have done so successfully. Jake Hager, also known as Jack Swagger during his time in WWE, looks to join the short list this weekend as he makes his MMA debut at Bellator 214.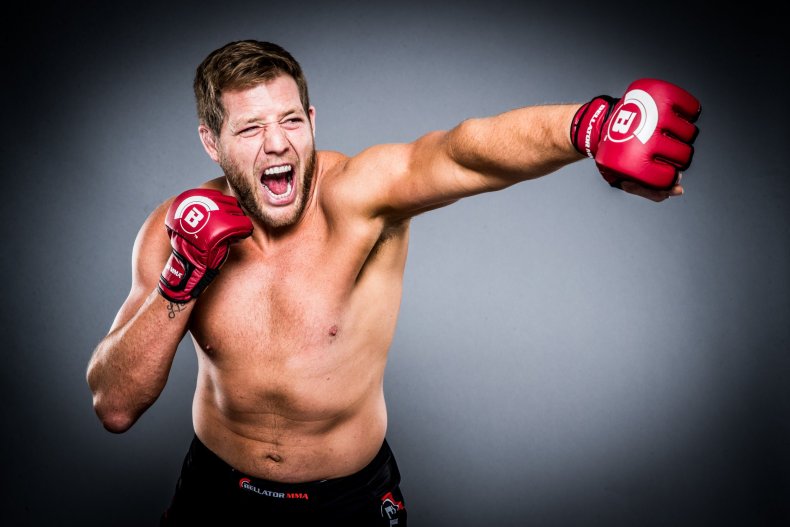 Hager spoke with Newsweek ahead of his fight to talk about preparing for the match, his future in MMA and his thoughts on the "red hot" independent wrestling scene he is proud to take part in.
"It was a huge risk for me to leave WWE and pursue an MMA career," Hager told Newsweek . "It's been a very special journey training to become a professional fighter while continuing to wrestle on the hot independent wrestling scene."
Hager says he's in a "very special place" right now, which makes it the perfect time to pursue an MMA career. "My body is peaking physically and mentally. I'm very focused," he said. "It's a huge opportunity to go out there and make a lot of money for my family and even a bigger opportunity to put myself in the driver's seat moving forward with whatever I want to do."
Hager first gained fame as an All-American wrestler at University of Oklahoma, and his wrestling abilities will come in handy during his Bellator debut. MMA requires competitors to be well-rounded fighters, and Hager has spent his time training in jiu jitsu and sparring to add to his arsenal.
"There are so many disciplines in MMA, and each one can take a whole lifetime to master," said Hager. "Two years is definitely not enough time for most people to make that transition, but I'm not most people. I feel confident in my wrestling and can rely on my conditioning. I also use the cage as my friend."
It was an uphill battle for Hager to prepare himself for his debut. "I had just left WWE and I was in my comfort zone. My coach joked I wasn't in bad shape, I was in no shape," he said. However, thanks to surrounding himself with like-minded people all working to help Hager make the jump to MMA, he feels like the risk is much more manageable.
Hager recognizes how fortunate he is to debut on such a big stage, especially for his first-ever MMA fight. "To debut in the pro MMA world with Bellator on arguably their biggest card of the year, in Los Angeles, at The Forum, the finals of their Heavyweight grand prix is the main event. It's quite the honor," he said. "Many will say I don't deserve it, but I don't listen to those people. I'm going to prove that on January 26."
Once the bell rings for Hager's main card match, he believes both he and his opponent J.W. Kiser will come out swinging. "I'm expecting this fight to be a hard-hitting match," he said. "I don't expect it to go long. I expect the fight to be over pretty quickly."
Hager plans to use his wrestling abilities, but doesn't want to exclusively rely on them. "My gameplan will definitely involve wrestling and using the cage. I'm the only MMA fighter in the world who can say the cage is his best friend," he said. "I'll be lying if I said I didn't have any tricks up my sleeve."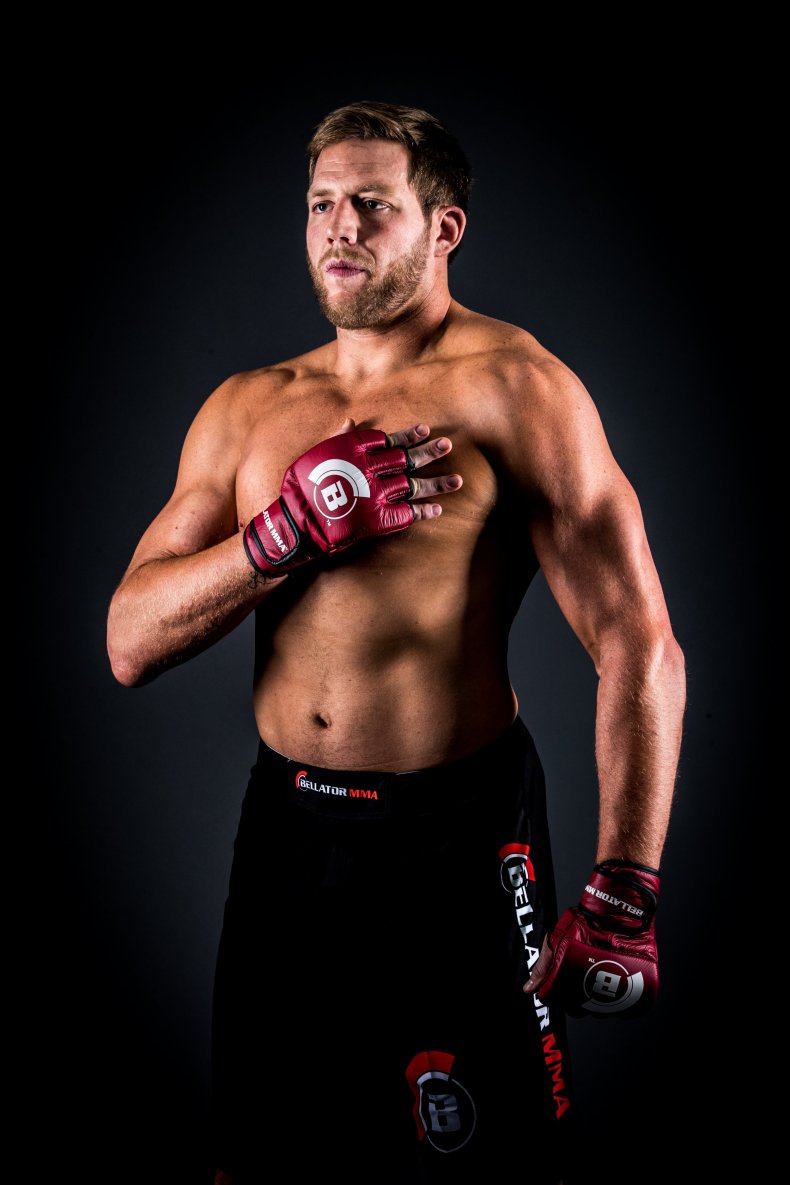 While Hager has a desire to fight multiple times in 2019, he still has plans to continue his pro wrestling career as well. While he recognizes the difficulty of mixing a pro wrestler's travel schedule with an MMA fighter's training schedule, Hager recognizes the independent wrestling scene is bigger now than it has been in years. "The landscape of the indie scene is dramatically changing," he said. "I'm definitely not walking away from that. I want to be a part of that."
You can't talk about independent wrestling right now without bringing up All Elite Wrestling, the new promotion from The Young Bucks, Cody Rhodes and Jacksonville Jaguars owner Shahid Khan and his son Tony. Hager is excited about the new promotion, and has invited the Young Bucks, Rhodes and Kenny Omega to Bellator 214. "It looks like they are really knocking on the door of something great. I think everyone wants to work with them and for a great company like that," he said. "Hopefully down the line I'll be wearing AEW colors."
"Whether you hate me or love me, tune in," Hager said. "If you hate me, tune in to see me get knocked out, if you love me tune in to see my hand raised in the air. You do not want to miss this card, it's unbelievable. I promise I will not disappoint, I've been working too hard for this."
Bellator 214 takes place this Saturday, January 26 at The Forum in Ingleside, California. The prelims begin at 6:30 p.m. EST, with the main card starting at 9:00 p.m. EST. Bellator 214 can be watched on the Paramount Network or through DAZN.
So what do you think? Are you excited to see Jake Hager make the jump to MMA? Who do you think will win the fight? Let us know your thoughts in the comments section below.