Who is Belle Delphine? 19-year-old Instagram Model Sells Her Own Bath Water for $30 a Jar
An Instagram model who has almost 4 million followers to her account began allowing her fans to purchase her bathwater for $30 a bottle, with them selling out within three days.
19-year-old cosplay star Belle Delphine has created a large following for posting racy pictures on social media. On Tuesday, she announced that she would be selling her own bath water for $30 a bottle to her fans.
"i am now selling my BATH WATER for all you THIRSTY gamer boys...check out my new shop where im selling stuff for you!!" she wrote on Instagram. She pointed out the absurdity of selling such a product by writing on Twitter: "this is what humanity has come to."
A disclaimer for the product on Delphine's online store stated, "This water is not for drinking and should only be used for sentimental purposes."
She went on to post an update on Thursday to state that all bottles had sold out.
"So my bath water SOLD OUT wtf.... i will be making some more soon but its been honestly a weird couple of days taking SO many baths LMAO," she wrote.
Delphine added, "i didnt expect this many people to be so interested, but if you wanted one...they will be back soon!"
A number of people commented on her Instagram video announcing the news that they couldn't believe so many people had purchased the product. "God why can't people get famous for having true talent. It's sickening," one person wrote, while another said "i have lost hope in humanity."
But others praised Delphine's ability to sell seemingly anything to her audience. "Honestly we love a capitalist queen that manages to market and sell bath water," one person wrote.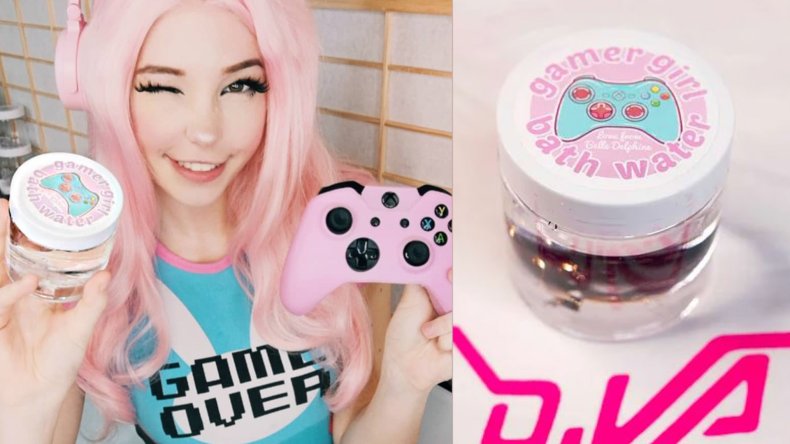 Delphine told Newsweek that she was inspired to sell her own bath water after receiving joking requests from her fans.
"I got the idea to sell my bathwater because I was receiving so many comments from people on my Instagram asking me to see my bathwater as a joke. But I wondered if I actually were to take the joke seriously and sell my bathwater if there would be people out there that would buy it," she said.
"I sold around 500 units, far more than I expected and I had to rebuy containers as I didn't have enough! and I was very surprised at the huge response I got, I didn't think my bathwater would get this much attention, Delphine added.
While the Instagram star said she wouldn't be selling any more bath water in the future, she did tell Newsweek "I have many more ideas for the future!"
This is not the first stunt the Instagram star has pulled. In June, Delphine told her followers that she would make an account on popular adult website PornHub when her photo received over 1 million likes.
When the image attracted that number, she went ahead and created an account. But rather than show anything sexual, she posted a number of strange non-explicit videos such as "PEWDIEPIE goes all the way INSIDE Belle Delphine," a minute-long clip of Delphine eating a picture of Swedish YouTube star PewDiePie and winking throughout.
Delphine, who hails from the U.K., first began posting on Instagram on September 3, 2018. On her Patreon page, where fans can donate to support her content from $1 a month, her bio reads: "I live in the rainy, windy and sometimes sunny UK with my lovely little family of hamsters which I look after. I love painting, drawing, ice-skating and just being creative and designing things!"