Mamoru Hosoda on How 'Belle' Depicts Real-Life Child Abuse Crisis
Mamoru Hosoda, one of Japan's most prolific animated film directors, has returned with his newest production Belle, which is out in theaters in the U.S. now and will be given a theatrical release in the U.K. on Friday, February 4.
The film follows young high school student Suzu, who is struggling with her grief following the loss of her mother at a young age and rediscovers her voice through the virtual world of "U," where she becomes a singing sensation under the pseudonym Belle.
But, while "U" helps her learn to sing again, it also brings her to the attention of a monstrous creature named Dragon who she realizes is a person only she can help, and she embarks on an emotional journey to unveil the real identity behind this "beast."
Hosoda spoke to Newsweek while attending the BFI London Film Festival ahead of the film's premiere at the event, and he discussed the inspiration behind the film, including the real-life crisis he wanted to highlight through it.
**Warning: This article contains some spoilers for Belle**
Examining a Real-World Problem Through Animation
In a similar way to his 2015 film The Boy and the Beast, Hosoda uses Belle to touch on a very important, and difficult, subject: child abuse.
Through her journey to discover the Dragon's real identity, Suzu learns that despite his monstrous exterior he is, in fact, a young boy named Kei who is being abused by his father alongside his younger brother, Tomo.
The siblings use the world of "U" to escape the real-world for a few hours, and Kei's online persona is simply how he presents himself outside of his abusive home life as a defence mechanism.
"The reason that I wanted to show this situation that you wouldn't normally see in an animated film is because it's based on the internet, in this online world, and it needed to show these social problems for that reason, because everyone has secrets," Hosoda explained.
"Everyone has things that they will never tell anyone that they hide. Even if someone tells you they have no secrets, they do. There is always something that you feel you can't tell anybody, that's the nature of society today, that we feel we can't share or problems or our secrets.
"But, the internet is a place where anonymity can allow us to share [our] secrets and that can really save some people. Even the opportunity to let it out just a little bit can really lighten the load. Which is why it was important to show that."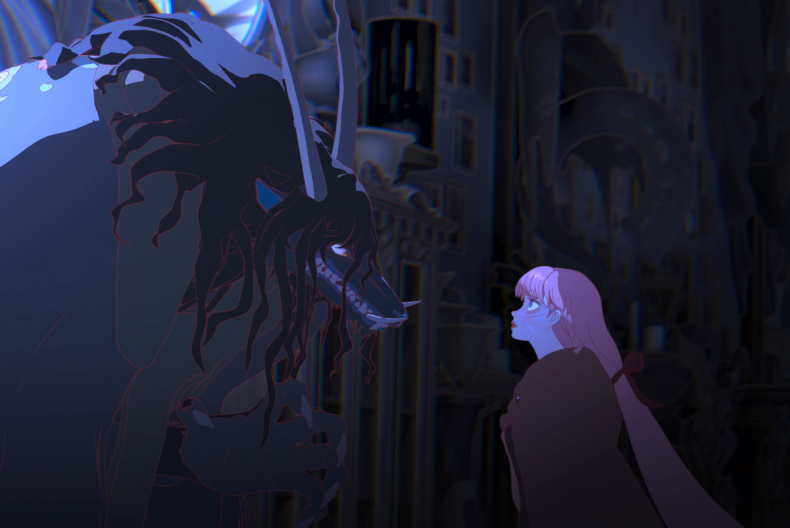 Hosoda went on: "In Suzu's case, it's this trauma that she feels about the loss of her mother that she can't really tell anyone, and that how that is alleviated over the course of the film.
"And then in the case of the boys, Kei and Tomo, as children, there's no way that they could say in the real world that their parents [are] abusing them.
"Abuse in the family, child abuse within a family, is incredibly hard to unveil because it will happen within the home and the parents will hide it, of course. The children are forced to hide it, and they will never tell anyone.
"I don't think it's just Japan, I think [it] happens everywhere. But the internet has the power to reveal these things that are overlooked or hidden and that's what happens with Kei and his secret, and how that comes to light.
"I think if we just ignore these social problems and don't show them in animation [we're] pretending they don't exist, and I don't think that's necessarily right, especially with the numbers of child abuse cases increasing during the coronavirus [pandemic].
"We need to be talking about this for the sake of the children and be aware of it, and, as a parent, I always feel a sense of conflict when I see new stories about child abuse because it's really hard [seeing that as] a parent, and it's something I can't ignore.
"So, I really wanted to have the courage to not sweep it under the rug, but actually to show this as a real problem."
Doing the Research to Give an Accurate, Sensitive Portrayal of Child Abuse
Hosoda reiterated how important it was for him to research the topic and he told Newsweek he worked alongside organizations who help children in a similar situation to Kei and Tomo, and was something he started looking into for The Boy and the Beast.
The filmmaker said: "I have done research and talked to various agencies, I've been doing that since the point of The Boy and the Beast actually, because not many people notice but that is a story of neglect. Not all children will be taken to another world and brought up by beast.
"I've spoken to places I suppose [would be] the equivalent of social services and the Child Protection Agency in children's homes, places like this, that I've spoken to and they told me before it was even in the news about this problem of child poverty in Japan that has been increasing, [and] has been an increasing problem since since 2010."
Reflecting on how he wanted to give an accurate representation of this problem, he went on: "Also, in this new liberal economy that we live in, there is increasing inequality.
"In Japan, the gap between rich and poor is growing and even in a developed nation like Japan there are more and more children who don't have enough food to eat and who aren't getting a proper education.
"That's something that I've learned about from talking to these agencies and as I've researched that sort of led to the themes that I've featured in this film. So, it's something that I've been continually following.
"My films always feature how children and young people grow and change, and this is central to that. So, the problems facing children in society are something that I'm always trying to to keep on top of."
Belle is out in theaters across the U.S. now and will be given a theatrical release in the UK on Friday, February 4.
Anyone seeking help should call The National Domestic Violence Hotline, a free and confidential hotline available 24/7 that can be reached on 1-800-799-7233 or TTY 1-800-787-3224. The Hotline also provides information on local resources. For more information visit https://www.thehotline.org/.