Belmont Stakes: Latest Weather Forecast, Track Conditions Update
Weather conditions should not be a factor in the final leg of the American Triple Crown, which is expected to be run in almost perfect conditions.
Rain caused havoc at the Kentucky Derby last month but there are no such concerns for the Belmont Stakes, which is scheduled for Saturday, June 8 in its traditional home of Belmont Park in Elmont, New York.
By the time horses take to the post at 6:48 p.m. ET, near-perfect weather conditions are forecast. The Weather Channel forecasts the weather to be partly cloudy but with no chance of rain and temperatures between a low of 64 degrees and a high of 80.
AccuWeather, meanwhile, has an even rosier forecast. The weather service expects the weather to be mostly sunny, with temperatures between a low of 60 degrees and a high of 79.
"We expect sunshine, low humidity and a light breeze for post time at Belmont Park," said AccuWeather senior meteorologist Dave Dombek. "The weather should be enjoyable for all."
Sunny weather should ensure the one-and-a-half-mile-long track has plenty of time to recover from the wet weather that moved through New York early on Thursday.
News of the nice weather will be welcomed by jockeys and trainers aside after the Kentucky Derby was marred by heavy rain which left the track very muddy.
Bookmakers' favorite Tacitus and the other nine horses in the field will instead be able to run on a clean and dry track.
The three-year-old Colt is a 9/5 favorite to win the so-called Test of Champions.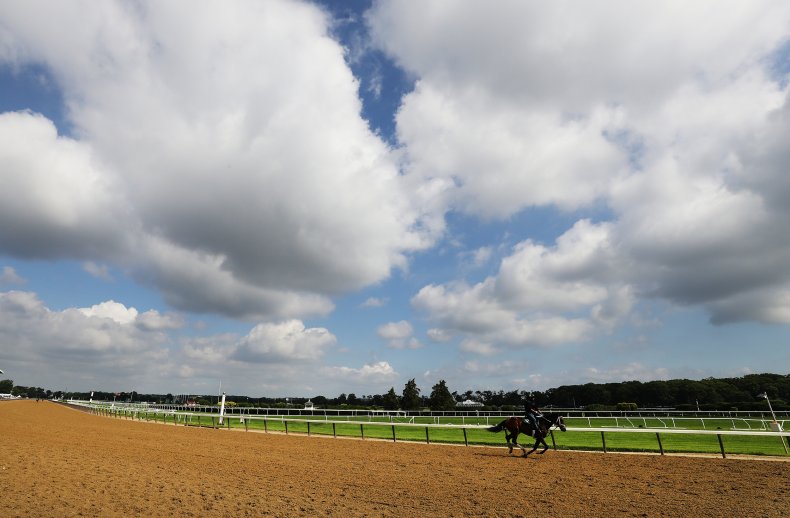 Tacitus will start from the outside gate after drawing post number 10 when the post positions draw was held on June 4. Second-favorite War of Will will start just inside Tacitus after drawing post number nine.
A 2/1 favorite to win the Belmont Stakes, War of Will is the only horse in the race to have won one of the other two Triple Crown events after triumphing in the Preakness Stakes last month.
War of Will landed the rail for the Kentucky Derby and the Preakness Stake and trainer Mark Casse hinted starting from post number 9 would serve his horse well.
"There were probably no bad posts, but there were some that were better than others, and we got one of them—especially for our horse," he told Blood Horse. "He's going to be allowed to position himself a little better from the outside."
Casse has racked up almost 2,700 wins in his career but has never had an entrant in the Belmont Stakes until this year.