Belmont Stakes: Post Positions and Odds for All 10 Horses, Purse and Prize Money
Belmont Stakes' favorite Tacitus will start from the outside post on Saturday in the last leg of the American Triple Crown.
A 9/5 favorite to win the so-called Test of Champions, the three-year-old Colt will start the 1 and-a-half mile race from gate number 10.
Tacitus trainer Bill Mott, however, is not particularly concerned by the fact his horse drew the outside post.
"I feel the field will spread out. It won't bunch up like a turf race," the Hall of Fame trainer told Blood Horse after the post position draw was held on June 4.
"You hope it allows everyone to move in and get a decent trip around the first turn. Nobody wants to be 10-wide on the first turn, but you would have to think there's a certain amount of speed that will spread things out."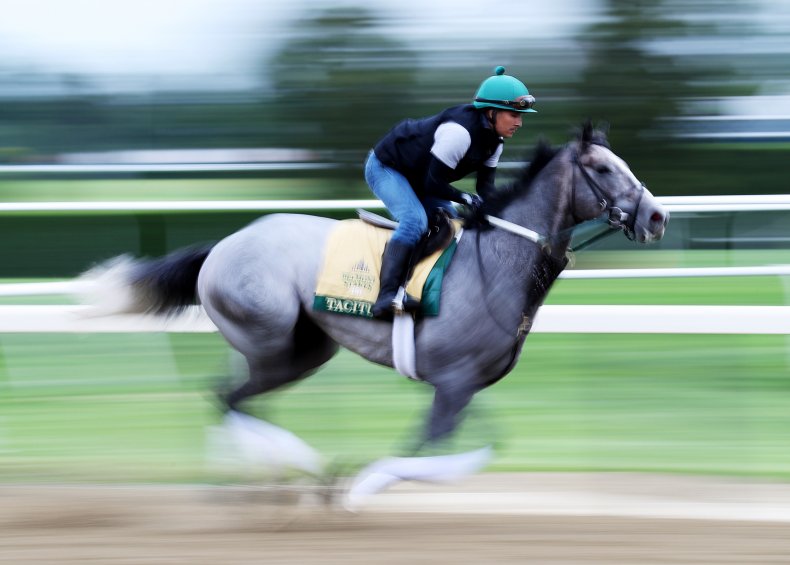 Drawing the outside gate means Tacitus and fellow favorite War of Will should race side by side on Saturday night, with the latter starting from post number nine.
A 2/1 favorite to win the Belmont Stakes, War of Will is the only horse in the race to have won one of the other two Triple Crown events after triumphing in the Preakness Stakes last month.
War of Will landed the rail for the Kentucky Derby and the Preakness Stake and trainer Mark Casse hinted starting from post number 9 would serve his horse well.
"There were probably no bad posts, but there were some that were better than others, and we got one of them—especially for our horse," he explained.
"He's going to be allowed to position himself a little better from the outside."
Master Fencer, the third favorite at 8/1, will start from post number three. Trained by Koichi Tsunoda, the Japanese three-year-old is one to keep an eye on after finishing sixth at the Kentucky Derby last month.
Fourth favorite Everfast, who finished second at the Preakness Stakes and is 12/1 to win on Saturday, will start from post number 2.
Fellow 12/1 contenders Bourbon War and Sir Winston will go off from gate number five and number seven respectively, while 10/1 shot Intrepid Heart will start from post number eight.
Tax, trained by Danny Gargan, drew post four, while fellow 15/1 outsider Spinoff will start from post number six.
Joevia, meanwhile, landed the rail and will start from post number one. At 30/1, the horse has the longest odds of any of the 10 entrants in the Belmont Stakes.
Belmont Stakes post positions and odds
Joevia 30/1
Everfast 12/1
Master Fencer 8/1
Tax 15/1
Bourbon War 12/1
Spinoff 15/1
Sir Winston 12/1
Intrepid Hear 10/1
War of Will 2/1
Tacitus 9/5
Purse and prize money
The 2019 edition of the Belmont Stakes has a $1.5 million purse, with $800,000 going to the winner. The second and third placed horses will receive $300,000 and $165,000 respectively, with the fourth and fifth placed receiving $90,000 and $45,000 instead.