Belmont Students Want Trump Campaign to Follow University's COVID Protocol, Say Disregard for Masks 'Doesn't Fly Here'
As Belmont University prepares for Thursday's final presidential debate, students are conflicted over the school's decision to host the event amid the coronavirus pandemic.
But it's not the school administration that students have a problem with, it's the Trump campaign's disregard for face masks and other health and safety measures.
Students are confident in Belmont's handling of the coronavirus and, for the most part, support the college's "strict" COVID-19 protocol.
"Students are thinking, 'is it hypocritical that we're hosting [the debate] if we're being so strict on campus, yet we're allowing members of the Trump administration on campus?'," Belmont junior Caroline Bugg told Newsweek.
"I think there's a lot of students who are just frustrated. We can't even have our mom come and stay with us or visitors come, yet both of these administrations are coming on campus and are just allowed to be here," she added.
Under Belmont's "Staying Healthy Together Pledge," students are required to wear masks at all times on campus, both indoors and outdoors, to maintain social distance and undergo COVID-19 screening and testing.
Due to the outbreaks on other college campuses across the country, Belmont added a new protocol at the end of August prohibiting students from organizing, hosting, promoting, or attending large on or off-campus gatherings.
Students lost their fall break so that the semester could be condensed and completed in time for Thanksgiving. And all these measures have worked.
Since reopening in mid-August, Belmont has reported only 82 student cases of COVID-19. Of the roughly 8,200 students enrolled at the private Christian university, only 1 percent of the student population has been infected.
There have also been an additional eight coronavirus cases among faculty and staff.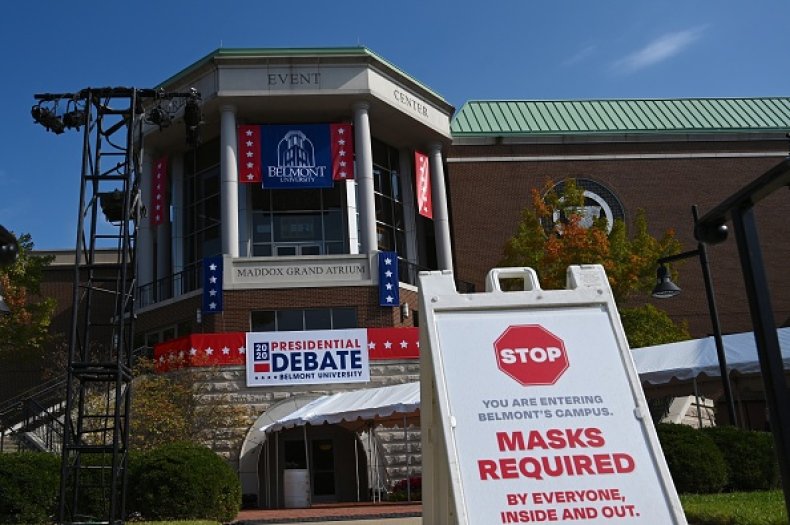 These figures come in stark opposition from those reported in Nashville, Tennessee, where Belmont is located, and the rest of the state, which is undergoing a spike in hospitalizations related to the new coronavirus.
On Tuesday, Tennessee's COVID-19 hospitalizations reached an all-time high when the state's department of health announced there were 1,259 patients hospitalized for their infections. In Nashville, health officials announced 441 new cases on Tuesday after reporting 276 new cases the day before.
Belmont, however, has managed to inoculate itself both as a college campus and in downtown Nashville, two factors that should have propelled the university into hotspot status.
But students are worried the debate and those attending it will burst their bubble.
"It would be a shame if this is what brought us down because we've been doing pretty good so far," Belmont junior Wade Evans told Newsweek.
Evans said the college has worked tirelessly to enforce its safety protocols but the willingness of students to follow those protocols may not match those of the two presidential campaigns setting foot on campus Thursday.
"The students are all really good about wearing their masks and maintaining good social distance and not attending gatherings. I think some of the attitudes we've seen from government officials has been a little less respectful towards those kinds of mandates. [For them] Masks aren't that important. We see that kind of ideology and a bit of that behavior and that really doesn't fly here," Wade said.
Students said the university has kept them up to date on what to expect ahead of the debate. The campus will essentially be closed Wednesday and Thursday and debate attendees will need to undergo regular temperature checks and wear masks while on campus.
"Belmont's doing a great job of letting us know all the measures they're going to take, so I'm not frustrated with that," Bugg said. "It's worrying that the people who come on campus won't comply. Obviously, since it is a debate, we can't just tell the president or the former vice president or any of their campaign members—we can't just tell them no."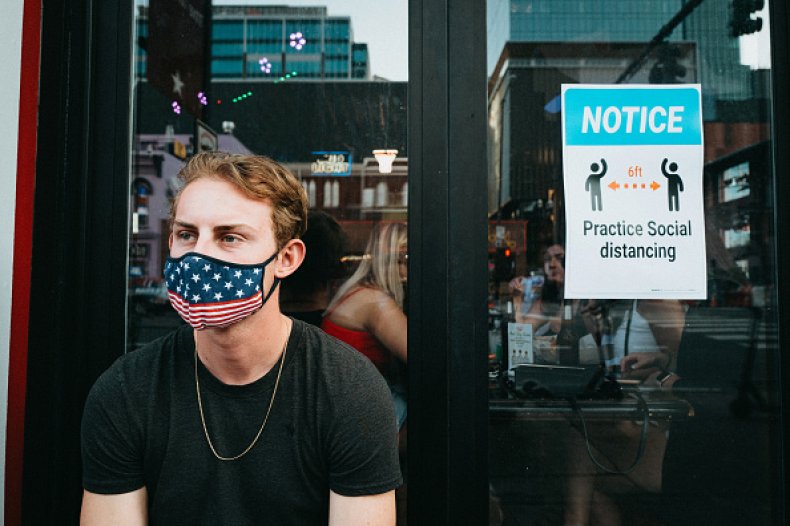 In addition, Belmont is working with HCA Healthcare to help implement health and safety protocols at the debate.
The school has said that "Debate guests will be required to adhere to the same safety standards being required of Belmont students, faculty, staff, vendors and visitors," but students are weary that high-profile figures may be able to avoid having to follow those same protocols as rigorously.
"I hope that they're as strict on people coming to campus as they are on us," first-year pharmacy student Shelby Jones told Newsweek. "That's the least that they can do because they are the ones inviting people to our campus that we pay tuition for... At least as strict as they are on us if not more because if they're not, then they're not protecting students."
"I hope that Belmont doesn't let anybody who doesn't follow the protocols on campus. Period," she added.
Students also hope that debate guests and staff from both campaigns will recognize the impact a single infection could have on a place like a college campus.
After President Donald Trump tested positive for COVID-19 following the first presidential debate at Case Western University in Ohio, city officials linked 11 cases to the debate.
"I hope that they all follow those rules but if they don't, I worry about the student volunteers who are going to be at the debate, as well as the campus staff, because they could potentially be transmitting something to all of us," senior Teresa Kaminski told Newsweek.
"The people that are visiting need to respect that for students like me, this is where we live. I live on campus. A lot of students live on campus," Evans said. "Some people, if they have to get sent home, they may not have anywhere to go."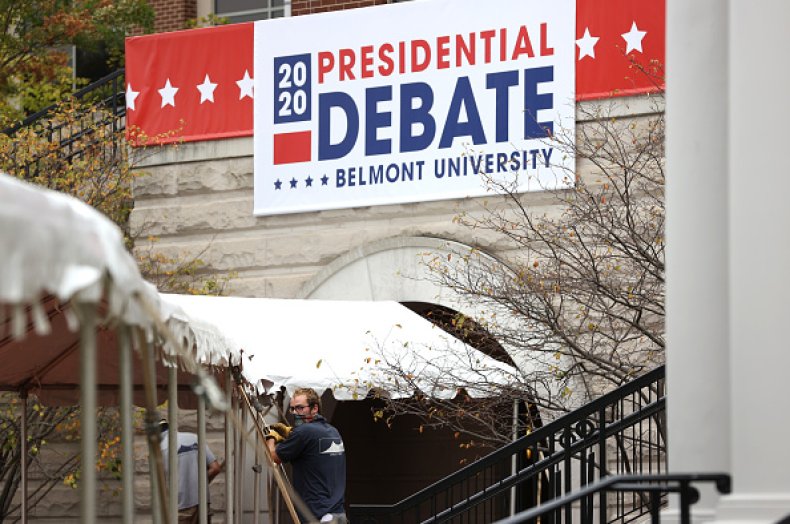 Nashville Public Health Director Dr. Michael Caldwell said during an October 16 press conference that his team is "confident" that the protocols in place "will ensure that participants will be safe" on Belmont's campus.
"The health protocols for the Oct. 22, 2020 presidential debate at Belmont University have been designed and approved by the Cleveland Clinic, HCA Healthcare and the Nashville Public Health Department. Thanks to the guidance of these leading health care voices, we believe we are well equipped to conduct this event safely and successfully," a Belmont spokesperson told Newsweek in an email.
The university's president Bob Fisher said Belmont is "committed" to hosting the debate even amid the pandemic.
"We believe it's our responsibility, as an institution of higher education, to host events like this," Fisher said October 16.
Students, likewise, believe this will be a critical event even if it may be difficult to appreciate what hosting the debate will mean for Belmont, a school that hasn't hosted a presidential debate since 2008 when then-Senator Barack Obama and Senator John McCain took the stage.
"It's really cool to see Belmont University on the national stage and have recognition. There's a little part of me that just wishes it were under different circumstances," Evans said.
"Someday we're going to be so proud to say that we hosted this debate, but right now, with tensions being as high as they are as well as the pandemic, it's not as safe as it was in 2008," Kaminski said.
Newsweek reached out to the Trump campaign and the Biden campaign for comment but did not hear back before publication.
Correction 10/21/20 10:43 a.m. This story was corrected to say that Belmont has a student population of 8,200 students. An earlier version of this story said there are 2,800 students enrolled.
Update 10/21/20 11:15 a.m. This story was updated with a comment from Belmont.