Rare White Tiger, Akere, Cincinati Zoo's Favorite Animal, Dies After Long Bout With Cancer, Arthritis and Kidney Failure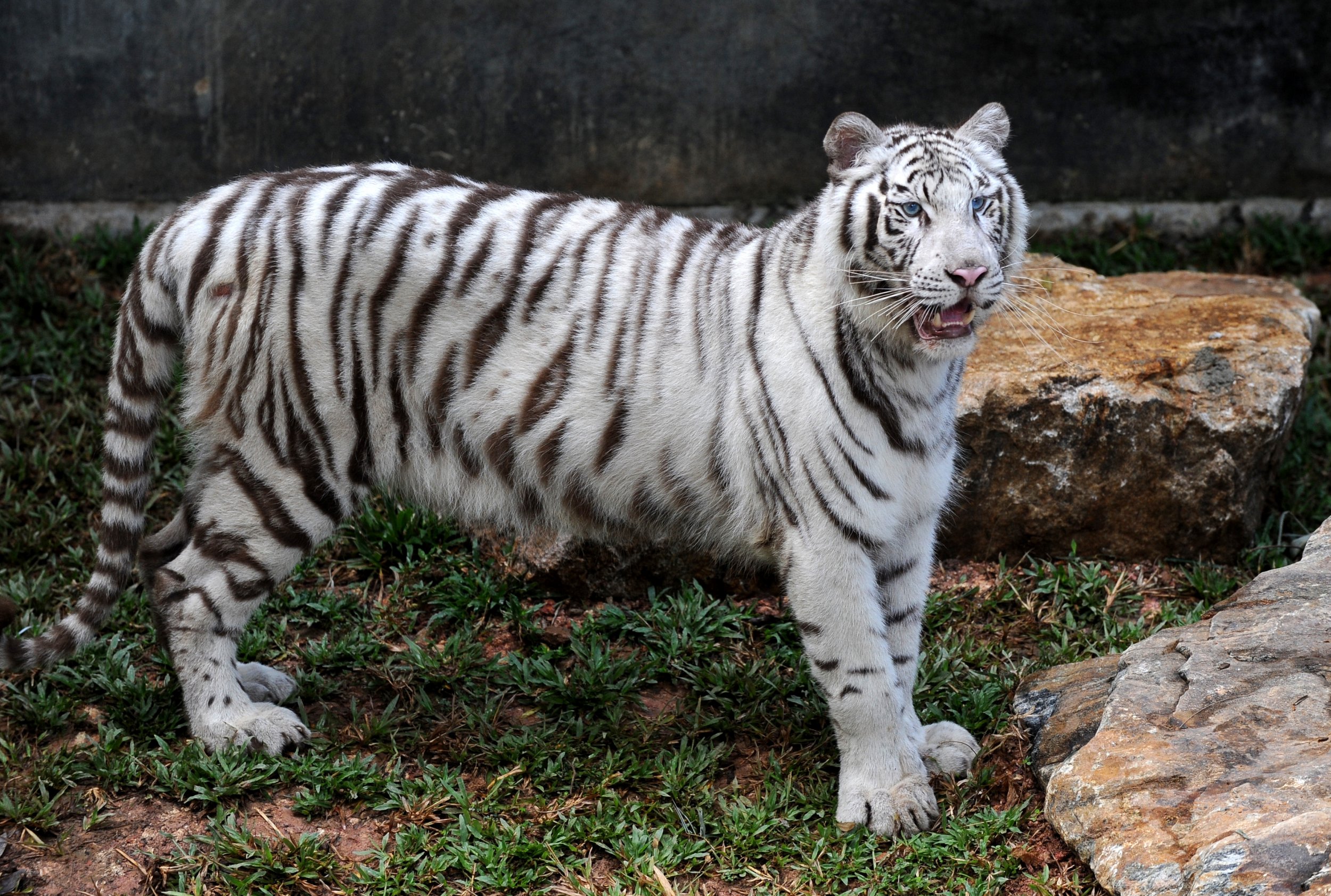 Akere, the Cincinnati Zoo's rare white tiger, was euthanized on Wednesday, after being recently diagnosed with untreatable cancer. According to zoo officials, Akere was in clear and severe pain due to severe arthritis in his hips. He was the oldest of his kind in any accredited North American zoo, and outlived the average tiger life expectancy.
The rare tiger was recently diagnosed with untreatable oral cancer, The Seattle Times reported. Although the tiger was given the best supportive care and medication to ease his pain, zoo officials report that it had become clear over the past two months that the tiger's condition was rapidly deteriorating. He was suffering from arthritis and renal failure, which occurs when the kidney scan no longer properly filter the blood and remove toxins.
"He was a great ambassador for his species and spent his life educating and inspiring Zoo visitors," the zoo said, WLWT5 Cincinnati reported. "He had a great personality, always affectionate with keepers, giving that friendly chuff first thing in the morning."
At 21 years old, Akere outlived the average life expectancy of tigers, with is between 15 and 20 years, The Seattle Times reported.
White tigers are widely beloved, but also a center of much controversy. According to Scientific American, the white tiger is not a specific species of big cats but rather a result of genetic mutations that occurs naturally in the wild Bengal population. In actuality, the only difference between a white tiger and a black and orange tiger is one single genetic mutation. Unfortunately, the white tigers' unique coloring makes them a prize for human hunters, and although they likely once roamed freely through the forests of India, over the past 400 years they have been captured and shot almost to extinction.
Today, almost all the white tigers alive are descendants of a single white male tiger cub that was captured in 1951. Along the years, the tigers have been deliberately inbred in order to keep their numbers up. However, the Cincinnati Zoo has denied that white tiger inbreeding has led to any significant heritable birth defects, other than slightly worse eyesight, Scientific American reported.
The tiger had been a long-term resident of the famous Cincinnati zoo, first arriving in 1996 from Nashville when he was only 9 months old. The zoo reported that Akere passed away surrounded by familiar faces of those who had cared for him and loved him most.