Beloved Netflix Comedy 'Grace And Frankie' Will Come To An End With Season 7: Here's What We Know So Far
It was announced on Wednesday that the beloved Netflix comedy starring Jane Fonda and Lily Tomlin as the titular Grace and Frankie, will come to an end after its seventh season.
Here's everything we know so far:
Netflix tweeted on Wednesday, "#GraceAndFrankie News Alert: Season 6 will premiere January 2020. Also, the series has been renewed for a seventh and final season, which will make it the longest-running Netflix original series ever with 94 episodes."
Fans are disappointed — but not too disappointed — because season six has not even premiered on Netflix yet. One user tweeted, "Grace and Frankie will always be apart of my life." Another said, "I never want this show to end, but I'm so happy it will be the longest running!"
The series stars Jane Fonda and Lily Tomlin in the title roles as two unlikely allies who are brought together after their husbands, played by Sam Waterston and Martin Sheen, announce that they are in love and plan to get married.
"We are both delighted and heartbroken that Grace and Frankie will be back for its seventh, though final, season," Fonda and Tomlin said in a joint statement according to CNN.
"We'll miss these two old gals, Grace and Frankie, as much as many of their fans will, but we'll still be around. We've outlasted so many things — just hope we don't outlast the planet," they added.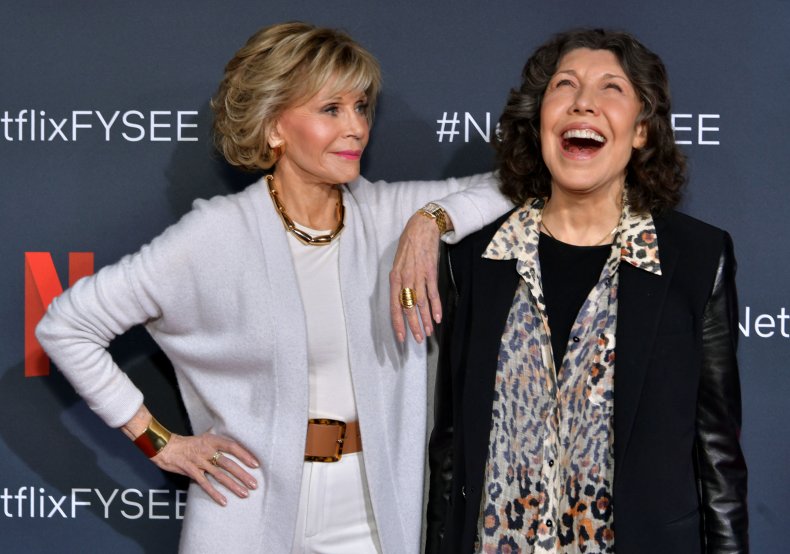 Series co-creator Marta Kauffman teased earlier this year that Season 6 will bring the return of Ernie Hudson, who previously played Frankie's love interest.
"The electricity between them was so vibrant," Kauffman said at PaleyFest in Hollywood in March. "We will be seeing him in Season 6."
The final season will also secure Grace and Frankie an important footnote in Netflix history — especially since the show was one of the first mainstream series to have leading older women (a demographic often underrepresented on television). The show, which launched in 2015, will go out as the streaming service's longest-running series.
"It's thrilling and somehow fitting, that our show about the challenges, as well as the beauty and dignity of aging, will be the oldest show on Netflix," co-creators and showrunners Marta Kauffman and Howard J. Morris said in same the statement.
The sixth season of Grace and Frankie completed production this earlier this year and won't air until January 2020. Along with its leading women, the 16-episode final season will also star Sam Waterston, Martin Sheen, June Diane Raphael, Brooklyn Decker, Baron Vaughn, and Ethan Embry.
Season 5 ended with Frankie relieved to return to the beach house, while Grace sheepishly reveals she married Nick, played by Peter Gallagher.
The series has picked up 11 Emmy nominations during its run as well as six Screen Actors Guild Award nominations and a Golden Globe nomination for Tomlin.
A premiere date for Season 7 has yet to be announced.