Beloved Seal Freddie Mercury Dies After Passers-by Try to Save Him From Dog Attack
Freddie Mercury—the seal pup, not the famed Queen frontman—became something of a national treasure in Britain and beyond after appearing on a popular morning show earlier this year.
Tragically, The Daily Mail reported that the"well-loved" seal was the victim of a "vicious" dog attack on Sunday. Despite rescuers' best efforts and support of the public, Freddie was euthanized hours later.
The nine-month-old Freddie was relaxing near the River Thames in London when a dog attacked him. Photos show several pedestrians trying to intervene upon witnessing the commotion and pulling the dog away from Freddie. They then used their bodies to guard him until medical assistance arrived at the scene.
The seal sustained significant injuries, including "deep lacerations to his neck and flipper."
At least two people were also injured in the commotion, including vet Rachel Kirby who was bitten on her thigh and hand.
After he was initially admitted for medical treatment, it was uncertain if Freddie's condition would improve. However, on Monday, the South Essex Wildlife Hospital released sad news regarding Freddie's health in a statement on Twitter.
"The flipper is very swollen and despite antibiotics and pain relief the seal is clearly very uncomfortable and reluctant to eat. We suspect the infection is spreading and with the other bite wounds to his body he is very miserable," they said.
"At this stage we believe the only ethical and fair option we have is to end his suffering."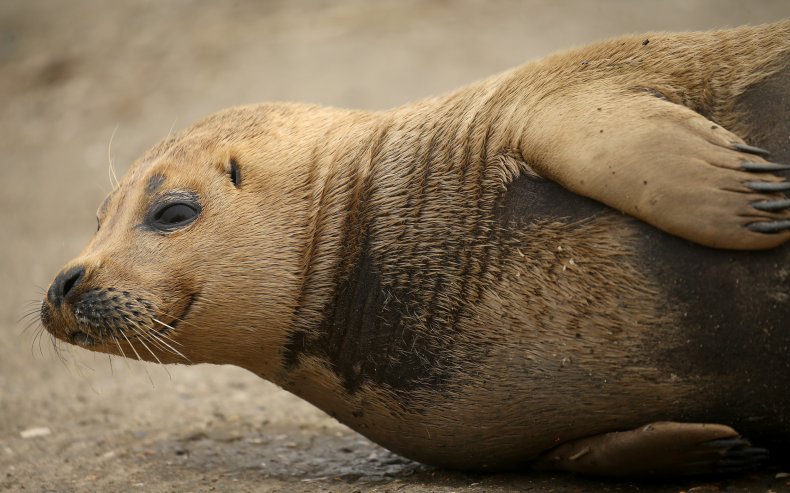 According to The Daily Mirror, the incident leading to Freddie's untimely death was actually his fourth rescue. Merely weeks before, the seal pup had to be "hauled from the Thames at Teddington Lock after a fisherman's lure was caught in his mouth." His rescue garnered national attention in the UK.
Freddie's flipper tag also indicated two prior rescues in Europe—first after he was found orphaned on a beach in the Netherlands and again in Calais after contracting lungworm. It was from Calais that Freddie made his way to the Thames.
Freddie was recognized by many members of London's public and was named for his habit of entertaining passers-by who often spotted him in the river.
The statement released by the South Essex Wildlife Hospital also included a note of caution, in the hopes of preventing future tragedies. "We know this is a well-loved seal from the amazing response we have had to his story," they wrote, "but he is not the only seal we have had to care for that this has happened to. Please folks do not go near seals and always, always, keep dogs on leads and under control."