'Below the Belt': How TikTok Has Helped Create Endometriosis Movie
A movie-making team including Hillary Clinton and Rosario Dawson is shedding light on a serious disease that is too commonly ignored.
The new documentary, Below the Belt, focuses on the disease endometriosis. Affecting approximately 1 in 10 women globally, endometriosis can cause debilitating pain for sufferers. However, both culturally and medically, it's not a widely recognized condition.
Shannon Cohn, the creator and director of Below the Belt, aims to change that with the launch of her new movie, examining endometriosis through the lens of four patients urgently searching for answers to their mysterious symptoms. Cohn recruited Clinton, Dawson, model Corinne Foxx and actress Mae Whitman to serve as executive producers of the movie.
Newsweek spoke to Cohn about her important mission to inform the world about endometriosis, how she recruited the former secretary of state, and the role social media sites like TikTok played in getting it made.
What is Below the Belt?
Cohn shot the first frame for Below the Belt in 2012. Ten years later, the movie is finally ready for release. She worked on several other documentaries at that time, focusing on social impact campaigns, but she found new inspiration for a documentary topic.
"I had the idea that maybe an endometriosis film could actually be a catalyzing tool for change in women's health and the actual disease endometriosis." Cohn told Newsweek, "Endometriosis is unique in that patients and doctors don't seem to believe the same things. And there's a real disconnect between patient experience and doctor's knowledge. So that's why we have this kind of yawning 10-year delay in diagnosis, like, what is going on there?"
Together with the contributors and the team behind the movie, Cohn aims to get to the bottom of that mystery.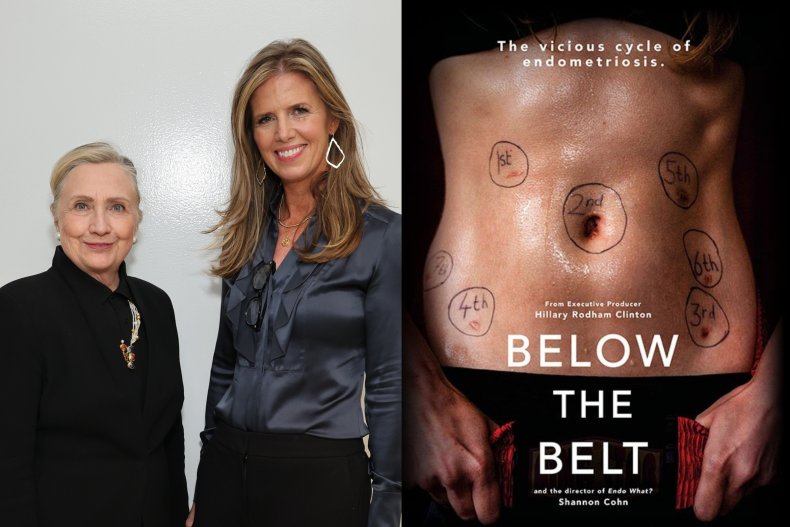 For those who are still unaware, endometriosis is, according to the Mayo Clinic, an often painful disorder in which tissue similar to the tissue that normally lines the inside of the uterus grows outside the uterus. It most commonly involves the pelvic region, but has been found in every organ in the body.
Cohn's own experience with the disease has taught her how to communicate with people who still don't "get it."
"When I was a teenager, and I would try to communicate my experience to someone, an adult, whether a healthcare practitioner or a doctor, and my experience was not taken seriously. I was not believed. It was discounted in a way that this is all part of being a woman, you're trying to get attention.
"I first had symptoms of endo at 16. And I didn't hear the word until I was 29."
That timeframe hasn't improved much since then. According to the 2020 British parliamentary report, Endometriosis in the UK: Time for Change, on average it takes eight years from onset symptoms to get an official diagnosis.
Corinne Foxx—model, actress and producer—has also suffered with endometriosis and jumped at the chance to work with Cohn on Below the Belt. "I was so blown away by her work and her dedication to spreading endometriosis awareness," She told Newsweek. "Once we connected, Shannon asked me to executive produce her next film and I couldn't have been more honored."
She continued, "When I'm having a bad endo day, I usually turn to social media for support. I think there are many pockets of comfort and community on social media. The endometriosis community is a strong one."
There are millions of women on social media who form endometriosis support groups. Type the word into TikTok and videos highlighting the disease have over 1 billion views. Cohn found some of contributors for Below the Belt from going online and having conversations amongst the endometriosis social media community.
"Endometriosis is such an isolating disease and social media allows you to instantly connect with millions of others whom understand your pain," Foxx said.
"There's a reason why we need to be telling stories, and the fact that they have almost 1 billion on social media is evidence of that," Cohn said. "It is something that has been hidden in such an enormous way for so long. And we just need to be the stories need to be out there."
Also helping get the story out there is the 2016 democratic presidential nominee Hillary Clinton. All it took was an early draft of Below the Belt to convince her to jump on board according to Cohn.
"It was impactful for her, and that was very gratifying [to us]. She just offered to come on and collaborate in any way that we thought would be helpful." The idea to contribute as an executive producer came about "organically" said Cohn. "She also wants to bring endometriosis into the mainstream and recognizes that being attached to a project is beneficial.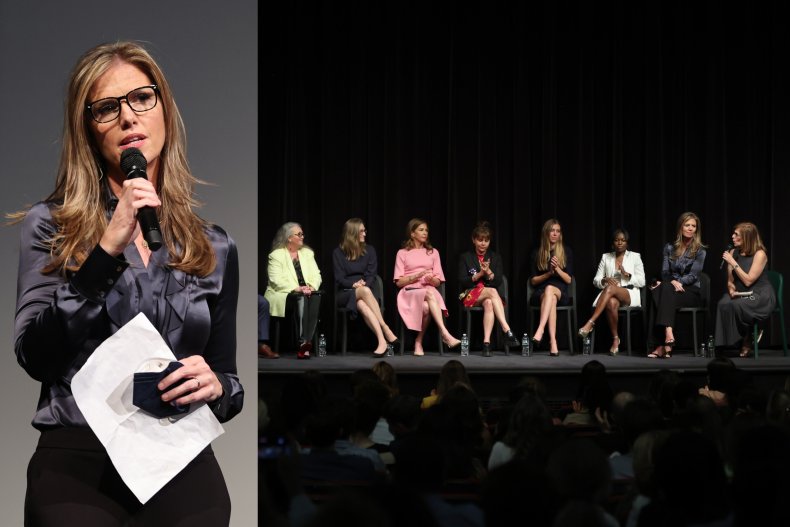 "I'm just just grateful to her for being willing to do that and look forward to partnering on other things."
Whilst Cohn saw Clinton's involvement in this important movie as professionally beneficial, personally, it was a real coup. "My personal reaction is that my jaw is on the floor. I'm completely thrilled. As a woman in this country, I of course admire her greatly.
"I never actually even entertain the possibility that we could ever collaborate professionally, and the fact that this is happening is, it's a dream. It's wonderful."
Foxx echoes Cohn's opinion that having high-profile executive producers will make people finally "start to listen" when it comes to endometriosis. Though she believes the fact that the disease is so poorly recognized is indicative of a larger societal issue.
"When women speak up, we are often not listened to or believed," Foxx said. "The same goes for a woman speaking up about sexual assault as it does for speaking up about endometriosis. Our pain and suffering has often been belittled or ignored. Documentaries like Below The Belt allow us to reclaim our power and tell our stories from our voices."
Below the Belt is receiving bi-partisan from both sides of the aisle. Prominent Republican politicians Mitt Romney and former U.S. Senator Orrin Hatch are listed as collaborators as well as the aforementioned Clinton, and Democratic Massachusetts Senator Elizabeth Warren.
Below the Belt is holding screenings in major cities across the world to help spread awareness about endometriosis while it finalizes a distribution deal. Next up will be a special screening of the film in London on June 8, followed by screenings in Los Angeles, Mexico City, Paris, Buenos Aires and Australia.
This article was updated on 05/30/2022 at 4:20am to add the involvement of prominent Republican supporters of the movie.
The article also corrected the definition to endometriosis to quote the Mayo Clinic's definition.