Ben Affleck Gets His Coffee in First Photos Since Being Mocked at Grammys
Ben Affleck looks to be shaking off the comments he received at this year's Grammy Awards as he was pictured out in Los Angeles grabbing coffee.
The 50-year-old actor went viral earlier this week while attending the Grammys on Sunday for a number of reasons. He was praised, panned, mocked and everything in between as he seemed "bored" at the star-studded event, according to viewers.
Affleck and his wife, Jennifer Lopez, also went viral due to what appeared to be a tense exchange captured live on TV at the awards show. This was the second time the pair have been caught seemingly having a spat on camera this year.
Affleck seems to be returning to his normal day-to-day now, as he was papped while out walking in LA, wearing shades and a blue plaid shirt, with an iced coffee cup in hand. It was the first time Affleck has been spotted out in public since the show.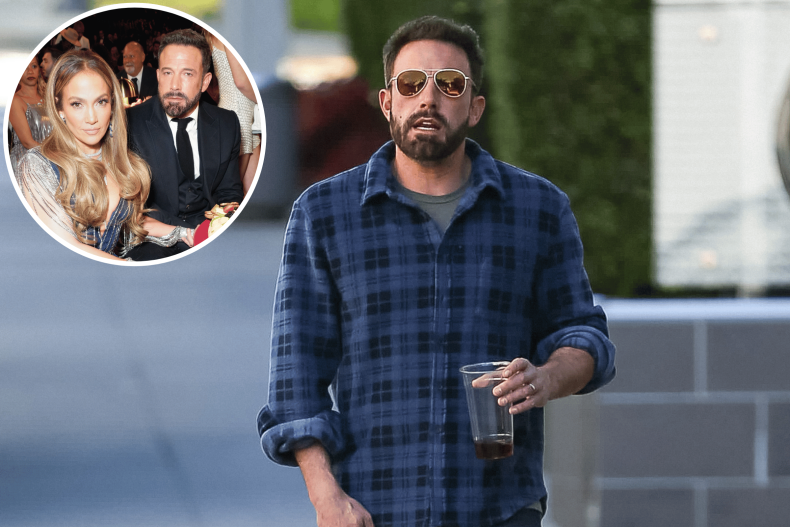 Initially, Affleck fans commented "he'd rather be at Dunkin'" and said he had an "Existential Dread Resting Face." after he appeared "bored" at the ceremony.
Dunkin' references are often made towards Affleck as the Massachusetts native has been photographed with Dunkin' coffee and food many times in the past. He'll also be starring in an upcoming Dunkin' Super Bowl commercial as he was recently spotted wearing a uniform there.
On Monday, the brand shared a teaser using Ben's name in a pun on their Instagram account.
Another moment at the Grammy Awards saw Affleck go viral when he and J.Lo were caught on camera having a brief, seemingly heated exchange. The clip was seen millions of times when shared online as the pair apparently bickered behind the host Trevor Noah. Their faces changed when they noticed the cameras rolling.
It's reminiscent of another moment between the pair from just days before. At the premiere of Lopez's new movie Shotgun Wedding, the married couple was seen exchanging words. Social media lip readers believe the exchange is about Affleck telling Lopez he didn't have a drink.
The apparent exchange was cause for concern for some as Affleck has endured a public battle with sobriety for much of his adult life. He has spoken about his alcoholism and visits to rehab many times and told The Howard Stern Show in December 2021 that he's been sober since early 2020.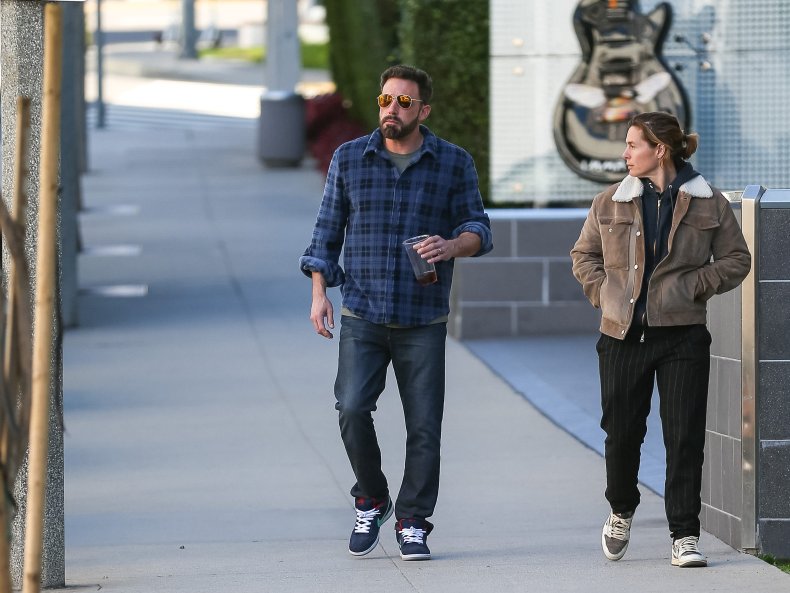 Away from his appearances on the red carpet and at awards ceremonies as J.Lo's plus one, Affleck also has a number of projects coming out this year. He's reuniting with Matt Damon for the Prime Video movie Air. Starring and directed by Affleck, it tells the story of how Nike salesman Sonny Vaccaro signed Michael Jordan to wear their shoes.
He will also reprise his role as Bruce Wayne in the upcoming DC movies The Flash, and Aquaman and the Lost Kingdom.