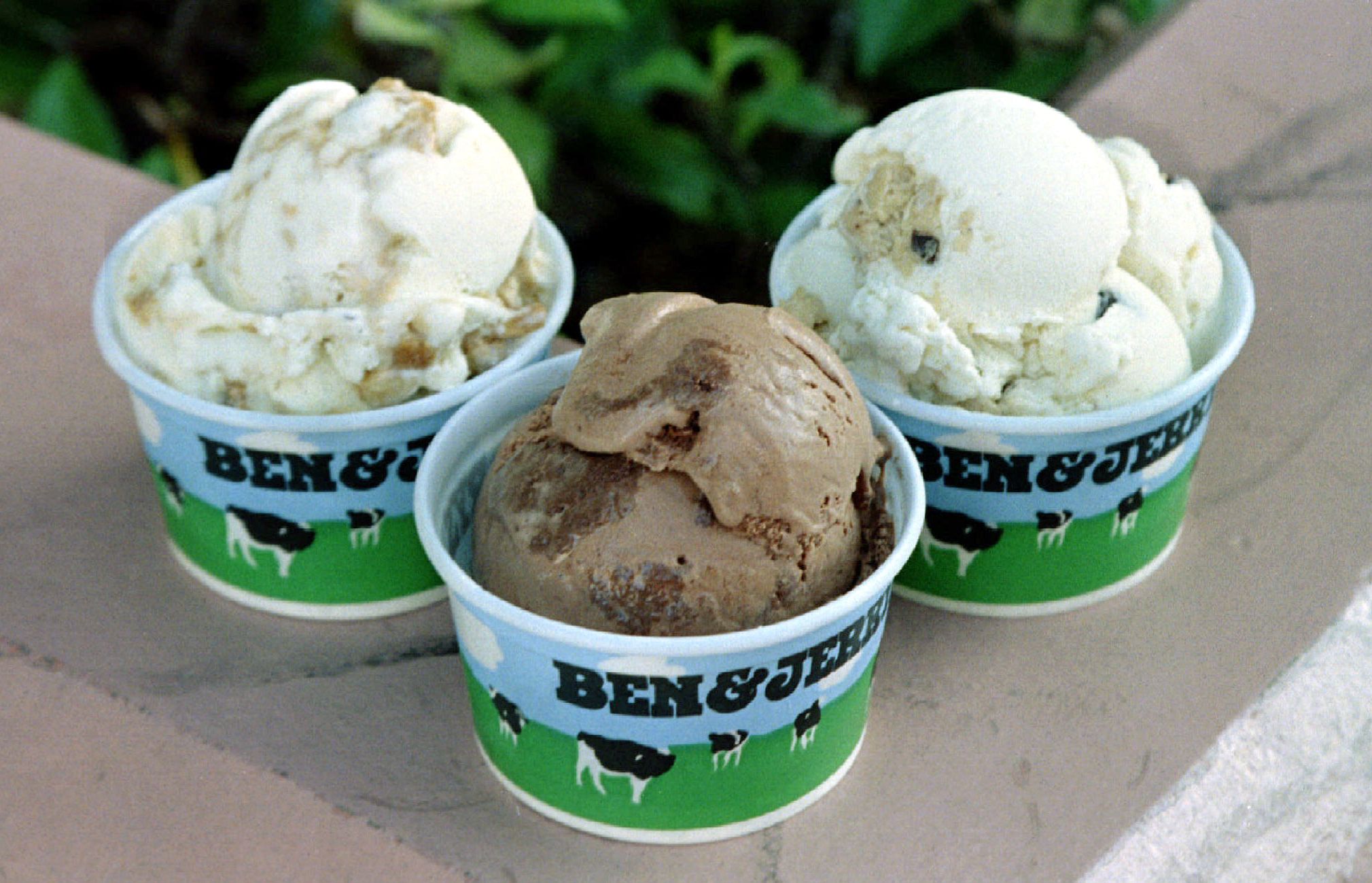 When the pair of eponymous ice-cream makers behind Ben & Jerry's aren't busy putting out new flavors, they can be found taking on causes from GMO labeling to climate justice to LGBT equality. On Monday, Ben Cohen and Jerry Greenfield were two of roughly 300 protesters arrested at the U.S. Capitol while demonstrating with the group Democracy Awakening about money in politics.
"The history of our country is that nothing happens until people start putting their bodies on the line and risk getting arrested," Cohen is quoted as saying in a post about the arrest on the Ben & Jerry's website.
The U.S. Capitol Police in Washington, D.C., charged Cohen, Greenfield and hundreds of fellow protesters with unlawful demonstration activity, and then processed and released them "on the scene," the Associated Press reported.
Democracy Awakening calls itself a "broad coalition of organizations representing the labor, peace, environmental, student, racial justice, civil rights and money in politics reform movements," according to the group's site. "We share a firm belief that we will not win on the full range of policy issues we all care about until we combat attacks on voting rights and the integrity of the vote by big money."
The latter is one of seven "issues we care about" outlined by Ben & Jerry's on the values section of the company's site, alongside others such as fairtrade, peacebuilding and a long-standing opposition to the use of recombinant bovine growth hormone (rBGH). In its entry, "Get the dough out of politics!" the company explains its stance:
At Ben & Jerry's, we love dough so much, we invented Cookie Dough ice cream. But dough doesn't mix so well with democracy. In fact, there's so much big money flooding into our elections in the United States that the voice of regular folks is being drowned out… Things have gotten even worse since 2010, when the U.S. Supreme Court ruled in its now-infamous Citizens United decision that corporations are allowed to spend unlimited money to influence election outcomes. Ouch! That's not democracy!
In conclusion, the company says "it's time to Get the Dough Out of Politics and make our elected leaders more accountable to the people—not just to their big donors and allies," and urges its customers to join a movement of citizens working to diminish the role of money in the political process.
In 2012, the company released this video about the issue:
"Protesting injustice has been on the agenda all weekend. We've been in Washington, D.C. with Democracy Awakening, a remarkable event that brought together hundreds of groups and thousands of people in an effort to fix our broken democracy," the company wrote in the arrest post on its website.
"It all comes down to a simple idea that we believe in whole-heartedly: If you care about something, you have to be willing to risk it all—your reputation, your values, your business—for the greater good," the company said. "Sometimes, when something really matters, you have to put your body on the line. You have to take a stand."
Different interpretations apply if that stand is for chocolate chip cookie dough ice cream or for dough-free politics.