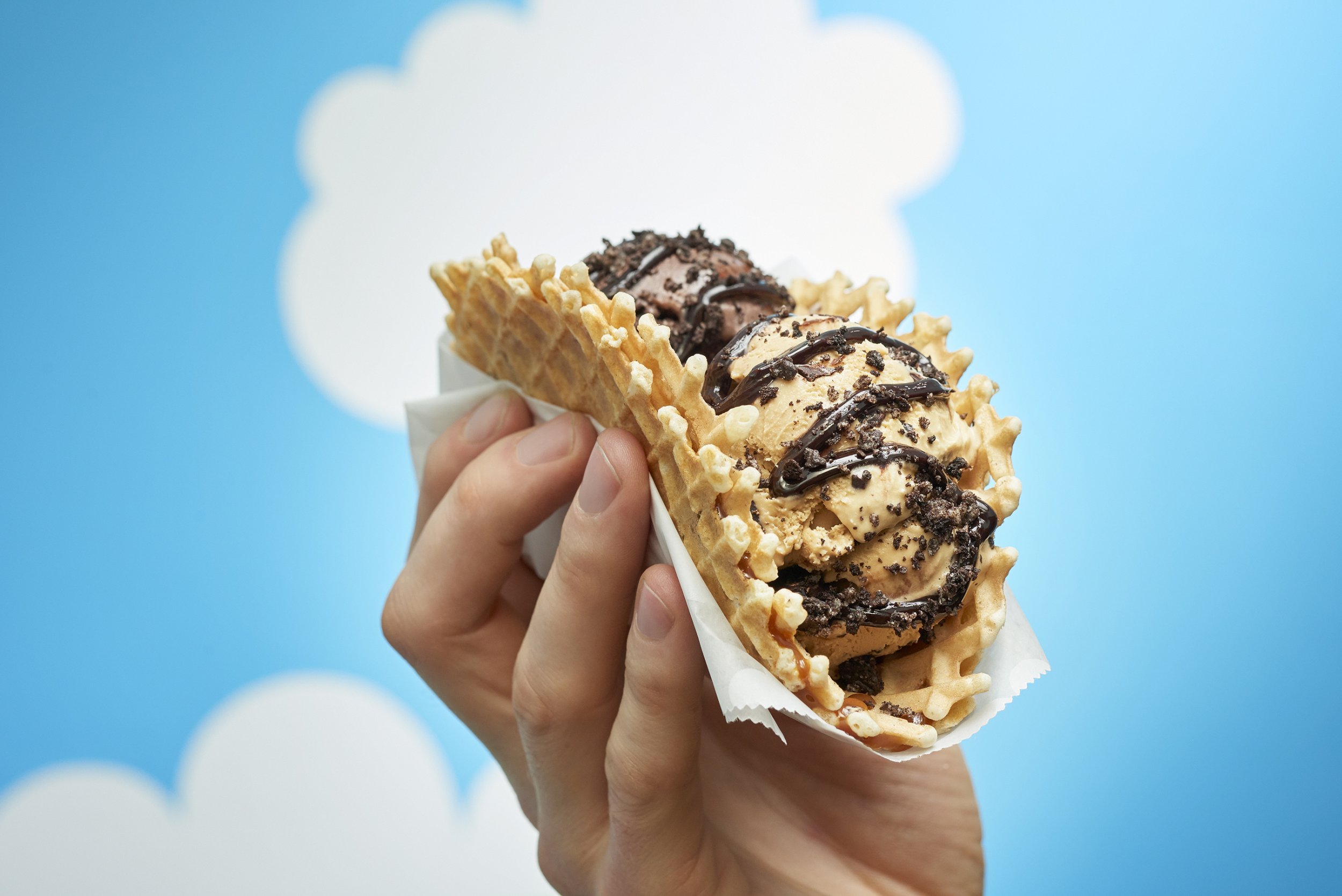 Ben and Jerry's is a Vermont-based independent ice cream manufacturer. Somehow, they always seem to be in the news. New flavor announcements have been a surefire way to generate headlines, as they did just this past January when the company announced Urban Bourbon, Truffle Kerfuffle and Oat of This Swirled. The company has also been a vocal supporter of Bernie Sanders—from when they christened a flavor with his likeness in 2016 as he was starting to gain momentum, to last week, when the senator delivered a speech from behind a pint-shaped podium at one of their plants in Saint Albans, Vermont.
Related: Ben and Jerry's co-founders arrested at protest
Ben and Jerry's latest creation, however, appears to be apolitical. On April 20, also known as 4/20, the "Chill-aco" will debut in their Scoop Shops. As the name implies, the Chill-aco is a chilled taco made of ice cream parts. The company announced the offering via GIF.
The Chill-aco will be available in five different flavor combinations, and the two complementary scoops are plopped into an open-ended waffle-cone taco shell, ensuring a messy eating experience. Though it may seem an impractical way to eat ice cream, I know what you're thinking: How will the Chill-aco compare to the Brrr-ito, which Ben and Jerry's debuted on 4/20 two years ago? Well, dear ice cream fans, you're just going to have to stop by a Scoop Store on Thursday and find out for yourself. If you ask me, nothing beats a good old-fashioned ice cream cone. If it ain't broke, don't fix it!
The Chill-aco is far from the first time Ben and Jerry's has stepped outside the bounds of what we've come to expect from ice cream makers. They recently rolled out a line of ice cream-flavored lip balms.
In March, they unveiled a series of cereal milk-flavored ice creams.
The recent rash of bizarre ice cream-related products could be the result of a more aggressive marketing initiative, but it's also entirely possible that the company's Bernie-loving co-founders have been driving right out of their minds by the Trump administration. A year ago Tuesday, they were arrested while protesting money in politics at the U.S. Capitol. It's been a rough year since then; not only did their preferred candidate lose out to Hillary Clinton, but now they have to deal with the fact that President Trump is undermining everything the left-leaning ice cream makers stand for.
"The history of our country is that nothing happens until people start putting their bodies on the line and risk getting arrested," one of the founders, Ben Cohen, said after getting arrested last April. Drastic times call for drastic measures, and also, if the last few months are any indication, drastic ice cream innovations.
Read more from Newsweek.com:
- At Easter Egg Roll, the Trump White House finally starts reading books
- Will Bernie Sanders's tour unite the Democratic party?
- How Bernie Sanders's ideas are winning in the Trump era