Ben Bernanke, Video Star…Starbucks Rescue…Pro Sports in Limbo…and Lady Gaga | Opinion
Welcome to the third edition of On the Street. Of course, the pandemic turmoil continued last week. Yeah, the equities markets soared again—the S&P 500 was up 12 percent. But...another 6.6 million Americans applied for unemployment. (That's almost 17 million folks over the past three weeks.) Not sure why investors/algorithms were so bullish, but perhaps some "positive" pandemic stats—and the Federal Reserve Board's willingness to prop the world up—has something to do with it. And wishful thinking. What do I know? Let's get started:
V or No V? Think tank webinars aren't often must-see TV, but you can make an exception for the Brookings Institution's session with former Fed chairman Ben Bernanke. I'm asked a lot about what's going to happen to the economy. My best answer now: Watch this video featuring someone who actually knows what he's talking about. Some takeaways from the April 7 event hosted by Brookings' David Wessel: 1. While acknowledging our dire straits—don't be surprised if GDP drops 30 percent or so in the second quarter—Bernanke poured a little cold water on comparisons with the Great Depression. "The depression was 12-years long," he said. "It came from a financial crisis; it came from made-made errors and decisions. This is more a natural disaster and its response is more like emergency relief." 2. The prospects of a miracle, "V-shaped" recovery are slim, though there are ways to open up the economy in the short-term. "I don't see the economy returning to a more normal state until there's much greater confidence by both the average person and...governors and mayors that opening the economy won't restart the crisis." In other words: We need a COVID-19 vaccine. (My interpretation.) Added Bernanke: "In a year or two we should be in a significantly better position." 3. He gives passing grades so far to Congress and the Fed. "We have a hard road ahead, but I'm pretty pleased overall with the fiscal and monetary responses we've seen. We're going to need more."
Stepping Up, Part II: Insurers Allstate and American Family Insurance on April 6th announced they would rebate auto premiums because folks were driving less during the COVID-19 pandemic. Soon the stampede was on with the likes of Liberty Mutual, Progressive and Geico weighing in with their own relief plans. Also: We were wondering where Starbucks founder Howard Schultz disappeared to after his presidential run. Well he's alive and well and doing something good. Schultz, through his family foundation, is giving one-time $500 payments to Seattle area restaurant workers via The Plate Fund. Yahoo Finance reported that $850,000 was doled out on the first day. Undocumented workers were, and are, are eligible. Plus: Twitter CEO Jack Dorsey pledged $1 billion to COVID-19 relief and other causes. But not all companies and entrepreneurs were stepping up. Staples, according to Axios, told its landlords, that they shouldn't expect to get their monthly rent checks in April. And, reportedly, Cheesecake Factory did the same. Next time I order the Roadside Sliders? Sorry, a little short this month.
End the Kabuki: The commissioners of the nation's pro sports leagues have been told by President Trump that he'd like to see them back in action by the summer or fall. I know billions are at stake—and ESPN's ratings—but it actually may be time for teams to pack up and call it a day. What is so sacred about crowning champions every year? Is it a constitutional right or because Lebron's fans say so? Look, I could be wrong. Maybe it makes sense for the National Hockey League to flee to empty arenas in North Dakota or New Hampshire for made-for-TV playoffs. Or the NBA showing up in Las Vegas to do pretty much the same thing. Baseball? Who knows? The National Football League may figure out something in time for its fall season. But who among us will sit in the stands without a pre-game shot of a COVID-19 vaccine? And then there's this: If you could actually get the COVID-19 tests, what if a player or two tests positive? Pick up and go home again? I get the economics, and game-hungry fans, but enough: Just wait 'til next year.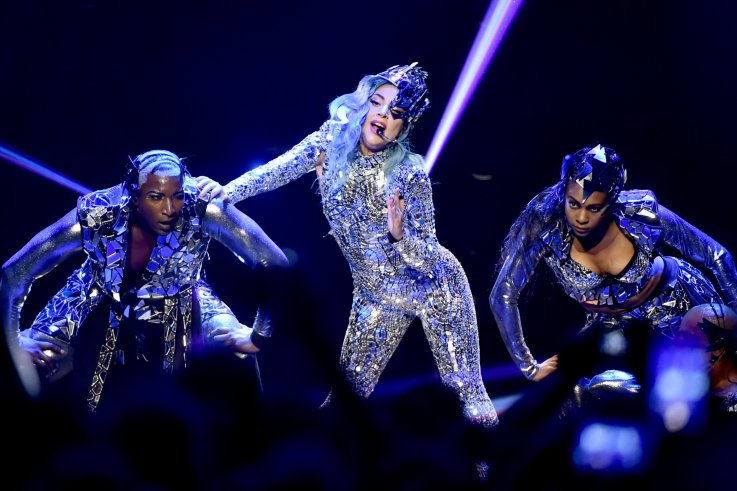 Lady Gaga performs onstage during AT&T TV Super Saturday Night at Meridian at Island Gardens on February 01, 2020 in Miami, Florida.
Theo Wargo/AT&T/Getty
Loose Change: I'm so behind on this Netflix thing. But if you need a sports fix check out "Sunderland 'Til I Die," a two-season documentary on the struggles of a pro English soccer team and its loyal fans. NY Jets fans will be able to relate...Thank you for Your Service: Legendary singer-songwriter John Prine died in Nashville at 73. At one point in his career he was touted as "the next Bob Dylan." And you know what? He actually lived up to that. Newsweek's Sam Hill says new fans should start with his favorite song, "Angel from Montgomery." Meanwhile another legend passed: Earl Graves Sr., founder of Black Enterprise magazine and a role model to entrepreneurs everywhere. He was 85...On April 18 at 8pm Lady Gaga presents and curates the "One World: Together at Home" event for the benefit of healthcare workers and the World Health Organization. Performers include Stevie Wonder, Billie Eilish, Paul McCartney, Lizzo; it can be seen on numerous platforms from ABC to Facebook and Amazon Prime. Get ready for the event by checking out Lady Stefani Germanotta at New York City's the Cutting Room in 2011...Finally, the first quarter corporate earnings season is upon us. Fasten your seatbelts and see you next week.