Once an Asset, Ben Carson's Biography Comes Under Fire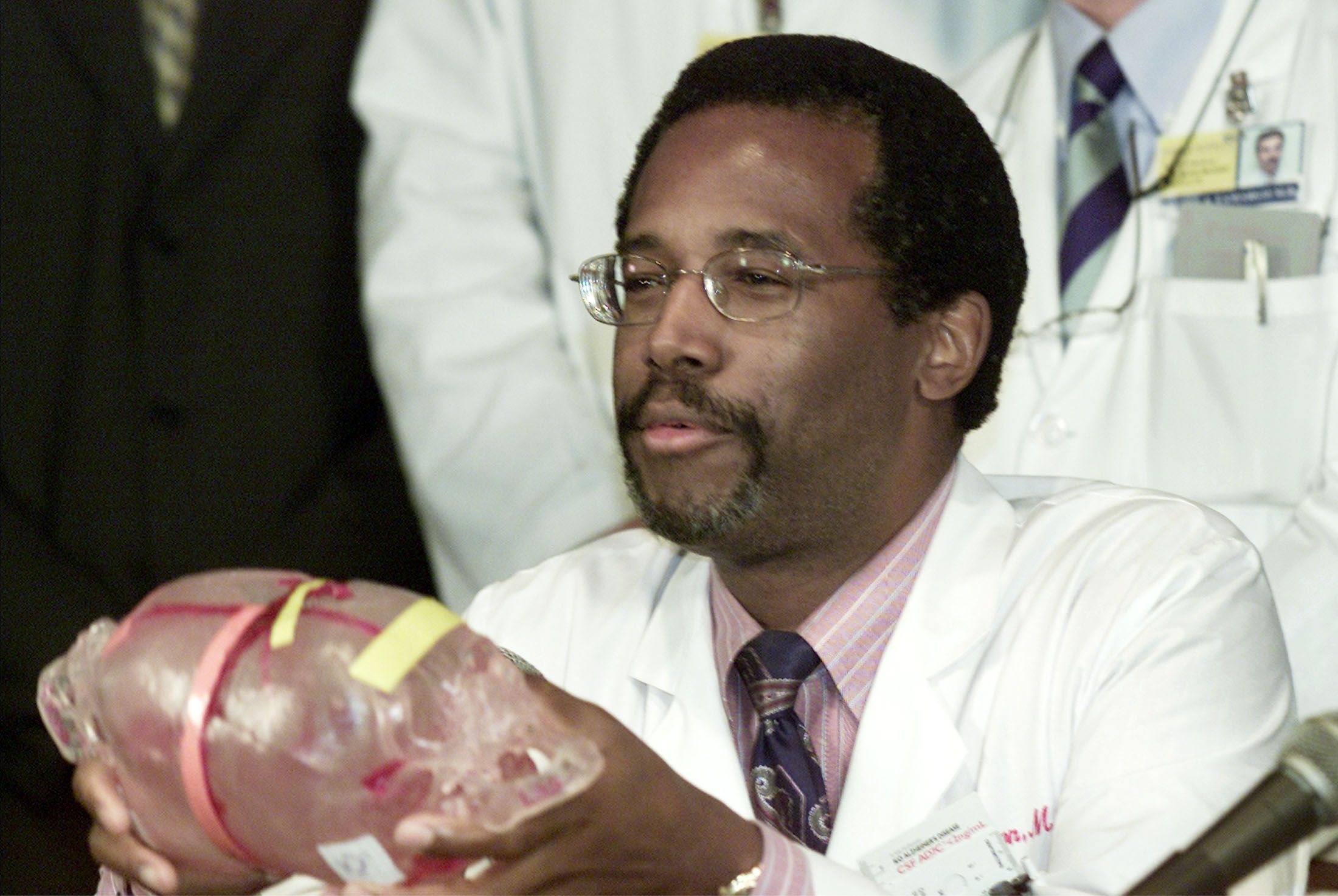 Updated |
Does Ben Carson tell the truth?
Carson has been wrong before (for example, when implying that all Muslims are obligated to either follow Sharia law or renounce their religion), but his base of supporters might not care. More people will care if he deliberately lies.
Carson gave a fiery interview to CNN Friday morning in which he lectured the network's journalists for probing into his past. A few hours after the interview aired, the Carson campaign released a statement conceding that he was incorrect about a detail about his teenage years, according to a report by Politico.
In his autobiography Gifted Hands, Carson claims he was offered a full scholarship to West Point; now the campaign has stated that he didn't even seek admission, and "can't remember with specificity" the "brief conversation" with an Army general that, in the book version of events, led to him getting into the competitive U.S. military academy. Even if he can't remember exactly what happened, it's there in writing: "Later I was offered a full scholarship to West Point."
Later at a press conference on Friday, Carson said he never applied to the school, but was made a verbal offer. "It was an offer to me. It was specifically made."
"This is a bunch of lies attempting to say I'm lying about my history," Carson said on CNN of questions about his past. "I think it's pathetic, and basically what the media does is they try to get you distracted with all of this stuff so that you don't talk about the things that are important."
Carson was referring not to the West Point story, but to the CNN investigation into his claim that he was once a violent youth who frequently assaulted people before eventually finding God. The narrative is central to Carson's espoused character arc, but the network has been unable to corroborate any of his anecdotes by talking to people from his past. For example, he claims to have tried to stab an individual named "Bob," who is either a classmate, a close friend, a family member—depending on which version of Carson's story you've read most recently. But the real "Bob" hasn't surfaced, no one the network contacted bore out Carson's narrative and the campaign has refused to provide information to reporters.
In other words, Carson is under fire because he might not have tried to stab someone.
In his three-part interview with CNN's Alisyn Camerota, the former neurosurgeon said that the media was being unfair by questioning his past.
"So you've done your job, kudos, let's move on," he said.
"The vetting that you all did with President Obama doesn't even come close, doesn't even come close to what you guys are trying to do in my case, and you're just going to keep going back.…It is just garbage," Carson said. "Give me a break."
When trying to explain some of his statements, he told Camerota to "listen carefully" and write down what he was saying.
Carson's biography is an essential element of his campaign meant to distinguish him by virtue of his faith and rise from poverty to the pinnacle of his profession. The questioning of his honesty has been enough to pierce his calm.
During the CNBC debate, he called a question about his association with Mannatech, a controversial nutritional supplements company, "propaganda."
The "secular progressive" agenda of the media, he told Camerota, is undermining the entire country.
The hard questioning of Carson is a new experience for him. He was praised endlessly by politicians, pundits and conservatives nationwide before this campaign cycle. He received the Medal of Freedom from George W. Bush, and no one writes an article about him without referring to his neurosurgical excellence. He still has the best "likability" rating of any candidate. He has been beloved for his charity.
Carson has couched his ambition in modesty.
"I'll tell you the reason I'm running for president. Because I have hundreds of thousands of petitions from my fellow Americans asking me to run for president. It wasn't something that I particularly wanted to do, to be honest with you," he told Camerota.
The anchor was attempting to ask him how he was different from the other Republican candidates; if he couldn't name a specific reason why his plan for, say, American education, is better than other plans, why run at all?
The implicit answer was his character, and now he must defend that.
Updated to include comments Carson made at a press conference.