Ben Carson Denies Donald Trump Called Him 'Child Molester'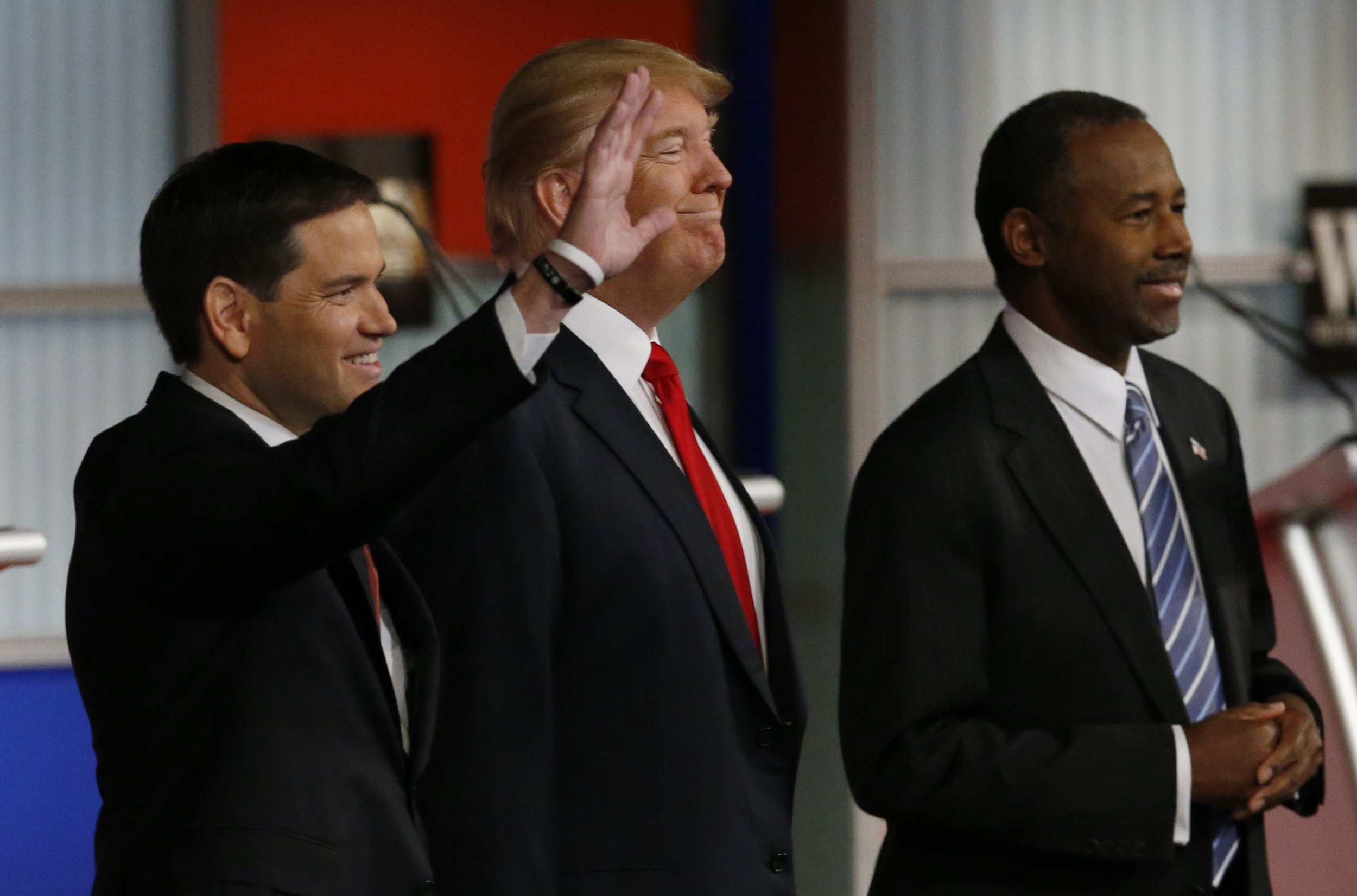 Republican presidential hopeful Ben Carson on Friday denied that his rival and general GOP front-runner Donald Trump called him a "child molester."
"I don't believe he called me a child molester," Carson said Friday morning while speaking to reporters in South Carolina. "I always find it a little amusing what people in the press like to say: 'You compare this and therefore you said they're the same.' I don't buy all that stuff. So those are questions we should ask Donald Trump."
Speaking at a community theater in Fort Dodge, Iowa, Trump, who has made waves with his coarse language, on Thursday went on a lengthy rant about Carson, saying the retired neurosurgeon made terrible comments about himself in his memoir.
"He said that he's pathological and that he's got basically pathological disease," Trump said. "If you're pathological, there's no cure for that, folks."
He went on, "If you're a child molester, a sick puppy...there's no cure."
In his autobiography, Gifted Hands, Carson wrote that as a young man he had a "pathological temper," which sometimes caused him to act violently toward others. In his speech, Trump referenced a story Carson has told on the campaign trail about losing his temper and attempting to stab a peer when he was a teenager. He skeptically noted Carson's comment about his intended victim's belt buckle blocking the knife.
"Give me a break," Trump said.
Related: Dr. Ben Carson's Life Story Rests on a Deep Adventist Faith
Earlier on Friday, Armstrong Williams, Carson's top aide, told CNN the campaign is "sad" to watch Trump.
"When I spoke with Dr. Carson about this yesterday how we should respond, you know, he was so sad about it. He said, 'Pray for him.' He feels sorry for him because he really likes Mr. Trump," Williams said.
"To see him just imploding before our very eyes—it's just sad to watch," he added, according to CNN.
Carson said he is hopeful Trump's advisers will help him to understand the word pathological and recognize that it doesn't mean incurable.
"It's not the same. It simply is an adjective that describes something that is highly abnormal," he said.
Fellow Republican contender Carly Fiorina defended Carson Friday morning. "Anyone can turn a multimillion-dollar inheritance into more money, but all the money in the world won't make you as smart as Ben Carson," she said in a Facebook post. During his extended remarks on Thursday, Trump also referred to Fiorina as "Carly whatever-the-hell-her-name-is."
South Carolina Senator Lindsey Graham, who is also running for the Republican nomination, told Fox News that Trump is "the most uninformed person" he has ever met running for president and warned the country not to replace President Barack Obama with the real estate mogul. The country, he added, "will get worse, not better."
Carson, who mostly ranks as the No. 2 Republican presidential hopeful in polling, has been campaigning steadily in the past few months to catch up to Trump. In a Monmouth University poll released in September, he tied the businessman in Iowa with 23 percent. The ranking marked the first time Trump hadn't led outright in one of the four early-primary states—Iowa, Nevada, New Hampshire and South Carolina.