HUD Secretary Ben Carson, Longtime Baltimore Neurosurgeon, Says Trump Willing to Work With Elijah Cummings
United States Department of Housing and Urban Development Secretary Ben Carson, a longtime Baltimore neurosurgeon, said President Donald Trump assured him he's willing to work with Congressman Elijah Cummings to help "bring relief" to the city's poorest residents.
Carson, who was Director of Pediatric Neurosurgery at Baltimore's Johns Hopkins Hospital from 1984 until his retirement in 2013, defended Trump from accusations of "racism" and said he thinks both Cummings and the president have good intentions. He told Fox News Monday evening that Trump's intention behind last week's tweets directed at the Democratic Maryland congressman and Baltimore were meant to halt impeachment talks and criticisms of Border Patrol agents in favor of working to help everyday Americans who are "suffering."
Despite Trump calling Baltimore a "corrupt mess," Carson said the president personally assured him his administration would be open to working with Cummings and Democrats.
Carson said Republican Maryland Governor Larry Hogan, who condemned Trump's comments about Baltimore, and Cummings have worked hard to improve life for the city's poor and destitute.
"I don't think Elijah Cummings is a bad person," Carson told Fox News' Tucker Carlson. "I think he actually is working hard to try to help people. And I certainly don't think President Trump is a bad person."
"[President Trump] is working very hard – in fact, I asked him today, would you be willing to work with Elijah Cummings to bring some relief to the people of Baltimore? He said he would be happy to," Carson said.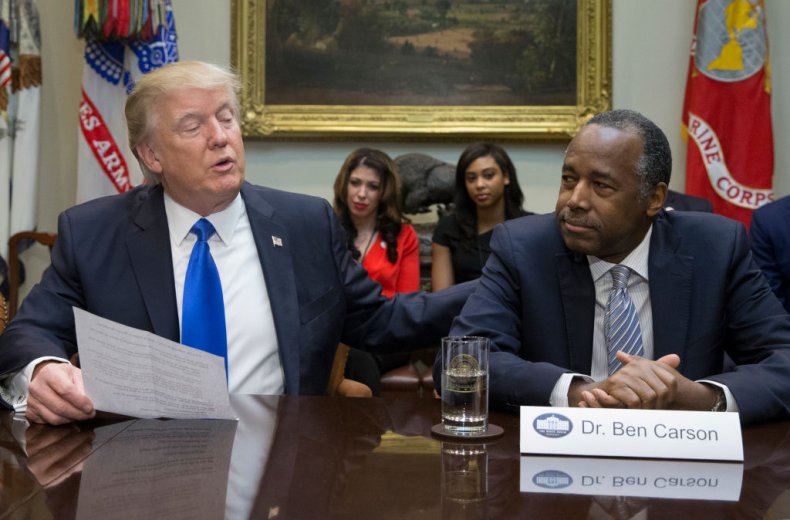 Carson continued, "And I think what President Trump was trying to say is that rather than spending your time talking about, you know, our brave border agents and investigating endlessly things that you can't find anything on, why not spend some time working more for these people who are suffering? And that he is willing to work with them. I think that's what we should be asking for."
Speaking on C4 radio Monday, Hogan echoed Carson's sentiment but expressed frustration at Trump's "childish" comments about Baltimore. He called on lawmakers of both parties and at both the federal and local level to work on real issues instead of name-calling.
"Why are we not focused on solving the problems and getting to work?" Hogan said on the radio show. "Instead of who's tweeting what [and] who's calling whom names. Washington is just completely consumed with angry and divisive politics. We're doing a lot of things, but we sure could use some help from the White House and from the Congress."
Carson applauded Hogan for capitalizing on so-called "opportunity zone" programs which invest in "distressed" areas of Baltimore. He also defended Trump from widespread accusations of "racism," saying his administration's economic policies are indicative of politicians who care about poor communities.
"Also, you know, unemployment is at a very low level. Manufacturing is coming back, wages are going up, you know, prison reform. All of these things are happening. These are not things that a person who is a racist would do. And we allow ourselves to be distracted by these things," Carson added.
Carson repeatedly suggested Cummings and Trump should work together instead of engaging in verbal back-and-forth fighting. "I've worked on a lot of issues with many politicians, including Elijah Cummings, particularly in terms of childhood education and improving life for the people."