After Paris Attacks, Ben Carson's Foreign Policy Learning Curve Under Scrutiny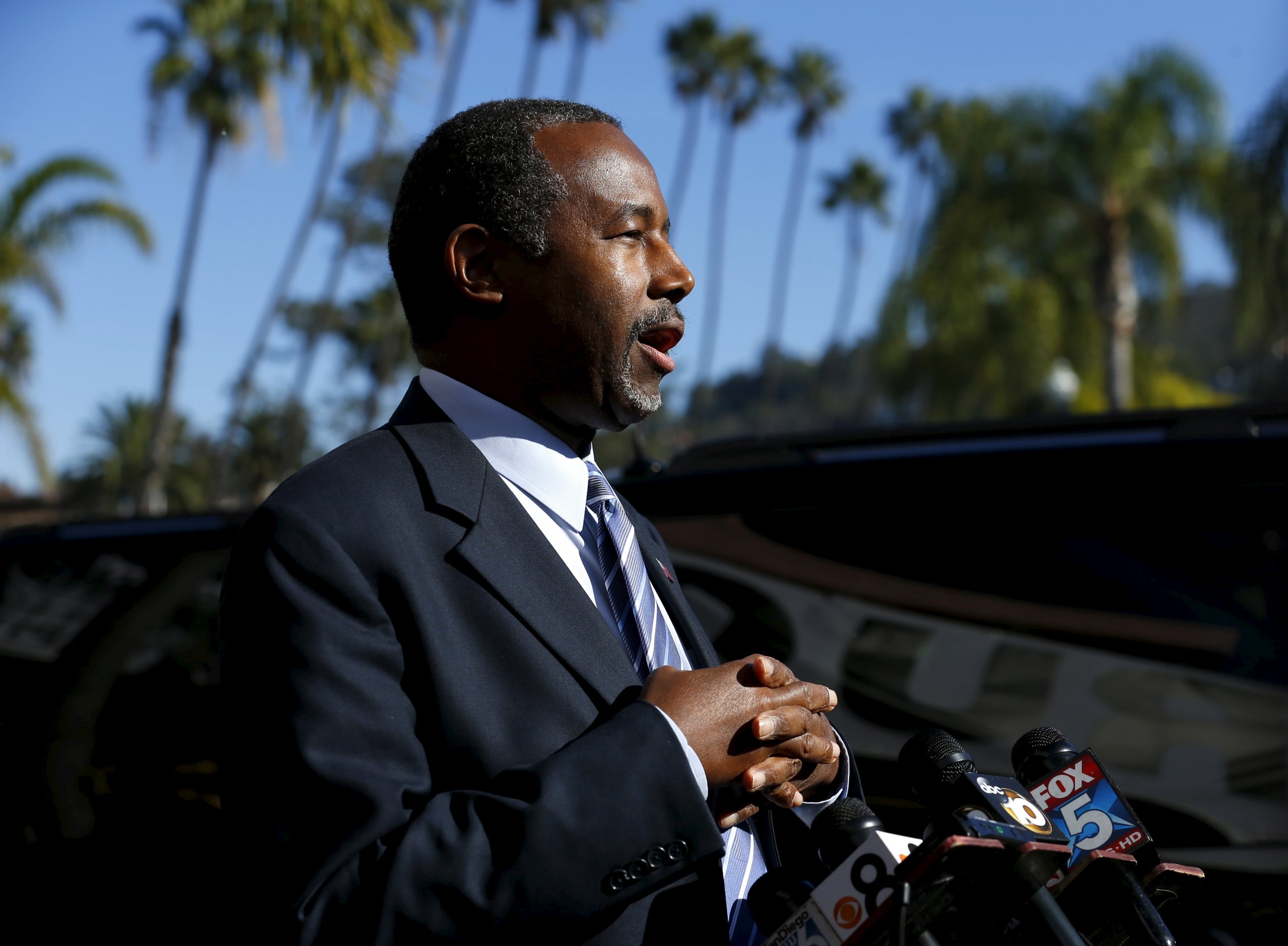 Every politician has a network of advisers, and Ben Carson is no exception. With zero experience running a political campaign or governing, the former neurosurgeon and top-tier presidential candidate relies on allies to bring him up to speed on issues like foreign policy and economics.
Yesterday, one of Carson's advisors told The New York Times that the candidate, who is leading in several polls for the Republican presidential nomination, has difficulty grasping foreign policy issues, in spite of frequent briefings. After Carson claimed that the Chinese had a military presence in Syria during the most recent Republican presidential debate—and was duly corrected by national security experts—a number of outlets have begun to question exactly who is in Carson's ear, particularly when it comes to foreign policy.
Duane Clarridge, a former CIA officer and counterterrorism expert under Ronald Reagan, essentially apostatized from the Carson camp in the damning Times interview, in which he said that "nobody has been able to sit down with [Carson] and have him get one iota of intelligent information about the Middle East." He indicated that Carson has required frequent briefings to "make him smart," but still suffers from lapses on basic factual issues.
The comment about China came up during Carson's rambling answer to a question about Syria, which he described as a complicated country because of the presence of multiple factions.
Carson immediately distanced himself from Clarridge and the Times piece, telling a PBS station that "he is not my adviser. He is a person who has come in on a couple of our sessions to offer his opinions about what was going on.… To call himself my adviser would be a great stretch."
The defense echoes Carson's retort during the CNBC debate on October 28 about his relationship with Mannatech, a controversial nutritional supplements company that he has been associated with. He claimed that he gave paid speeches for the company, but that they had no real relationship. The emerging pattern suggests that Carson doesn't want to be identified with anyone just because he talks to them or listens to them.
As the Times story noted, Armstrong Williams, Carson's "business manager" and close friend, once called Clarridge a "mentor to Dr. Carson." After the dustup over his China comment, the campaign promised to release the names of individuals who are advising the candidate. There was also a vague promise to confirm the presence of Chinese troops on the ground in Syria, after Carson said he was "surprised" that his own sources were "better than theirs"—meaning the White House, the Pentagon, the State Department and the CIA. So far, neither promise has been fulfilled.
The primary figure who has been identified as a top Carson foreign policy advisor is Robert Dees, a retired general and Liberty University professor who believes that the military has a role in spreading Christianity. (Liberty is a Christian university founded by televangelist Jerry Falwell, and has invited a number of political candidates, including Carson, to give speeches.)
Not everyone is in agreement that Carson is a foreign policy incompetent. Michael Hayden, a former director of the CIA under George W. Bush, recently told MSNBC that he was impressed by a lengthy phone conversation with the candidate.
"His instincts are all right," Hayden said. "He asked the right questions.… He had good follow-on questions."
As for the gaffe about China?
"I think he was trying to say when we're absent from the playing field, we leave a vacuum in which other powers may enter," Hayden added
Gaffes are often a poor measure of political competence. In a debate against Jimmy Carter, Gerald Ford erroneously stated that the Soviet Union was not the dominant power in Eastern Europe. The statement was clearly untrue, and most people recognized that Ford himself did not actually think it was accurate.
Carson may not be vastly less qualified than other members of the GOP field, which includes three first terms Senators and two business leaders with no experience in elected office. If Carson's central idea is that American leadership and military strength are the way forward in the Middle East, he's not philosophically much different from candidates like Jeb Bush and Marco Rubio.
Some of Carson's ideas—or his advisors' suggested ideas—make sense. When he told Fox Business Network debate moderators that ISIS could be weakened if its self-styled caliphate were destroyed, he wasn't completely wrong: The militant group, unlike Al-Qaeda, considers holding territory central to its ideological program, and many experts believe that shrinking the land it controls would indeed make it look less legitimate to potential recruits.
On Wednesday afternoon, The Washington Post published an op-ed written by Carson under the headline "My Plan to Defeat the Islamic State" in which he urges the U.S. to "dramatically increase" its support of local moderate groups fighting ISIS, such as the Kurds.