'You Take Care of Your Own First': Ben Carson's HUD Prepares to Evict Undocumented Families, Including 55,000 Children
In defending the Department of Housing and Urban Development's plan to evict undocumented immigrant families from their homes, HUD Secretary Ben Carson said Tuesday that the U.S. needs to "take care of your own first."
"It's not that we're cruel, mean-hearted. It's that we are logical. This is common sense," Carson said during a hearing with Democratic House Financial Services Committee members, according to The Hill.
"You take care of your own first," Carson concluded.
Carson's plan would evict thousands of households in federally subsidized homes, led by undocumented immigrants. Federally subsidized housing is available to families with at least one person who qualifies for HUD programs, but HUD in April announced that it would no longer allow undocumented immigrants to access federal housing programs.
Households facing evictions would have six months to find another place to live, and the deferral could be renewed two times for up to 18 months as they find a place to settle down.
The HUD secretary drew a comparison between his plan and flight attendants telling passengers to put on their oxygen masks before helping others.
"It's the same concept," Carson ​said. "It seems only logical that tax-paying American citizens should be taken care of first."
​Amid criticism from Democrats, Carson said Congress could ​extend benefits to families with mixed immigration statuses and some other immigrants by passing a comprehensive immigration law.
"If someone can tell me how to follow the law and still take care of their issue, I'll hear it," Carson said. "Until we're willing collectively, both Democrats and Republicans, to sit down and solve the problem, we're going to continue to have these problems pop up."​
​Democrats on the committee attacked Carson's proposal given an internal HUD analysis found that as many as 55,000 children who are U.S. citizens or legal U.S. residents could be evicted or become homeless.​
​"I hope and pray that you rethink that," Democratic Representative Juan Vargas said to Carson, expressing disbelief "that this rule could come from you."
"I don't think you're mean-spirited at all," Vargas said. "I have to say, taking these 55,000 children and putting them on the street is mean-spirited. I don't think it's your nature."​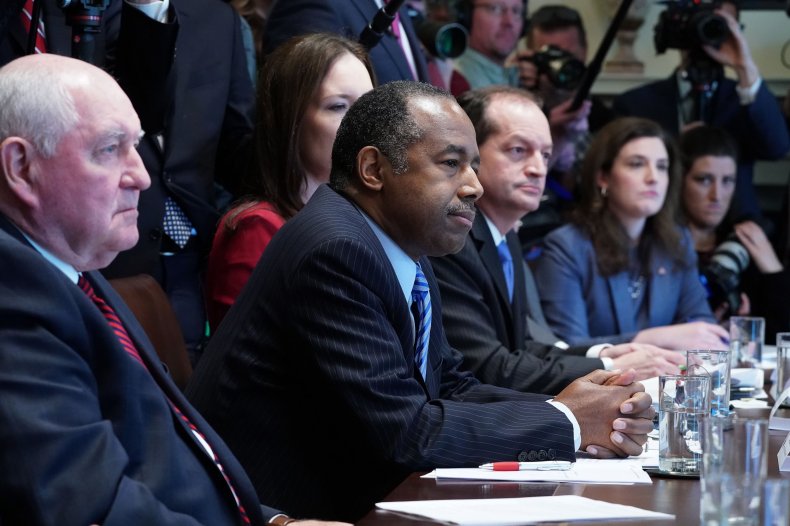 President Donald Trump on Thursday unveiled an immigration proposal that would prioritize highly skilled workers over family reunifications, limit "meritless" asylum claims and boost border security. ​
Trump called it "pro-American, pro-immigrant and pro-worker," and "just common sense," but Democrats immediately rejected the plan.