Ben Carson's Camp Calls Politico West Point Story an 'Outright Lie'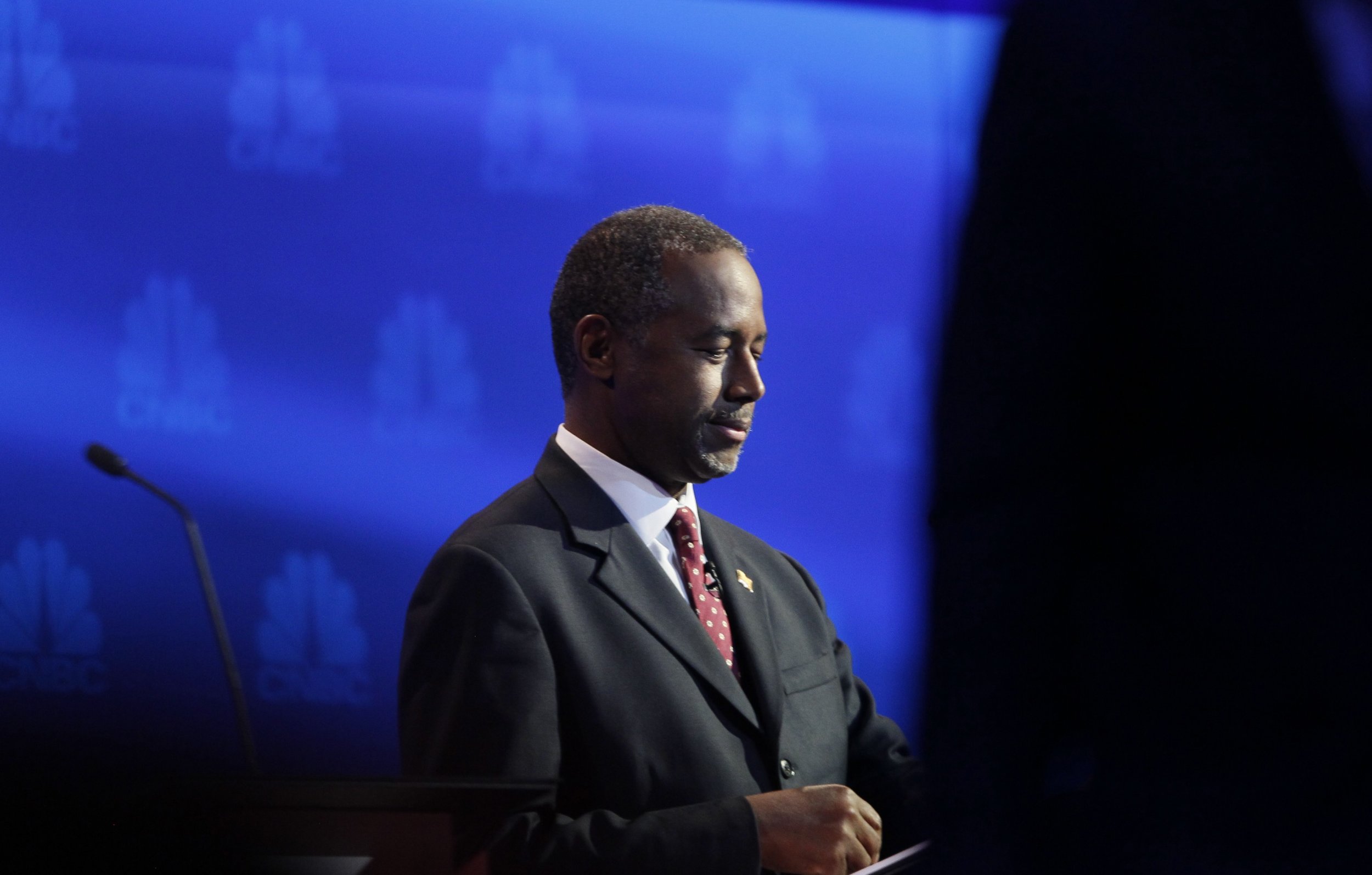 Updated | Ben Carson's team is slamming a Politico report that claims the Republican presidential candidate's campaign admitted he had fabricated a story about his application and acceptance to West Point as an "outright lie," the Daily Caller reported on Friday.
"The campaign never 'admitted to anything,'" the Daily Caller reported a Carson spokesman said on Friday afternoon in response to Politico's story published earlier in the day.
In his book Gifted Hands, Carson says he was introduced to General William Westmoreland in 1969 when he was 17. Westmoreland had just returned from Vietnam, and the two had dinner together. Carson said the meeting was followed by an offer of a "full scholarship" to West Point. The retired neurosurgeon and current GOP front-runner has been using the story as a central point about his personal life during his campaign.
Politico reported that a spokeswoman for the military academy told the publication there were no records that indicate Carson even began the process to apply. Politico then questioned Carson's campaign about the revelation.
In a statement to the Daily Caller, Doug Watts said that as the top Reserve Officer Training Corps (ROTC) high school student in Detroit, Carson was invited to meet Westmoreland, campaign manager Barry Bennett. "He can't remember with specificity their brief conversation, but it centered around Dr. Carson's performance as ROTC city executive officer," he said.
Carson was introduced to West Point representatives by ROTC supervisors, according to the statement, and they'd said based on Carson's standing and performance in ROTC, he could help Carson get an appointment.
"The Politico story is an outright lie," the statement reads. "Dr. Carson as the leading ROTC student in Detroit was told by his Commanders that he could get an Appointment to the Academy. He never said he was admitted or even applied."
Carson is a graduate of Yale and the University of Michigan Medical School.
In response to Politico's report, Carson on Friday told The New York Times: "I don't remember all the specific details. Because I had done so extraordinarily well you know I was told that someone like me—they could get a scholarship to West Point. But I made it clear I was going to pursue a career in medicine."
"It was, you know, an informal 'with a record like yours we could easily get you a scholarship to West Point,'" he added, according to the Times.
The questioning of Carson's admission to West Point came as the presidential candidate has received criticism for other public comments he has made. Questions have arisen regarding other details in his personal narrative, including his story about losing his temper and attempting to stab a peer when he was a teenager.
Republican candidate Donald Trump, who at times has been neck-and-neck with Carson in some of the polls, on Friday afternoon responded to the news on Twitter:
This story has been updated to include responses from Carson and Trump.