Carson Trails Trump By Only 1 Percent In Fox News Poll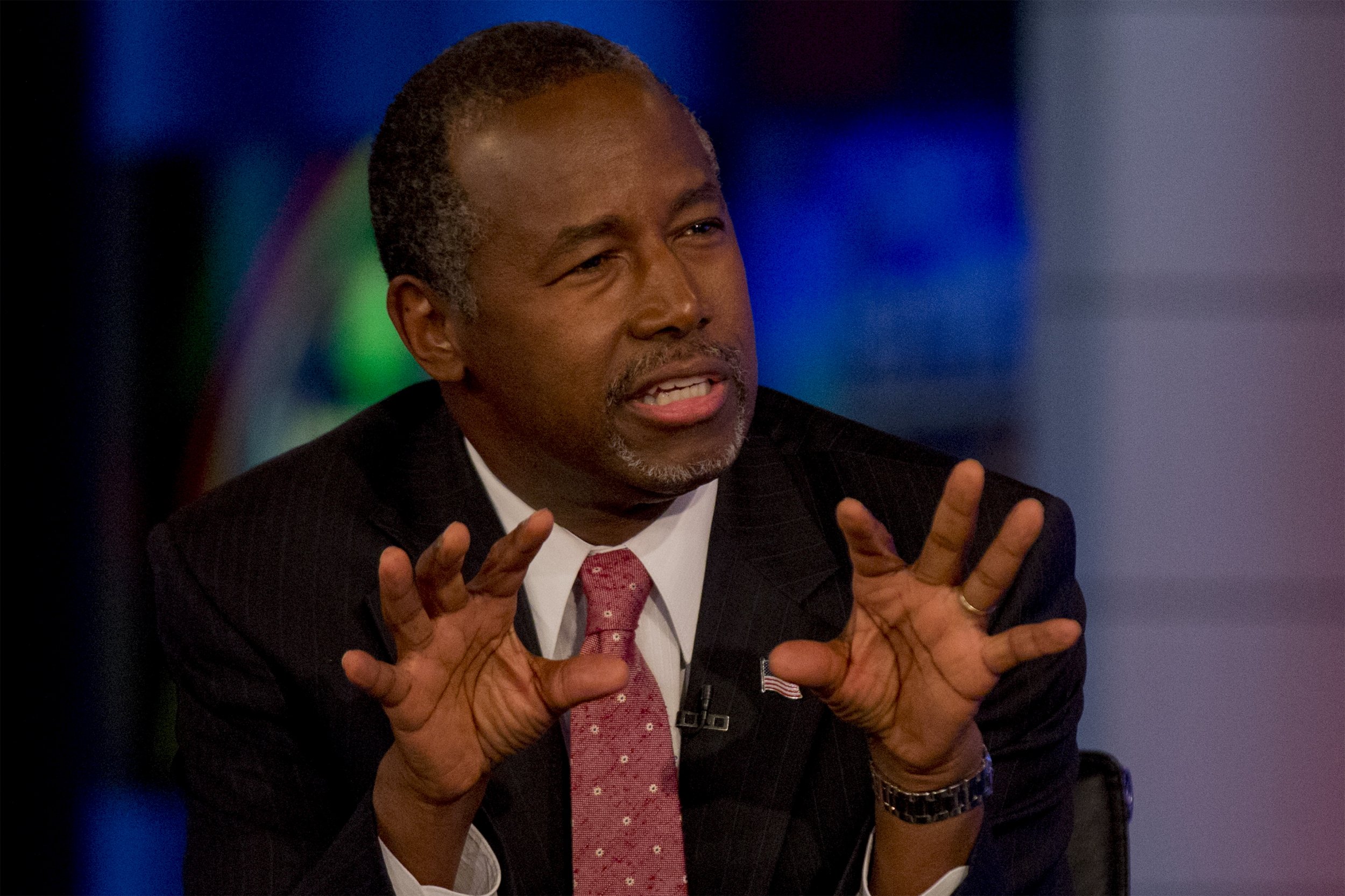 Ben Carson is gaining on Donald Trump, according to a new Fox News poll showing the retired neurosurgeon in a statistical tie with the front-runner. An impressive 70 percent of respondents also thought Carson was "more ethical" than other politicians.
The poll, a national survey with just over 1,000 participants, comes after Carson reported the largest third quarter fundraising of any Republican candidate—$20 million versus $12 million for Ted Cruz—while explaining a long string of provocative statements about such topics as Muslims running for elected office and whether Jews, given access to firearms, could have prevented the Holocaust.
Shortly after his comments about a Muslim being president, the candidate, who proudly claims "I'm not politically correct," told Fox News Channel's Fox & Friends that he would "not wait [his] turn" in a mass shooting situation, but would instead rush the gunman. The line, which Carson appeared to intend humorously (he laughed and flashed a grin after saying it), prompted a number of critical responses and recalcitrant defenses. With Trump driving the rhetoric of the Republican primaries by saying what he thinks and doubling down on controversies, Carson has emerged as a similarly anti-PC candidate who strikes a calmer tone—albeit if the literal volume of his voice is the criterion, not what he actually says.
With months to go before the first primary, national polls are still of a limited utility, but they give an indication of the flavor Republicans are looking for this year in an eventual nominee. This new poll has a 3 percent margin of error.
As Al Gore knows, having the most people in the country support you doesn't always translate to winning states (or in this case, Iowa and New Hampshire delegates). Carson is currently in second in Iowa.
One dynamic that may be helping Carson is Trump's feuding with conservative media outlets. He started an ongoing war with Fox by criticizing anchor Megyn Kelly and later Bill O'Reilly, and ultimately declared his intent to boycott the network. The National Review all but took sides in Trump's mini-feud with Marco Rubio, and it has published a number of articles criticizing the real estate mogul. Carson, though drawing the ire of CNN, MSNBC and other outlets, hasn't been getting flak from the conservative media, which surely helps among Republican primary voters.
Early polls can be useful in reinforcing general perceptions of a candidate. Carson's ethics numbers underscore his repeated "I am not a politician" plank. As long as the party remains interested in candidates who have never held elected office, the doctor will be around for a while.