Ben Carson Calls Poverty 'a State of Mind'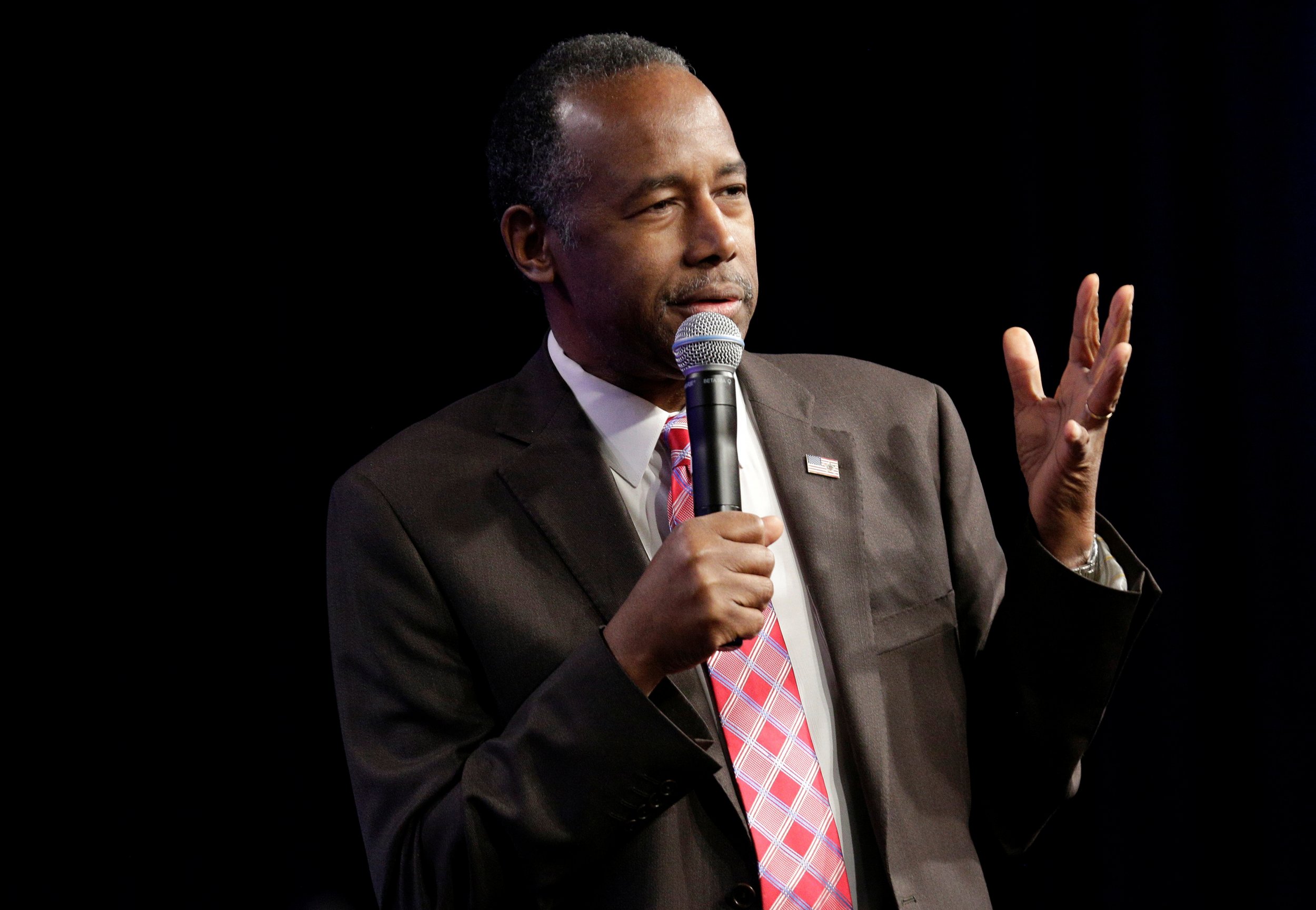 Housing Secretary Ben Carson said in an interview released Wednesday that poverty is a "state of mind," according to The Washington Post.
"I think poverty to a large extent is also a state of mind," Carson told Armstrong Williams in an interview that will air on SiriusXM Wednesday night. "You take somebody that has the right mindset, you can take everything from them and put them on the street and I guarantee in a little while they'll be right back up there."
Related: Carson refers to slaves as 'immigrants' in speech
The interview was recorded Tuesday during a town hall. Carson also said that if "you take somebody with the wrong mindset, you can give them everything in the world, they'll work their way right back down to the bottom."
This mindset, Carson says, is a result of bad parenting and government programs that keep people in poverty rather than showing them the way to lift themselves out of it.
"I think the majority of people don't have that defeatist attitude, but they sometimes just don't see the way and that's where government can come in, and be very helpful," he said. "It can provide the ladder of opportunity, it can provide the mechanism that will demonstrate to them what can be done."
Carson's comments on Tuesday echoed those he made while touring facilities for the poor in Ohio in late April, when he spoke of how "compassion" doesn't mean giving people "a comfortable setting that would make somebody want to say: 'I'll just stay here. They will take care of me.'"
He added: "We have some people who are mentally ill. We have some elderly and disabled people. We can't expect in many cases those people to do a great deal to take care of themselves," adding that "there is another group of people who are able-bodied individuals, and I think we do those people a great disservice when we simply maintain them."
Carson in December was nominated to run the U.S. Department of Housing and Urban Development (HUD), and the former 2016 presidential candidate was confirmed by the Senate in January. The appointment drew harsh criticism, as Carson, who rose to prominence as a neurosurgeon, lacked experience relevant to the position.
His comment about the "mindset" of the poor isn't the first time he has courted controversy since taking over as HUD secretary. In March, during his first address to his new staff, he referred to slaves brought from Africa to America as "immigrants."
"There were other immigrants who came here in the bottom of slave ships, worked even longer, even harder for less," said Carson, an African-American.
Carson's has long demonstrated a penchant for making bizarre comments. During a commencement speech delivered nearly 20 years ago, he theorized that the Egyptian pyramids were built to store grain, despite the contention of most archaeologists that they were used as tombs.