Ben Carson's Rap Ad Debuts, With Exactly Two Rhymes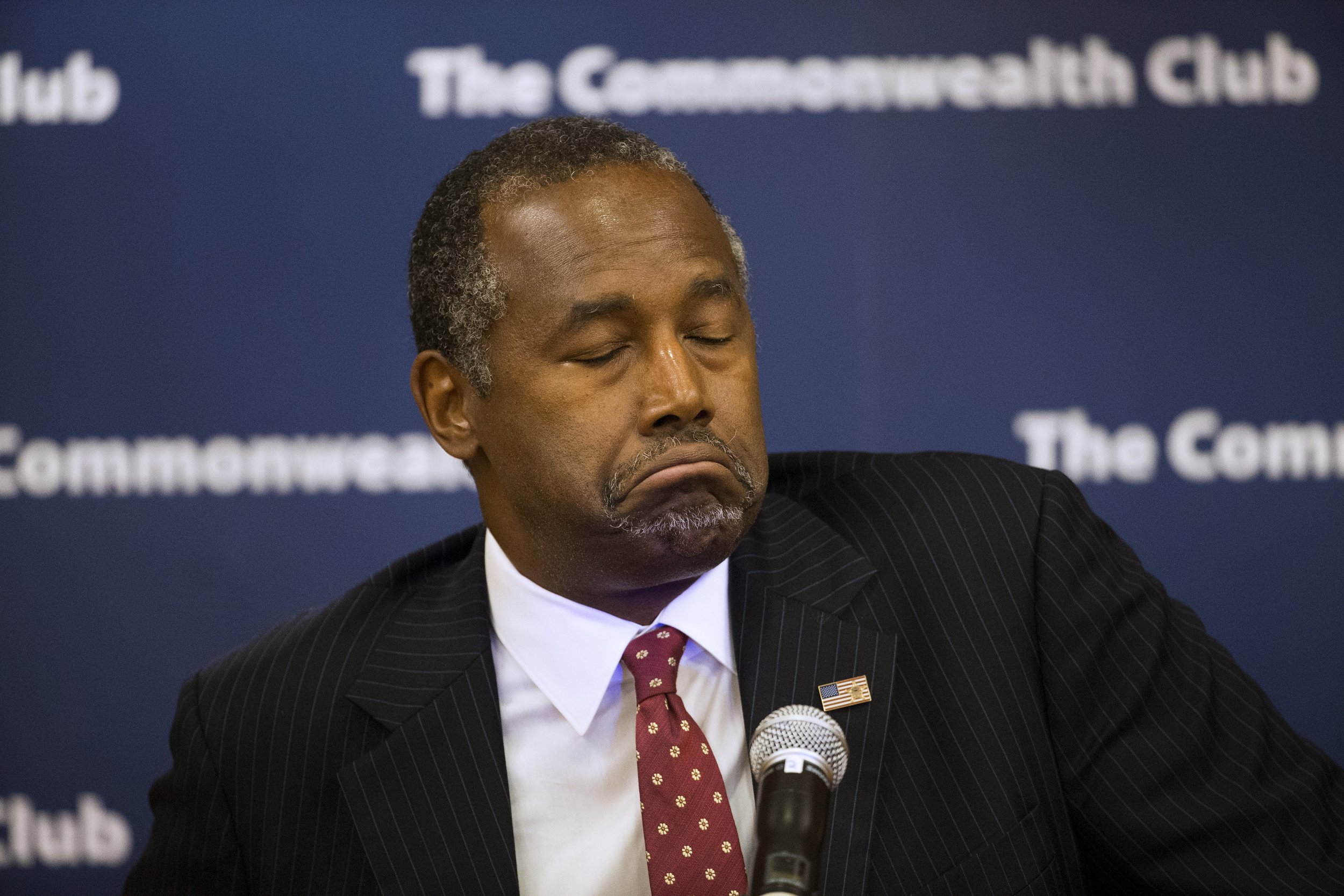 A great rapper once said, "I'm out for presidents to represent me." Back in 1994, the critically lauded Nas was rapping not about voting in the presidential primaries but stacking George Washingtons.
Ben Carson, who is leading in polls for the Republican presidential nomination, has just debuted a new campaign ad, released Thursday morning and featuring rapper Aspiring Mogul (who should probably be a Trump supporter, right?).
Carson's new rap ad will air on radio stations in Southern states and in a few major cities, including Houston and Atlanta. According to Carson's campaign aides, the spot is targeted at young, black voters—a demographic that statistically leans left.
"This happens to be a group that we feel pretty strongly is ready and prepared to start working for Ben Carson," Carson campaign spokesman Doug Watts told ABC News.
The ad intersperses portions of Carson's campaign stump speech with brief (two, to be exact) rhymes by Mogul, who—and if this starts a beef with him and Newsweek, so be it—is not exactly Rakim.
"Vote and support Ben Carson for our next president to be awesome," he raps. And: "If we wanna get America back on track, we gotta vote for Ben Carson, [as] a matter of fact."
Hip-hop has always been a political genre—2Pac famously beefed with Vice President Dan Quayle, who said that his 1991 record, 2Pacalpyse Now, had "no place in our society, and he later name-dropped Bill Clinton on his 1995 album, Me Against the World.
In 2008, Nas celebrated Barack Obama's historic victory with "Black President."
In the new school, acclaimed rapper Kendrick Lamar once dropped a song called "Ronald Reagan Era," which addresses a generation of black Americans born in the '80s. And the cover of Lamar's latest album, To Pimp a Butterfly, features a tableau of black men and children on the White House lawn, standing over a presumably dead white judge.
As those songs illustrate, rap has often been a place for a politically marginalized community to express its views, frustrations and desires within the status quo of an unequal America. Rapping to advertise for a political candidate is a different, and entirely new, matter.
The closest thing there has ever been to a pro-GOP rap track is probably the dual Nas and Jay Z track "Black Republican." Of course, the point of this song is to state that Republicans tend to represent the wealthy.
Carson has already made some unusual publicity choices during his campaign. When he stepped off the campaign trail to focus on signing books, someone asked whether his campaign was really about running for office or about building his brand. As Jay-Z once said, "He's not a businessman, he's a business, man."
Carson seems to have a blasé attitude toward his new ad. Asked about it by reporters early Thursday morning in Miami (at a book signing), he said that "there were some people in the campaign who felt" that using a rap song would be a good idea, but that he wouldn't have necessarily chosen to "go that route." The offhand statement raises the question of how much Carson controls his own message, which is predicated on not being a politician.
Maybe Carson, who has rocketed to the top of the polls without any political experience, should follow Jay Z's lead and start his stump speeches with "I know you can feel the magic, baby."