Carson Likens Syrian Refugee Problem to 'a Rabid Dog'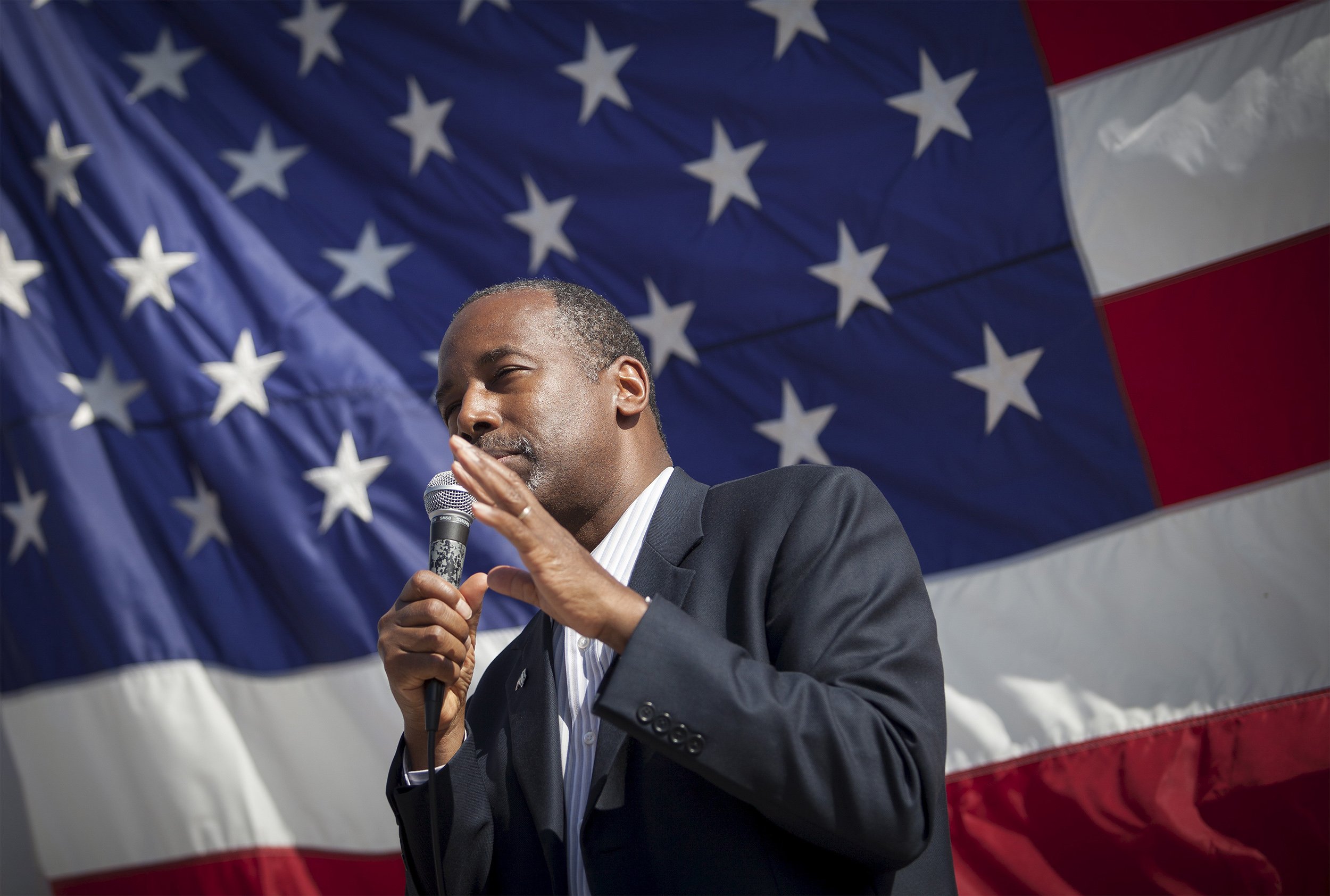 Speaking at a campaign rally in Alabama late Thursday, Ben Carson, one of the leading contenders for the Republican presidential nomination, seemed to compare Syrian refugees to rabid dogs.
"If there's a rabid dog running around in your neighborhood, you're probably not going to assume something good about that dog," said Carson. "And you're probably going to put your children out of the way. That doesn't mean that you hate all dogs."
The retired neurosurgeon has repeatedly said that letting Syrians fleeing their homeland into the U.S. would be a mistake. He's not alone in that opinion—every other GOP candidate shares it, along with a significant portion of the U.S. population. But he is singular in his ability to phrase the issue in terms critics would deem politically incorrect. Among his biggest fans, Carson is fairly gaffe-proof, but recent polls suggest that he might be paying the price of intense media scrutiny.
Once his comments surfaced, headlines from broadcast and cable networks reported that Carson had compared refugees to animals The metaphor he used is slightly difficult to pin down. Does "neighborhood" refer to the United States of America or the entire world (or the West, the seat of Carson's Judeo-Christian values)? Does "a rabid dog" refer to a specific hypothetical terrorist posing as a refugee or to any refugee with the potential to hold violent sentiments? Are the American people "children" in need of protection from vague threats?
Asked by CNN how barring widows and orphans from resettling in America would square with certain biblical precepts, Carson responded, "The Bible also talks about wisdom. You don't just do stupid things."
He added, "But you're going to put your intellect into motion, and you're thinking, How do I protect my children at the same time?... I'm going to call the humane society, and hopefully they can come and take this dog away and create a safe environment once again."
Carson has also said his "big frontal lobes" are the source of his opinions on refugees. He thinks it would be stupid to not base refugee policy on the danger of terrorists sneaking into the U.S.
In addition, he has suggested resettling refugees in other Middle Eastern countries. However, hundreds of thousands of displaced people have already fled to camps in Turkey, Jordan and other nations in the region, according to statistics from the U.N.'s refugee agency. With over 4 million migrants fleeing Iraq and Syria and a lack of humanitarian resources in neighboring countries, the U.N. has asked Europe and the West to play a greater role in harboring refugees.