Ben Crump Calls Kyle Rittenhouse 'Racist, Homicidal Vigilante' After Not Guilty Verdict
Civil rights attorney Ben Crump called Kyle Rittenhouse a "racist, homicidal vigilante" in his response to Friday's jury verdict that found Rittenhouse not guilty of all charges in his homicide trial.
"The Rittenhouse case has pulled back the curtain on profound cracks in our justice system—from deep bias routinely and unabashedly displayed by the judge to the apathy of officers who witnessed Rittenhouse's actions and did nothing," Crump said in a Friday statement.
"If we were talking about a Black man, the conversation and outcome would be starkly different," he added. "But we're not.... We're talking about Kyle Rittenhouse, a racist, homicidal vigilante who, like so many white men before him, not only escaped accountability but laughed in its face."
A Kenosha, Wisconsin, jury acquitted Rittenhouse of intentional homicide and other charges, finding him not guilty of the five felony counts after three and a half days of deliberation.
Rittenhouse faced the charges in connection with the shooting deaths of Joseph Rosenbaum and Anthony Huber, as well as the injuries suffered by Gaige Grosskreutz.
A sixth charge of gun possession by a minor was dropped by the judge before closing arguments began on Monday. The misdemeanor charge was expected to be the easiest for the state to prove.
On the evening of August 25, 2020, Rittenhouse shot Rosenbaum, Huber and Grosskreutz, who was hit in the arm, after he traveled from Illinois to Kenosha, Wisconsin, to attend the racial justice protests there after the police shooting of Jacob Blake.
Rittenhouse's defense team contended that he went to Kenosha to help protect the local businesses that were being looted and destroyed and that he acted in self-defense in his shootings that night.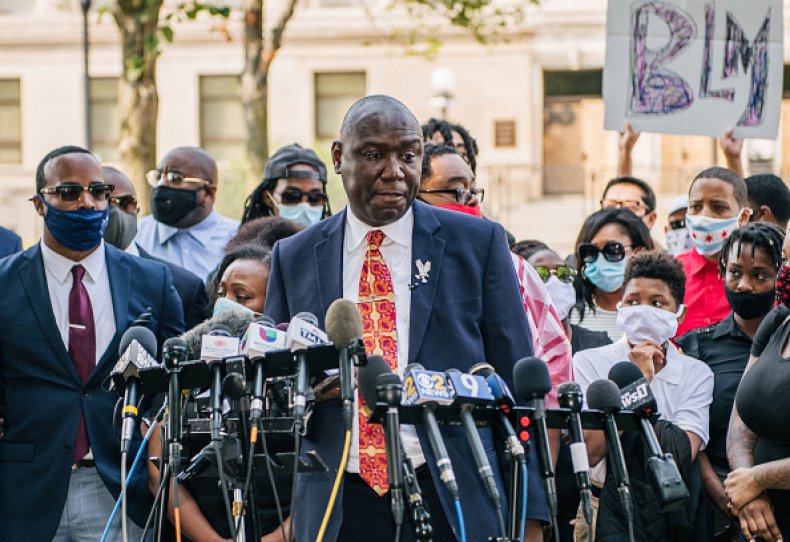 Crump, who is representing Blake's family, has been vocal about the homicide trial over the past two weeks. Last week, the attorney slammed the judge in the Rittenhouse case, accusing him of siding with the defendant throughout the case and pressuring the jury to acquit the 18-year-old.
"What's amazing to me is how the Judge has demonstrated his bias in support of Rittenhouse in all his rulings throughout the entire case," Crump tweeted. "If a Black man killed two unarmed people on video, no judge would be giving him favorable rulings on hardly any motions."
Before the trial began, Kenosha County Circuit Judge Bruce Schroeder ruled that prosecutors and the defense would not be allowed to refer to the men who died as "victims" but could call them "rioters" or "looters" instead.
"What looms above this trial is this whole notion that we have two justice systems, one for Black America and another for white America," Crump said before the trial began.
On Friday, Crump said the delayed arrest of Rittenhouse, as well as the trial and the final verdict, was just "another example of the two justice systems at work in America."