Ben Crump Says Defense Attorney Suggested Arbery Was A 'Runaway Slave' in Toenail Comment
Civil rights attorney Ben Crump slammed one of the defense attorneys representing the defendants in the Ahmaud Arbery case, saying she suggested Arbery was a "runaway slave" in her toenail comments to the jury.
"Unbelievably, you hear the defense lawyer, in her closing, say that Ahmaud Arbery had long legs with dirty toenails as if he was a runaway slave and [the defendants] were allowed to chase him and make him comply or kill him," Crump told CNN on Wednesday.
Attorney Laura Hogue, who is representing Greg McMichael in the case, prompted outrage in her closing arguments of the trial on Monday when she painted a disturbing image of Arbery as a "recurring nighttime intruder."
"Turning Ahmaud Arbery into a victim after the choices that he made, does not reflect the reality of what brought Ahmaud Arbery to Satilla Shores in his khaki shorts, with no socks to cover his long, dirty toenails," Hogue told the jury, after suggesting that the 25-year-old's actions to run away from the men accused of killing him played a factor into his death.
Her remarks were met with audible gasps from inside the courtroom and Arbery's mother, Wanda Cooper-Jones, said she got up and left the room immediately after hearing the description.
"I thought it was very, very rude to talk about his long, dirty toenails and to totally neglect that my son had a huge hole in his chest when he was shot with that shotgun," Cooper-Jones later told CNN's John Berman.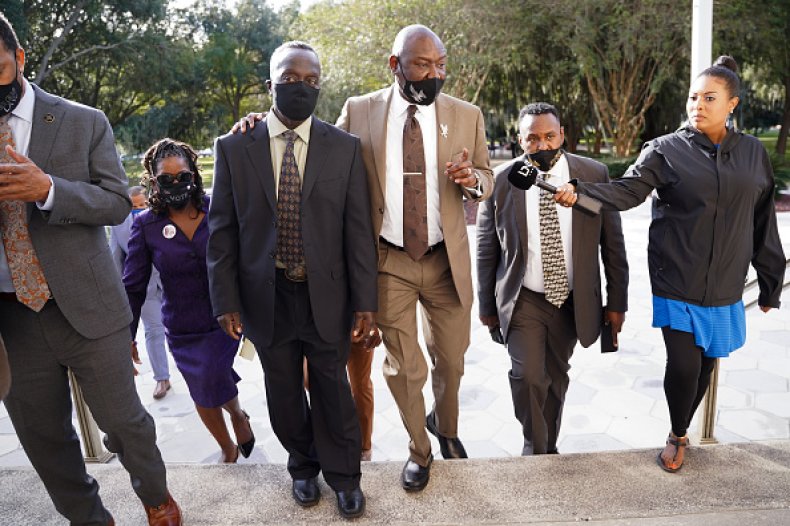 On Wednesday, Crump accused Hogue of using "dog-whistle rhetoric" in her statements to the jury in hopes that it would lead jurors away from relating to Arbery.
"She was saying he's a scary, Black man and so if you say he's a scary, Black person and make the jury believe that, then you want them to divorce themselves of what they see on that video of a human being chased down and being lynched in broad daylight," Crump said.
"We don't want you to have consideration for him because he's the scary, Black person," he continued.
Crump also drew parallels between Arbery's case and the case of Trayvon Martin, a 17-year-old Black student from Florida who was fatally shot by George Zimmerman in 2012. Zimmerman was later acquitted of second-degree murder.
"It's Trayvon Martin 2.0," Crump said. "Remember they assassinated the character of Trayvon Martin after he had been assassinated and now they're doing the same thing, almost ten years later, with Ahmaud Arbery."
He added: "The only question that remains unanswered is if this jury is going to give us a Jim Crow verdict or are they going to say to America we must be better than this in 2021."