Civil rights attorney Ben Crump responded Wednesday to the three guilty verdicts in the killing of Ahmaud Arbery by saying that while the Arbery family has obtained some justice, the ruling is not a reason to celebrate.
"While today is not one for celebration, it is one for reflection. This case, by all accounts, should have been opened and closed.... The violent stalking and lynching of Ahmaud Arbery was documented on video for the world to witness," Crump said in a statement. "But yet, because of the deep cracks, flaws, and biases in our systems, we were left to wonder if we would ever see justice."
He continued, "Today certainly indicates progress, but we are nowhere close to the finish line. America, you raised your voices for Ahmaud. Now is not the time to let them quiet. Keep marching. Keep fighting for what is right. And never stop running for Ahmaud."
After roughly 10 and a half hours of deliberation, the jury found all three of the defendants, Travis and Gregory McMichael and William "Roddie" Bryan, guilty of murder
While Bryan and Greg McMichael were acquitted on at least one of the nine charges, all three men were found guilty of felony murder in Arbery's death. Travis McMichael was the only one found guilty of the most serious charge, malice murder.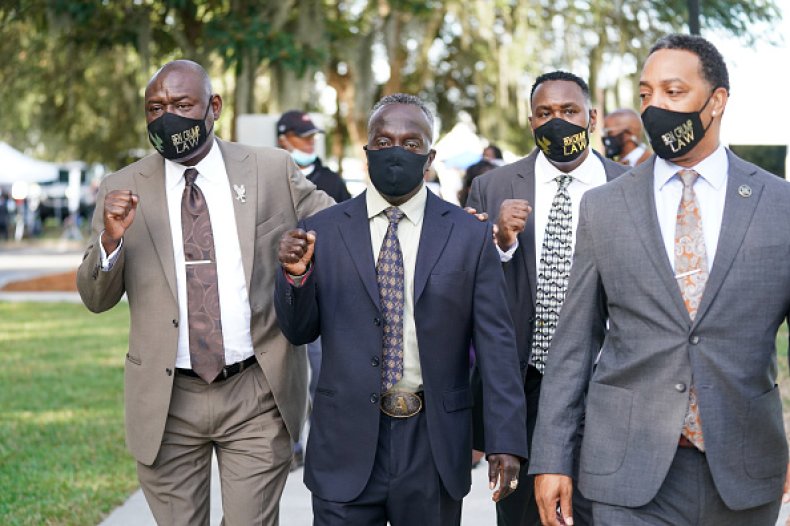 "Guilty. Guilty. Guilty," Crump said. "After nearly two years of pain, suffering, and wondering if Ahmaud's killers would be held to account, the Arbery family finally has some justice."
He added, "Nothing will bring back Ahmaud, but his family will have some peace knowing the men who killed him will remain behind bars and can never inflict their brand of evil on another innocent soul."
While the first verdict, for Travis McMichael, was being read, an audible cheer was heard when the judge announced that the jury had found him guilty of malice murder. The outburst was identified as coming from Arbery's father, Marcus, who was then removed from the court.
"You all heard the gut-wrenching grunt that came out of Marcus Arbery when they pronounced Travis McMichael guilty. He could not contain it any further because think about how long he and Wanda have been enduring all the innuendo, all the allegations, all the character assassinations," Crumps said outside the courthouse.
Appearing alongside the Arbery family, Crump repeatedly chanted, "The spirit of Ahmaud defeated lynch mob."
"We, together, did this. We, all together, Black, white, activist, faith-givers, lawyers, prosecutors, we did this together! We said to America, 'We will make us better than what we saw in that video,'" Crump told the crowd.
Update 11/24/21, 3:15 p.m. ET: This story was updated with more information on Ben Crump's and Marcus Arbery's reaction to the jury's verdict.