Ben Crump Vows to Bring 100 Black Pastors to Pray with Arbery Family After Defense Comment
Civil rights attorney Ben Crump vowed to bring 100 Black pastors to pray with the Arbery family in Brunswick, Georgia, after one of the defense attorneys in the case said he wanted to limit the number of Black pastors allowed in the courtroom.
"It is not illegal for Black pastors to support the parents of Ahmaud Arbery or any other Black victims. We are going to bring 100 Black pastors to pray with the family next week," Crump tweeted on Friday morning.
A day earlier, defense attorney Kevin Gough, who represents William "Roddie" Bryan, raised an issue with the Black pastors who were seen attending the trial with the Arbery family.
"Obviously, there's only so many pastors they can have," Gough told the court on Thursday. "If their pastor is Al Sharpton right now, that's fine, but then that's it. We don't want any more Black pastors coming in here or other—Jesse Jackson, whoever was in here earlier this week sitting with the victim's family—trying to influence a jury in this case."
He went on to imply that these prominent figures could politicize the case and pressure the jury consciously or unconsciously.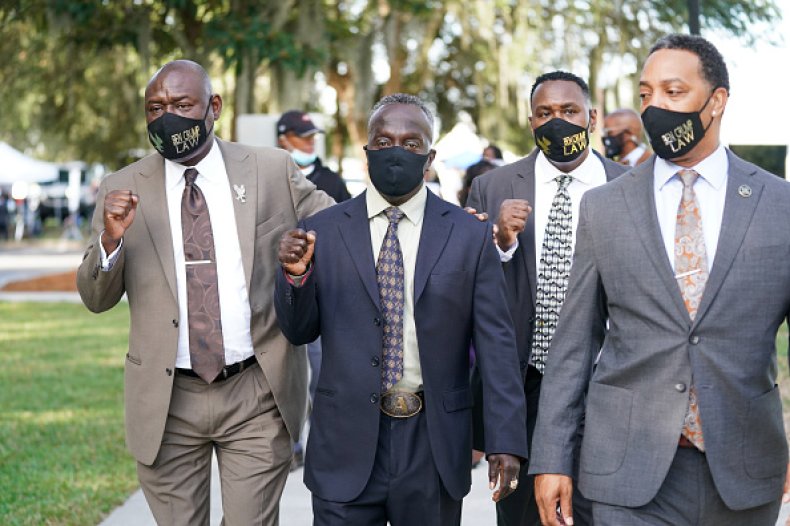 Gough's comments have faced national blowback, which led the attorney to issue an apology to "anyone who might have inadvertently been offended" on Friday.
He said that his statements may have been "overly broad," but that he would "follow up with a more specific motion on Monday" to provide better context for those remarks.
The judge has allowed both sides in the case to watch the trial and cut Gough off on Thursday to emphasize that he would issue blanket exclusions against people going into court.
Bryan and father and son Greg and Travis McMichael have been charged with murder and other crimes in Arbery's death.
The 25-year-old was out for a jog on February 23, 2020, when he was chased down and fatally shot after the defendants attempted to execute what they have alleged to be a citizen's arrest.
Sharpton, who appeared alongside the Arbery family in court on Thursday, said that he came "at the invitation of the family" and that his attendance was "not disruptive in any way."
"The arrogant insensitivity of attorney Kevin Gough in asking a judge to bar me or any minister of the family's choice underscores the disregard for the value of the human life lost and the grieving of a family in need [of] spiritual and community support," Sharpton said.