Ben & Jerry's Launches 'Netflix & Chill'd' Peanut Butter Ice Cream Flavor With Vegan Version
Ben & Jerry's has launched a new flavor named "Netflix and Chill'd." Branded "A Netflix Original Flavor," Ben & Jerry's and Netflix have teamed up to produce a new flavor for watching your favorite movies and TV shows on Netflix.
The new flavor is a peanut butter ice cream with salty pretzel swirls and fudge brownies chunks, and the tub's design features three cows sitting on a sofa, presumably binge-watching their favorite Netflix show.
On its website, Ben & Jerry's said: "We are flipping our lids over our newest Netflix pints! We've teamed up with Netflix to churn up something extra special! And just like with Netflix, there's something in this pint for everyone."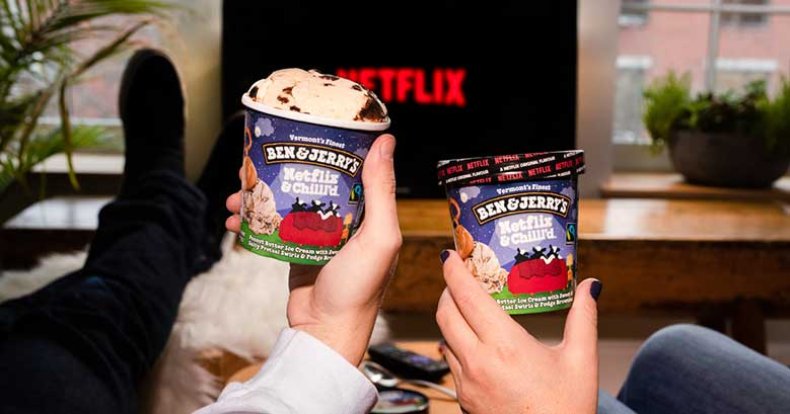 Ben & Jerry's Non-Dairy Ice Cream
Additionally, Ben & Jerry's said that it will soon launch a non-dairy version of "Netflix & Chill'd," made with almond milk, that will be suitable for vegans and those who are lactose-intolerant.
This isn't the first vegan-version Ben & Jerry's has produced—they brought out a line of non-dairy flavors in 2016, including classics like Chunky Monkey and Chocolate Fudge Brownie.
Then in November 2019, Ben & Jerry's introduced new flavors to its vegan ice cream range, which were Chocolate Caramel Cluster, Chocolate Chip Cookie Dough, and Chocolate Salted 'n Swirled, and it celebrated World Vegan Day by giving away free scoops of non-dairy ice cream.
There are now 12 non-dairy flavors in the Ben & Jerry's collection, with other vegan varieties like Caramel Almond Brittle, Cherry Garcia, Cinnamon Buns, Coconut Seven Layer Bar, Coffee Caramel Fudge, P.B. & Cookies, and Peanut Butter Half Baked.
Netflix and Ice Cream
To celebrate the new flavor, Ben & Jerry's has asked "Ben & Jerry's Flavor Gurus" to pair their go-to flavors with their favorite Netflix shows. Before you get your hands on "Netflix and Chill'd," try pairing Peanut Butter Cup with The Chef Show, Milk & Cookies with The Chilling Adventures of Sabrina, Phish Food with Chef's Table, or Half Baked with Grace And Frankie.
Or, you can take a quiz to find out which flavor you should enjoy with which Netflix show.
This isn't the first collaboration between Netflix and an ice cream brand. Last summer, Netflix teamed up with Baskin-Robbins to create a Stranger Things-inspired menu, with ice creams including the Upside Down Sundae, Demogorgon Sundae, Byers' House Lights Polar Pizza Ice Cream Treat, USS Butterscotch Quarts, and an Elevenade Freeze.
The collaboration between Ben & Jerry's and Netflix will retail for $4.48 and $5.99 and will be sold wherever you usually find your pints of ice cream. To find out when "Netflix and Chill'd" will become available, you can sign up to the Ben & Jerry's mailing list.
Newsweek has affiliate partnerships. If you make a purchase using our links, we may earn a share of the sale.