Ben & Jerry's World Vegan Day Deal: How to Get a Free Scoop of Non-Dairy Ice Cream
World Vegan Day is coming up and you can get a free scoop of Ben & Jerry's non-dairy ice cream to celebrate. Ben & Jerry's Scoop Shops across the U.S. will be offering customers a free scoop of vegan ice cream between 4 p.m. and 8 p.m. on Friday, November 1 for its first World Vegan Day Happy Hour.
Ben & Jerry's introduced vegan and non-dairy ice cream in 2016 and its vegan range now covers 12 flavors. The non-dairy ice cream is made with almond milk and the chunks and swirls are all vegan certified.
The vegan flavors are Caramel Almond Brittle, Cherry Garcia, Chocolate Fudge Brownie, Chunky Monkey, Cinnamon Buns, Coconut Seven Layer Bar, Coffee Caramel Fudge, P.B. & Cookies, and Peanut Butter Half Baked. The newest additions to the vegan range are Chocolate Caramel Cluster, Chocolate Chip Cookie Dough, and Chocolate Salted 'n Swirled.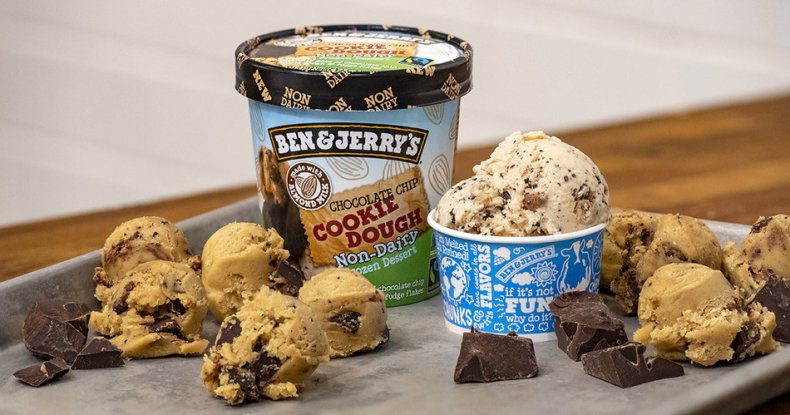 Ben & Jerry's intends to expand its vegan range, asking customers to suggest which non-dairy flavor is created next. If you're not sure which non-dairy flavor to try, you can take this Ben & Jerry's quiz to find out.
The company partnered with Vegan Action to ensure that the non-dairy ice cream is free from all animal products including milk, eggs, and honey. Additionally, Ben & Jerry uses non-GMO ingredients and five Fairtrade Certified ingredients in its non-dairy ice creams, which are sugar, coffee, bananas, cocoa, and vanilla.
How to get a free scoop of ice cream at Ben & Jerry's?
Check ahead of time to see if your local Ben & Jerry's Scoop Shop is participating in the non-dairy ice cream giveaway. If it is, head to your local store on November 1 between 4 p.m. and 8 p.m to try a scoop of non-dairy ice cream for free, no purchase required. The giveaway is taking place nationwide but is not available in stores outside the U.S.
Ben & Jerry's already hosts an annual free cone day and now vegans and those who don't eat dairy have a free ice cream day of their own. Ben & Jerry's is "spreading the plant-based love, one scoop at a time," according to its website.
On its website, Ben & Jerry's said: "Come celebrate World Vegan Day with us! Whether you're curious about our Non-Dairy flavors and want to give them a try without even opening your wallet, or love them already and need an afternoon pick-me-up, we can't wait to see you."