Ben Kingsley on Netflix Movie 'War Machine' and Why We Need Political Satire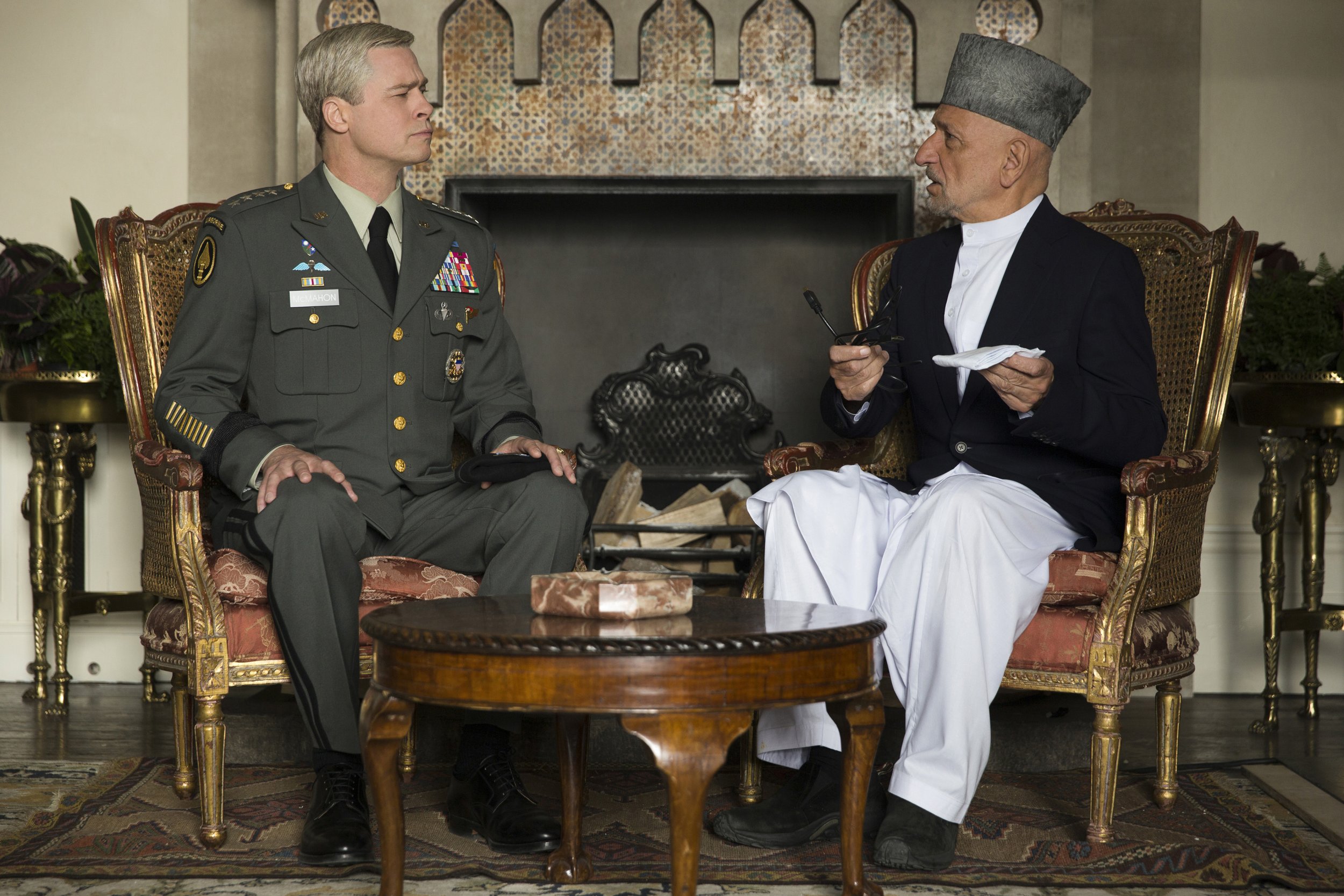 In new Netflix original film War Machine, Ben Kingsley, the veteran British actor who earned an Oscar in 1983 for his portrayal of Gandhi, finally got his wish to appear in a movie with Brad Pitt.
Pitt's production company Plan B teamed up with Netflix to produce the satirical war drama, directed by David Michôd. On Pitt, Kingsley says, "I do admire his choices as an actor—he makes very brave, fascinating choices, which have a huge range. He's never been typecast as far as I can see."
Pitt plays a fictional four-star general, Glen McMahon, sent into Afghanistan to bring an end to the war orchestrated by former U.S. President George W. Bush. Kingsley plays the real-life former Afghan president, Hamid Karzai. McMahon's grandiose ideas, contravening all good advice from his advisers, and an ill-advised magazine profile with Rolling Stone lead to his undoing. The story is rooted in reality: It is based on the nonfiction book, The Operators, by journalist Michael Hastings, whose 2010 Rolling Stone profile piece about U.S. army general Stanley McChrystal led to his abrupt resignation from his post as commander of the U.S. armed forces in Afghanistan.
War Machine brings a dark, wry levity to an otherwise harrowing situation by lampooning the ineptitude of the people leading the war. Following Donald Trump's shock U.S. election win in November, and hints of a more interventionist foreign policy, pending war and who has their finger on the nuclear button is, again, highly topical.
If there is anything to be learned from War Machine, the likes of Trump will probably miss it, but, says Kingsley, satire is a fitting mode to explore politics and more needed than ever.
You've had a taste of playing a world leader in War Machine. I suppose you don't envy the real world leaders out there in this unstable time?
I don't know whether envy is the right word. I think everyone chooses their own destiny. We project from our small corner into the persona of a world leader, but we bring our baggage with it. Maybe their approach is utterly different? Maybe they're having a ball.
How did you come to play Karzai?
It wasn't that complicated. I have met Brad Pitt on a couple of occasions and we warmed to each other. His [production] company, Plan B, got together with Netflix and invited me to join them. It was that simple.
Have you ever been to Afghanistan?
I have been to Afghanistan, in 2005, with [charity] Save the Children. It was after the Taliban had been pushed back to allow [children], particularly girls, to go back to school. We visited schools, we were made very welcome and it was an extraordinary experience. I had dinner with [Ashraf] Ghani, who is the current president, and it was a real insight into a culture that everyone thinks they know something about, but very few people actually know about.
It was terrific to play the president. I was only there for 10 days. But I knew a little bit about the country and what the coalition forces faced when they were trying to confront and drive out the Taliban. When I was playing Hamid Karzai, I had firsthand knowledge of the terrain, the country, the people, the roads, the live munitions that were still lying around there…the number of landmines is tragic.
Do you think War Machine serves as something of a cautionary tale about war and decision makers who don't really have an idea what they're doing?
I think that satire is a marvelous way of approaching your audience with an extremely complex, and potentially tragic, situation. Satire is a vehicle through which certain truths can be told while the storyteller is wearing the mask of comedy. When we think of drama, we have two masks—the smiling comedian and the tragic face.
Whether it's a cautionary tale remains to be seen; those who would never watch a satire about [the war in] Afghanistan are perhaps the very people who should be watching it. It's very difficult to predict or have aspirations for one's film outside of giving the audience an entertaining, stimulating and thought-provoking time. It may nudge a little bit. Offering information through satire is marvelous—I hope it's used more as a medium to transmit certain political dilemmas and world dilemmas.
Can satirical films like this make any difference?
If we go back to [Charlie] Chaplin and look at [1940 satire] The Great Dictator, which was an extraordinary film in which he was clearly mocking Hitler and his racial agenda in Germany at the time, I'm sure many people saw it, but I'm equally sure that it did not make one tiny difference to the outcome of Nazi Germany and World War II. It gave people some kind of information through the prism of satire. But we have no idea what effect a film will have on people at any given time or in any given place. I wonder if the Chaplin film, beyond its catchment audience, made any difference at all?
I would be remiss not to mention Gandhi. That is a film that remains as poignant and educational now as it did in 1982...
Gandhi was a wonderful piece of information…it did tell people that such a man did exist and he was alive at the same time Hitler was alive and the same time Josef Stalin was alive. That is pretty hard to believe.
Would you be upset if a Hollywood studio or producer came along and tried to remake the film?
I wouldn't see the point because it's such a beautiful film and if you watch it now, it doesn't look like a cranky old film. The themes are so eternal…I can't distinguish a difference between a modern audience and the audience when it first came out. The world might be different but people are just the same.
I can't see anyone investing a huge amount of money in remaking the film. I don't quite understand why anyone would invest money into something that is so available—you can stream it any time you want.
Are there any film choices in your career that you regret?
None at all. There's light and shade but everything eventually balances out between my artistic choices and the choices my accountant would like me to make occasionally to keep body and soul together. I'm very happy to say I keep a balance and I sleep like a baby at night.
War Machine is streaming now on Netflix