Senator Ben Sasse, a Nebraska Republican who voted to convict Donald Trump at the conclusion of his second Senate impeachment trial, defended Americans who voted for the former president in a Tuesday morning interview.
Seven GOP senators, including Sasse, voted that Trump was guilty of inciting the January 6 attack on the Capitol by his supporters. Although 57 senators voted guilty, compared with 43 that voted not guilty, Trump was acquitted, as the Constitution requires a two-thirds majority (67 senators) for a conviction.
Speaking to NPR on Tuesday morning, Sasse discussed his vote while also sharing his thoughts on the future of his party. The senator defended Trump voters, arguing that most are not supportive of political violence like what was seen at the Capitol.
"I don't think we should bundle together the hundreds of violent mob rioters of January 6 and the 74 million Trump supporters, even though a huge share of the latter category do still believe, you know, the untrue thing—the lie—that the election was stolen," Sasse said.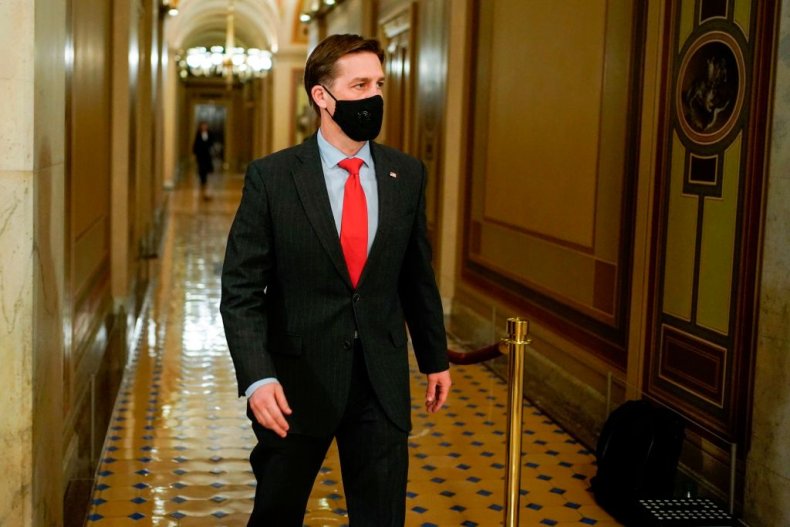 "But the overwhelming majority of those people [who voted for Trump] have no inclination toward violence," he continued. "So I think we need to distinguish that."
Sasse admitted that it "surely appears" that the GOP is currently centered around Trump, despite Republican lawmakers like himself who are strongly opposing the former president.
The Nebraska lawmaker urged his political party to think long term, saying he preferred that Republicans start thinking about 2030 instead of "a 30-minute Twitter agenda." He pointed out that in just one term of Trump, Republicans had managed to lose control of the House, the Senate and the White House—suggesting that the former president's approach to politics is not a winning strategy.
Newsweek reached out to Sasse for further comment but did not immediately receive a response.
In addition to Sasse, GOP Senators Mitt Romney of Utah, Susan Collins of Maine, Lisa Murkowski of Alaska, Pat Toomey of Pennsylvania, Richard Burr of North Carolina and Bill Cassidy of Louisiana voted to convict Trump, along with all 50 members of the Senate's Democratic Caucus. Cassidy and Burr have been censured by their respective states' GOP as a result, and county Republican parties in Nebraska have censured Sasse.
A recent poll by the American Enterprise Institute found that 39 percent of Republican voters agreed with this statement: "If elected leaders will not protect America, the people must do it themselves, even if it requires violent actions." However, the majority (60 percent) of GOP voters said they did not support political violence.
As Sasse explained, most Republican voters continue to view Trump very favorably. Polling published by Gallup on Monday showed that 68 percent of Republicans want Trump to continue to be the leader of their party. Another survey's results, released last week by CBS News/YouGov, showed that 71 percent of Republicans view GOP lawmakers who support Trump's impeachment or conviction as "disloyal."