Ben Sasse Says Nebraska Is 'a Lot Trumpier Than I Am,' Hit by State GOP Rebuke
Senator Ben Sasse, a Nebraskan Republican who voted to impeach former President Donald Trump earlier this month, said he isn't bothered by the state GOP's criticism of him on Saturday.
"I care about a lot of the people, but I don't really care about the censure," Sasse told Politico ahead of the Nebraska GOP's decision.
The state GOP, however, decided not to censure Sasse, but noted its disapproval of the senator's actions, arguing that Sasse wasn't representing his constituents' desires.
"There are a lot of really good people involved in party activism. But I don't think they're at all representative of regular Nebraskans," Sasse continued. "Nebraska is a lot Trumpier than I am."
James Wegmann, the communications director for Sasse, added that the senator believes "most Nebraskans don't think politics should be about the weird worship of one dude."
The Nebraska Republican Party officially rebuked Sasse on Saturday over his vote in favor of Trump's impeachment, according to CNN.
"Senator Sasse's condemnation of President Trump and his support for President Trump's impeachment have been liberally used multiple times by Democrats as justification for a truncated impeachment process that denied the President due process," the resolution said.
"The Nebraska Republican Party Central Committee expresses its deep disappointment and sadness with respect to the service of Senator Ben Sasse and calls for an immediate readjustment whereby he represents the people of Nebraska to Washington and not Washington to the people of Nebraska," the resolution added.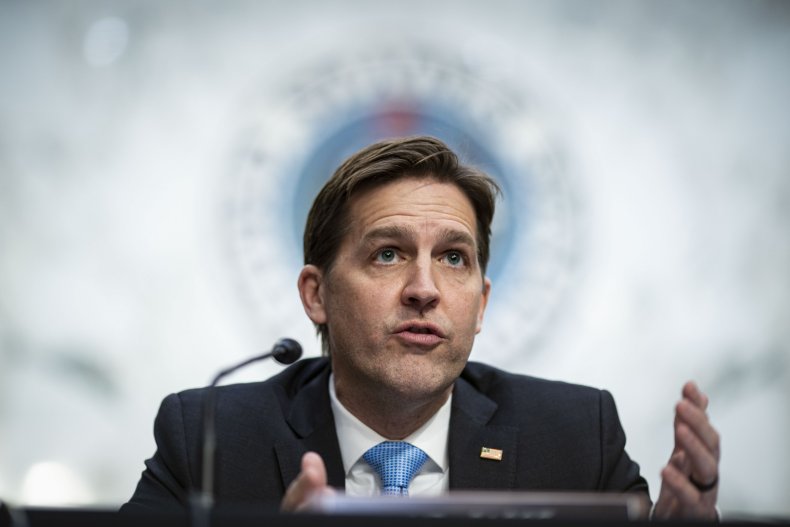 Seven Republican senators voted alongside 50 members of the Democratic caucus to convict former President Donald Trump on February 13. The final tally of 57-43 fell short of the 67 votes needed to convict Trump on the House impeachment charges of inciting the January 6 insurrection against the U.S. Capitol.
The GOP senators who backed Trump's conviction included Sasse; Susan Collins of Maine; Bill Cassidy of Louisiana; Pat Toomey of Pennsylvania; Mitt Romney of Utah; Richard Burr of North Carolina; and Lisa Murkowski of Alaska.
A number of the Republican senators who voted against Trump have faced backlash from GOP groups local to the states they represent after supporting the former president's impeachment.
Louisiana's Republican Party voted unanimously to censure Cassidy on the day of Trump's acquittal. "We condemn, in the strongest possible terms, the vote today by Senator Cassidy to convict former President Trump," the party said
Toomey was also censured by several Pennsylvania GOP chapters, including Centre Country, Clarion County, Washington and York.
The North Carolina Republican Party moved to censure Burr on February 15, two days after his vote in support of Trump's impeachment.
Newsweek reached out to Sasse's office and the Nebraska GOP, but didn't hear back in time for publication.