At Berkeley, Ben Shapiro Taunts Antifa as 'Pathetic Morons,' But Show of Force by Cops Keeps Political Foes From Brawling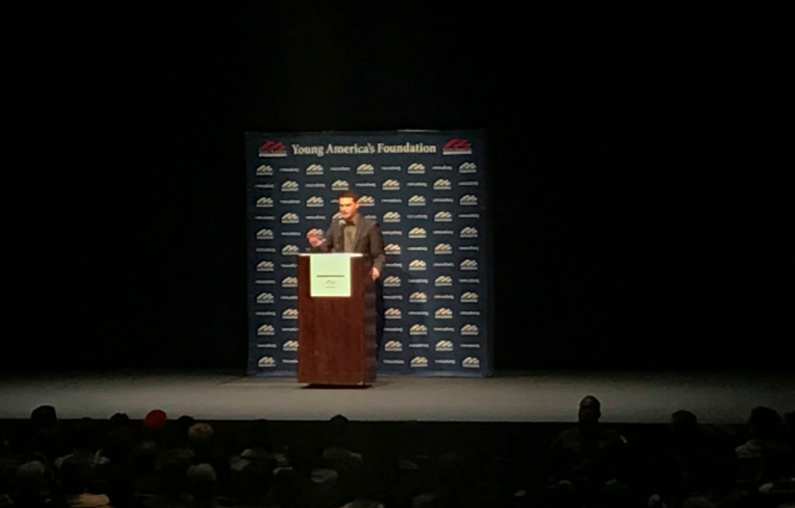 There was a law enforcement presence sufficient for the invasion of a small country, or Oregon at least, that kept the University of California at Berkeley from descending into violence yet again on Thursday night.
"Berkeley has achieved building a wall before Trump did," joked conservative journalist Ben Shapiro as he took the stage at the university's Zellerbach Hall shortly after 7 p.m. The reference was to the extensive security cordon, including physical barriers and rows of law enforcement officers in riot gear, that created a ring around the center of campus. In all, the public university was estimated to have spent $600,000 on security for the talk by the controversial commentator.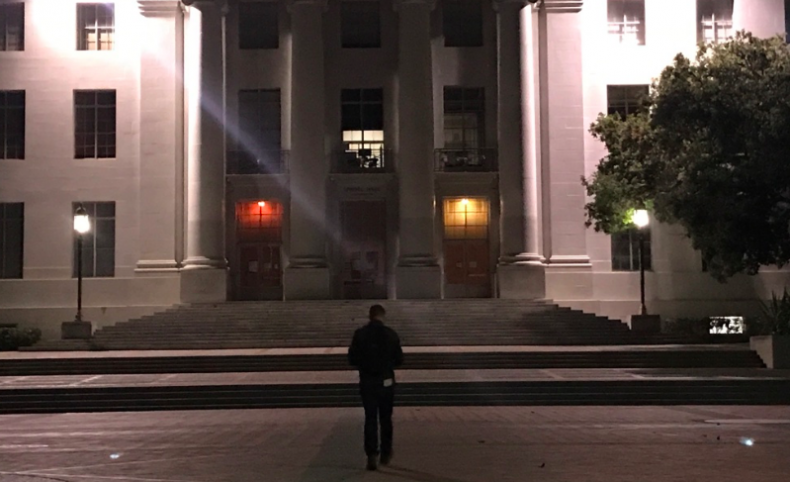 Despite that cost, Thursday night proved a crucial test of whether Berkeley—both the college and the city—could forfend the kind of political chaos that has become almost commonplace here ever since right-wing provocateur Milo Yiannopoulos tried to speak on campus last February. That night ended in fiery destruction; several other confrontations between political factions since then have resulted in bloodshed, recrimination and embarrassment for Berkeley's civic leaders, who've shown an inability to keep the peace while letting people exercise their First Amendment freedoms.
More tests loom in the near future, with scheduled appearances by some of the most incendiary personalities on the right, including Yiannopoulos, pundit Ann Coulter and ferocious Trump loyalist Stephen Bannon, who recently left the White House, where he was chief political strategist, to return to the helm of Breitbart News. They will all reportedly converge on Berkeley in late September for an event being billed as Free Speech Week.
Shapiro was invited by the Berkeley College Republicans and sponsored by the Young America's Foundation, a national group with ties to the conservative Koch family. Tickets to the event sold out quickly, but it was uncertain until recently whether the talk, titled "Say No to Campus Thuggery," would even take place, so fraught has the presence of conservative voices on Berkeley become. But the university's new chancellor, Carol T. Christ, has vowed to uphold the First Amendment, even if that perturbs progressive sensitivities. In case anyone's "sense of safety or belonging" was threatened by Shapiro's appearance, counseling was available.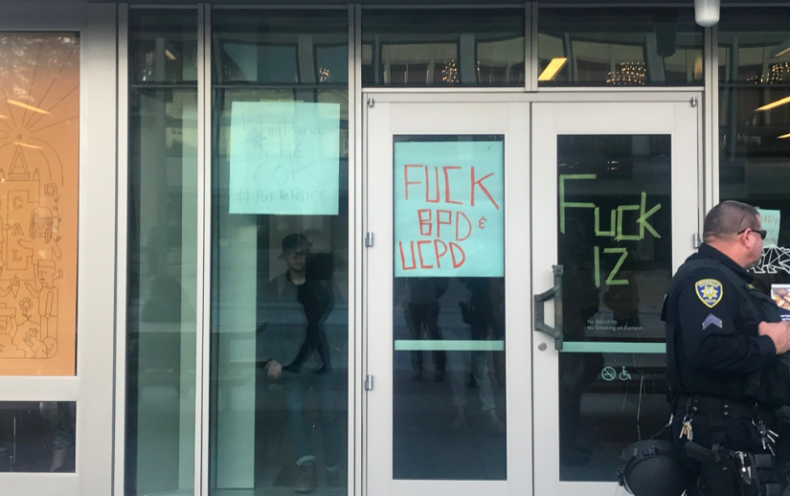 Informal observation suggested that few, if any, Berkeley students sought these counseling services. And yet the mood ahead of Shapiro's talk was tense, with many wondering if the black-clad leftist activists of antifa would try to disrupt the event.
Robert, a supporter of President Donald Trump, came from the Napa Valley, where he works, to wait in line for a standby ticket to the talk. "I don't think Ben Shapiro is a fascist at all," he said, expressing the widely held sentiment that Shapiro's detractors are unaware of his ideas and opinions. He hoped that the expensive security measures would allow for the event to proceed.
Ben Bergquam, the host of a conservative radio program, drove all the way from Fresno to hear Shapiro talk. He'd been assaulted by antifa members at an earlier Berkeley clash and showed reporters stitches on his ear and scalp.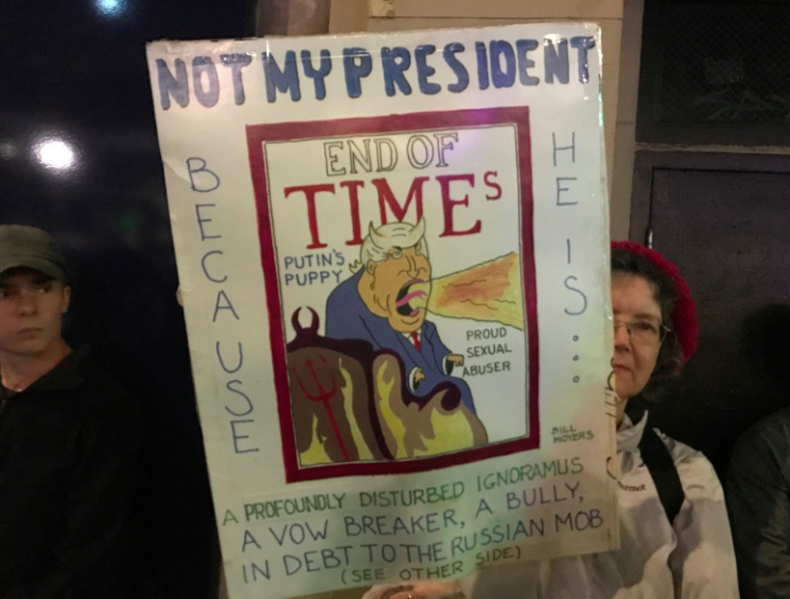 "I came here to stand up for America," he said, "to expose the violent radical left for who they are." He acknowledged that last month's death of Heather Heyer, a counterprotester in Charlottesville, Virginia, was caused by a far-right extremist, though he also suggested that left-leaning groups such as antifa and Black Lives Matter were the greater threat to civil society. "Anyone who calls Ben Shapiro a fascist is an idiot," Bergquam said.
Inside the security cordon, which rendered the center of campus eerily serene as night fell, right-wing celebrity Lauren Southern recorded a video for her social media fans. "It's important to show up here," she said, citing Berkeley's historic role as a crucible of free speech. She bristled at the suggestion that the mere presence of Shapiro and his fans was a form of incitement.
"Does a woman wearing a short skirt incite rape?" Southern asked. Several admirers milled nearby, including one in a "Reagan Bush '84" T-shirt. In the distance, behind all the barriers and all the cops, protesters railed against fascism and the corporate state.
Days before the speech, Berkeley city officials voted to lift the 20-year ban on police officers' use of pepper spray. They plainly worried that the university's defensive measures would push protesters and counterprotesters out into the city streets, necessitating more aggressive tactics. The maneuvering on all sides was especially astonishing because Shapiro had spoken on campus in the spring 2016 without any notable fanfare. Back then, though, the notion of a Trump presidency was still little more than a preposterous possibility.
A graduate of the University of California at Los Angeles, which he entered at 16, and Harvard Law School, Shapiro is generally considered far more moderate—and thoughtful—than an inveterate bomb-thrower like Yiannopoulos. He was previously an editor at Breitbart News but quit during the presidential campaign after a colleague, Michelle Fields, was assaulted by Corey Lewandowski, the first of Trump's three campaign managers. Shapiro was upset Breitbart sided with Lewandowski over Fields. He did not vote for Trump and has been a frequent critic of the president, though that has not made him a darling of anti-Trump forces.
Shapiro did not sound like a white supremacist during his talk, pointing to the yarmulke on his head as evidence (he is an adherent of Orthodox Judaism). Instead, the combative and sure-footed 33-year-old came across as a Ronald Reagan acolyte, devoting his time onstage to loosely joined riffs about the greatness of America, the value of personal responsibility and the danger of identity politics. "America is the greatest country in human history. You are not a victim," Shapiro said, in a line that seemed to recall the Gipper's infectious shining-city-on-a-hill optimism.
Reagan's political rise would have been unlikely, if not impossible, without the Berkeley protests of the late 1960s, which served as the perfect foil for his sunny, orderly brand of Republicanism. Similarly, Shapiro taunted and goaded the leftists of antifa, calling them "pathetic, lying, stupid jackasses," adding "hard-left morons" for good measure.
And as protesters outside engaged in anti-law enforcement chants, Shapiro praised the very same officers, including members of the Oakland and Berkeley police departments, as well as the California Highway Patrol. "These are the folks that stand between civilization and lawlessness," he said. That law and order line recalled Trump, for whom Shapiro did not have many—or, really, any—kind words. But much like Trump, he devoted a good portion of his time onstage to deconstructing and reconstructing his own public persona.
"Antifa is fascist," he said at one point. "I'm not fascist." In another rhetorical tactic recalling Trump, Shapiro complained on more than one occasion about the size of the audience, accusing Berkeley officials of preventing potential attendees from purchasing standby tickets. Indeed, many of the seats in the auditorium remained curiously unfilled.
The most remarkable aspect of Shapiro's speech was how mainstream it sounded—or, rather, would have before the presidential election of 2016. While he reserved most of his attacks for the left, he unambiguously lambasted the racists and extremists of the far right. After the speech, which lasted about 40 minutes, Shapiro took questions from the audience, including some from several self-described liberals. One young woman, a Berkeley student, engaged Shapiro in a heated but civil debate on abortion. The protracted, nuanced exchange would have heartened anyone who believes that measured political disagreement is no longer possible in America.
The reality was somewhat different out in the chilly Northern California night. On the opposite side of the barricades, the Refuse Fascism protesters—of whom there appeared to be perhaps 200—continued to rail against the Trump administration, corporate capitalism and other varieties of injustice. But the speakers were unfocused, with one repeatedly resorting to a refrain of "Fuck all that shit" without elucidating his complaints. The audience, in turn, seemed largely disengaged, even as bare-chested young men with "USA" painted across their torsos ran through the crowd, gleefully looking to provoke.
"We're gonna do what the German people should have done when Hitler came to power," one of the Refuse Fascism activists said, in what one has to imagine was a largely facetious call to political violence. In any case, not many appeared willing to storm the Reichstag just yet.
As for the city of Berkeley, it remained calm, free of the destruction that marked the canceled Yiannopoulos appearance seven months ago. People milled about, plainly relieved that, for once, Berkeley had escaped violence, depriving Fox News and Breitbart of images of an out-of-control liberal mob. One elderly gentleman with graying hair, who looked as if he'd been to a Berkeley protest or two in his heyday, told his companions that he had an "America Was Never Great" T-shirt, a play on Trump's "Make America Great Again" campaign slogan.
Alas, he'd spilled coffee on it, the graying revolutionary lamented. Perhaps it would be ready for the next protest.