'Bad and Boring': Ben Shapiro Slams Youth Poet Laureate Amanda Gorman
Poetry is subjective, but conservative political commentator Ben Shapiro believes there's no debate to be had on the quality of National Youth Poet Laureate Amanda Gorman's latest effort.
Shapiro slammed Gorman on Twitter, calling her work "bad and boring." He was commenting on Gorman's reimagining of the American national anthem, the Star-Spangled Banner, which seemed to criticize the country for its recent troubles.
Gorman has received a mix of praise and condemnation from many online as her work effectively divided opinions and started a conversation.
Gorman's reworking of the national anthem included lines like, "O say can we see, by the Gone's early flight" and "O say does that scar-mangled banner yet save Our land of the free and the home of the brave?" The work was posted on Twitter by Gorman on Independence Day.
"Bad closed captioning transcription or America's poet laureate, you pick," Shapiro wrote on Twitter on Wednesday, retweeting Gorman's work. The media host continued, "Amanda Gorman is the women's soccer of poetry. Her work is bad and boring but we pretend occasional enthusiasm because virtue signaling."
Gorman is best known for reading her poem The Hill We Climb at the inauguration of Joe Biden in January 2021.
The comment sections after Gorman's and Shapiro's tweets received praise from their respective supporters.
"Infinitely more accurate," wrote one of Gorman's commentators while others wrote messages of support. "Very nice, Amanda," "You are a shining light" and "You give me hope for a brighter future for this battered country," were just some of the many messages she received.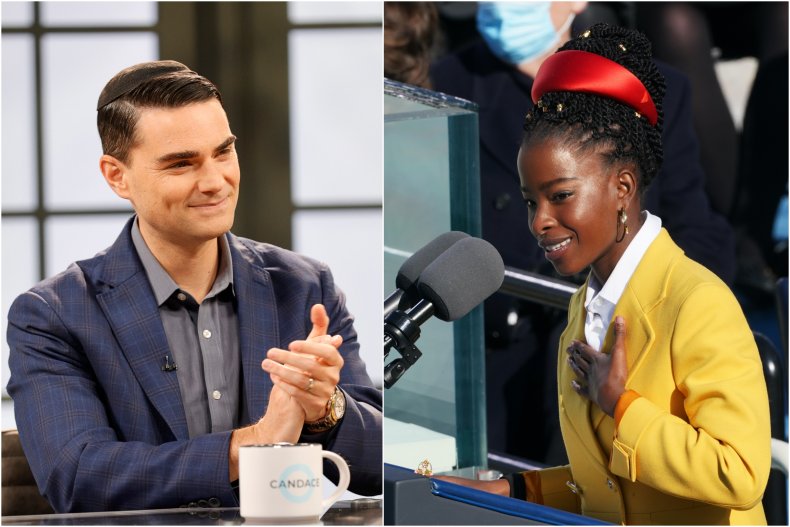 However, the reactions to Shapiro's comments were fully behind him, and far more scathing towards Gorman.
"If this were a 9th-grade poetry assignment, it would get a C+," one commenter decided. Another called it "Auto correct gone wrong" while a different Twitter user thought that in another age, Gorman "might have found a home working for Mad Magazine" for creating "parody songs."
Gorman has recently been outspoken on a number of divisive topics in America, including gun control in the wake of the Uvalde school shooting, and the overturning of Roe v. Wade. Her quote about America, "a nation that isn't broken, but simply unfinishd" was quoted by politicians Sean Patrick Maloney and Jahana Hayes on July 4.
Her latest poem which reworked the National Anthem received wider criticism from social media users.
"Her poetry is just so goddamn awful" wrote @Bobby_on_mars. @jamlex8 replied directly to Gorman and asked, "Is this supposed to actually mean something? I'm legitimately lost," while @NetHardaway simply stated, "I like the original."