Ben Shapiro: Stacey Abrams Wants A Divided America | Opinion
On Tuesday evening, President Trump gave his State of the Union address. The theme of his address: choosing greatness. But in reality, Trump's speech was about more than that rather generic theme. It was about gratitude.
Trump's speech was about a particular image of America: an America born in truth, sustained by heroism, fighting its own demons in pursuit of its highest ideals. To that end, Trump called forth memories of Normandy and the liberation of the Nazi death camps, of the moon landing and the civil rights movement. What America is, Trump said, was made possible "thanks to the blood and tears and courage and vision of the Americans who came before."
Then failed Georgia gubernatorial candidate Stacey Abrams responded.
She presented a sharply contrasting vision of America: a land of aspiration, but a land rife with brutality and racism; a country steeped in a vicious history, struggling to overcome its own perverse DNA. She focused, in particular, on her defeat in Georgia, claiming that "voter suppression" had been a serious issue in her race.
But the key line of Abrams' speech went further. "We fought Jim Crow with the Civil Rights Act and the Voting Rights Act. Yet we continue to confront racism from our past and in our present...America achieved a measure of reproductive justice in Roe v. Wade, but we must never forget, it is immoral to allow politicians to harm women and families to advance a political agenda." Black Americans. Female Americans. Gay Americans. Group by group, she informed Americans that they were still victims of a hierarchical, discriminatory system.
Abrams bolstered that approach in an essay for Foreign Affairs. There, she argued that the philosophy of intersectionality—a philosophy that suggests that Americans must organize by group identity in order to tear away hierarchies of privilege—was a necessary precondition for the betterment of the country.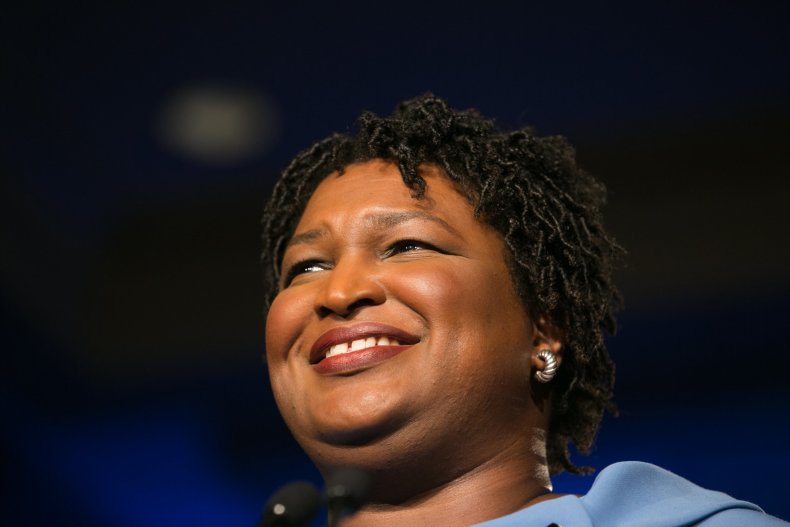 Abrams rightly pointed out that marginalized groups were originally forced into group identities by a racist white majority who used legal tools in order to discriminate against those minorities. And she correctly noted that those groups had to organize in order to fight back. But then she stated that political beliefs of which she did not approve were hallmarks of that same dominant, bigoted majority—and that the majority's bigotry therefore necessitated the continued use of identity politics by minority groups.
"When the groups most affected by these issues insist on acknowledgment of their intrinsic difference, it should not be viewed as divisive," Abrams wrote. "Embracing the distinct histories and identies of groups in a democracy enhances the complexity and capacity of the whole." Indeed, Abrams rejected the "amorphous, universal descriptors" of liberty and equality and individual rights. Instead, she relied on "an expanded, identity-conscious politics."
This is an ugly vision of the future of the country: a future in which all political differences are chalked up to thinly-masked bigotry, and in which the only solution to that supposed bigotry is identity politics in search of power. That was Abrams' response to Trump's articulation of an America united by creed, history, and vision—an America divided by race, class, and sex, but united by a desire to see the system overthrown. And that contrast of visions is sure to be at the center of the 2020 presidential race.
Ben Shapiro is editor-in-chief of The Daily Wire and host of The Ben Shapiro Show, available on iTunes and syndicated across America.​
The views expressed in this article are the author's own.​​​