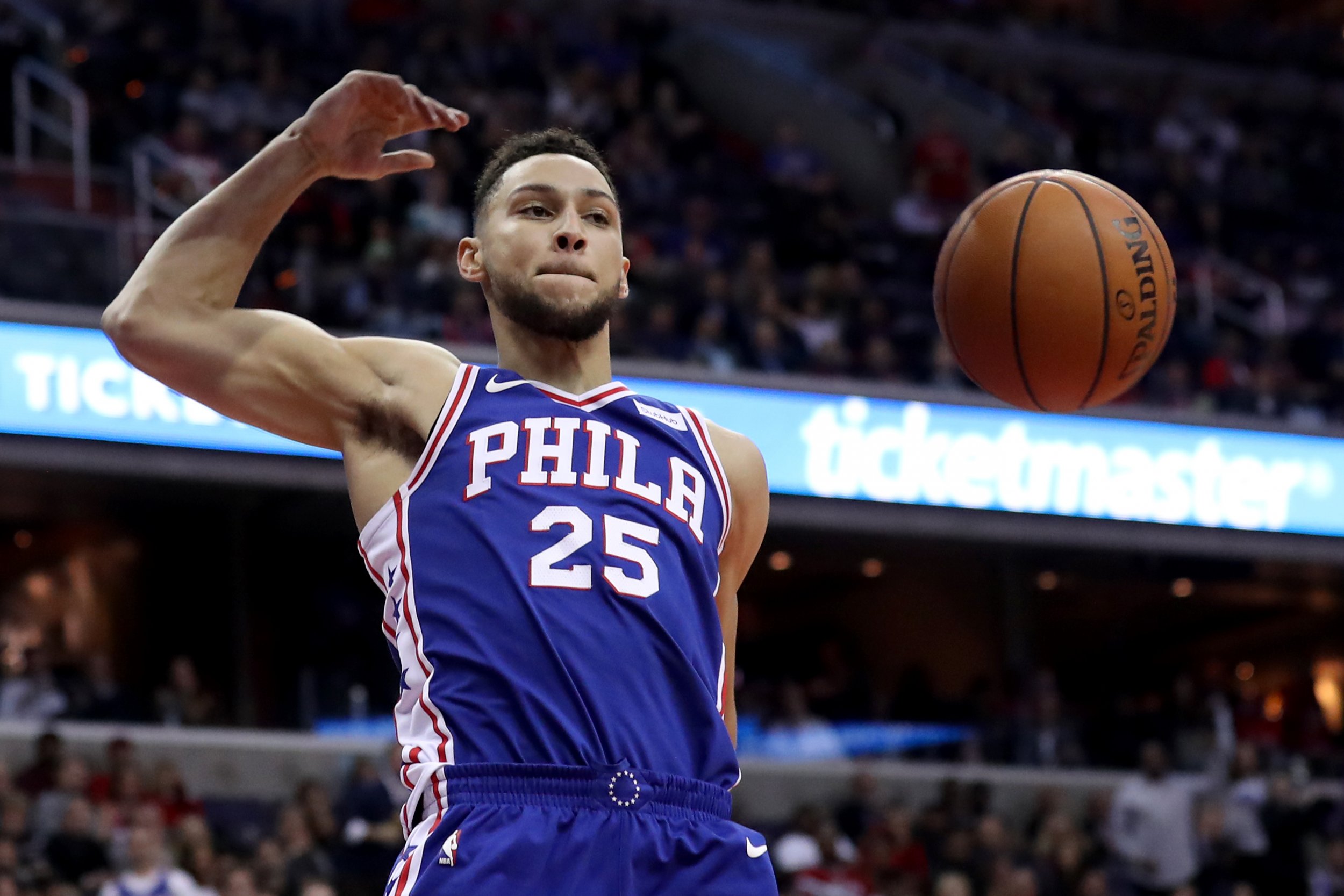 For as long as language has existed, we've been irritated by its limitations.
Something gets lost in between a sunset that stops you in your tracks and describing that sunset. "It was, erm, yellow and orange and pink and pretty...like, SO pretty."
Words fail nearly every time—it's just to what degree. Which brings us to how we define a rookie. It's the new, hot NBA storyline that's sparked debate, drama and, seemingly, a new clothing line.
Some background: The Philadelphia 76ers' Ben Simmons, by the NBA's rules, is 100 percent a rookie. After being drafted first overall in the 2016 NBA draft, the 6-foot-10-inch point guard sat out the following season after suffering a foot injury. By NBA rules, his stunning campaign this year—during which he averaged 15.8 points, 8.2 assists and 8.1 rebounds per game—is his rookie season. Simmons is widely considered to be the favorite to win the NBA's Rookie of the Year award.
But is he really a rookie? His chief competitor for the award seems to think not. The Utah Jazz's Donovan Mitchell—who has been stellar and averaged 20.5 points, 3.7 assists and 3.7 rebounds per game—has repeatedly questioned Simmons's rookie status. Via ESPN, after the Sixer said he was "100 percent" Rookie of the Year, Mitchell wore a custom sweatshirt that spelled out a dictionary definition reading, "Rookie: An athlete playing his or her first season as a member of a professional sports team." (Never mind the "playing" in that sentence seems to suggest Simmons is a rookie.) Mitchell was then asked about the Rookie of the Year award by ESPN, to which he responded: "I really don't care." Simmons countered with some barbs of his own and then Mitchell was seen in yet another hoodie that simply read, "Rookie?"
Some folks have backed up Mitchell, others Simmons. It's a (somewhat) silly sports debate about semantics, so we took a fun approach to it. There are lots of rookie experts out there—some of them in basketball, many of them not—and we decided to get their opinions. We asked a whole bunch of people tangentially related to rookies if they considered Simmons a true rookie. Here are some responses, which were edited and condensed for clarity.
Jeff Pearlman, longtime sportswriter and author of many books, including one about the famous "Showtime" Los Angeles Lakers during Magic Johnson's rookie season, a player to whom Simmons has often been compared:
"According to my sources, Ben Simmons had been in Philadelphia for more than a year before even trying a cheese steak, visiting the Rocky statue or angrily throwing large glass chunks at someone wearing a Cowboys jersey," Pearlman wrote. "Therefore, the argument is moot. He's a rookie."
David Papineau, philosopher and author of Knowing the Score (basically an expert who could shed light on how we should define a rookie):
"As a Brit and a philosopher I find many aspects of U.S. sports hard to understand," he wrote. "But this one isn't. Whatever the rules may say exactly, everybody knows that your rookie season is the season you first play in the big leagues. Mitchell has no case."
Jim Morris, the MLB player who debuted as a 35-year-old rookie for the Tampa Bay Rays and the real-life inspiration for the Disney movie The Rookie starring Dennis Quaid (Quaid was unavailable to comment for this story):
"Simmons went from foot injury to foot in mouth. Mitchell for Rookie of the Year," Morris wrote in an email. Correspondence with Morris seemed to suggest he thought Simmons was, in fact, a rookie, but was confused about the nature of the question (which, to be fair, was an odd question).
Thomas Ian Nicholas, who starred as Henry Rowengartner in the 1993 movie Rookie of the Year detailing a 12-year-old Little Leaguer's ascent to pitching for the Chicago Cubs:
"Until the NBA changes their rules, the rules are the rules," Nicholas wrote. "Blake Griffin got Rookie of the Year after sitting out his first year with an injury. At the end of the day, Donovan Mitchell has a great year averaging 20 points a game, but Ben Simmons's season was epic."
Nicholas added, "Or maybe we should take away Henry Rowengartner's Rookie of the Year status because of his time played on a little league team."
Nicholas's co-star in Rookie of the Year, Gary Busey, was unavailable to comment.
Ryan Dunson, lead singer of the indie rock band Rookie of the Year:
"As the Rookie of the Year [musician], I think I have keen insight on being a 'rookie,'" Dunson wrote. "I think Ben should be considered a rookie this year—give the guy a break."
John "Chi-Chi" Christion, general manager and self-described "bounce-around guy" of Rookies Sports Bar and Grill in Staten Island, New York:
"Sure, [Simmons] played this year; he didn't play last year," he said. "I feel like he played the games, he should be a rookie."
Uncommon Knowledge
Newsweek is committed to challenging conventional wisdom and finding connections in the search for common ground.
Newsweek is committed to challenging conventional wisdom and finding connections in the search for common ground.
About the writer
Reporter, covering a bit of everything.