As President Donald Trump's attempts to overturn the election results have continued, one of his star witnesses Melissa Carone has captured America's attention. Before Carone inevitably appears as a caricature on a Saturday Night Live sketch (maybe played by Cecily Strong), actor Ben Yahr delivered a hilarious lip-sync parodying the "star witness."
Donning messy, bright-red lipstick and a discombobulated blonde wig, Yahr lip-syncs along with Carone's testimony and gives her some mannerisms that highlight just how ridiculous her testimony is. "I wasn't trying to [match her mannerisms]. I do these from an auditory point of view," he told Newsweek in a phone call. "I wasn't trying to emulate her exact gestures. I was trying to naturally do what the audio was telling me to do."
Yahr explained that upon hearing Carone's testimony, he knew she was the "kind of character I could embody," and his followers also tagged him, knowing that he could nail the impression and act as "a moment of levity in this horrific year" as he put it.
The actor has shared a number of videos of him lip-syncing to the likes of Trump spiritual advisor Paula White or the woman who said that Monster Energy drinks pushed a Satanic agenda. Yahr said that bizarre conspiracies and outlandish figures are some of his prime targets, because it helps him make sense of the ridiculousness.
"There's just always been something fascinating and terrifying to me about the type of person who believe in conspiracy theories, and especially during the Trump presidency, when conspiracy theories are so mainstream now and being printed on national news organizations. I feel like a lot of people, including myself are trying to figure out how to process that and cope with that. My way of doing it is through parody. I wanted to laugh my way through the terror of it," Yahr said in a phone call.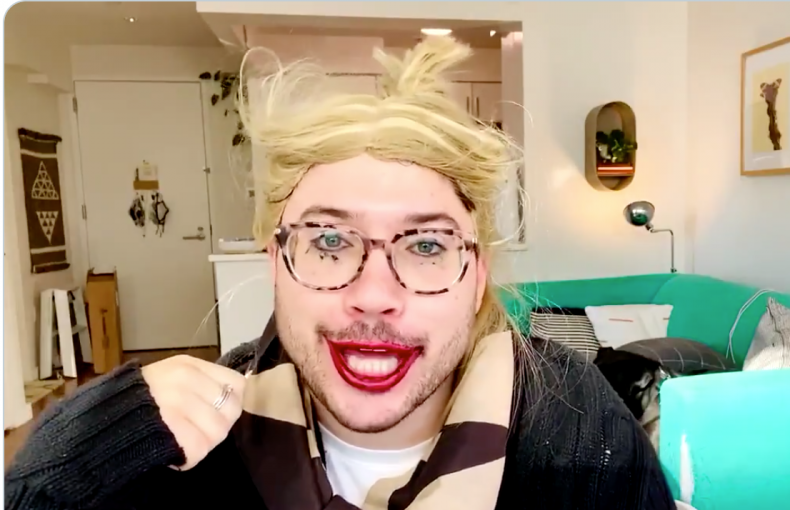 Yahr said that he was surprised to see Carone emerge in the "post-election circus," as it felt like most viral moments have concluded. "Rudy Giuliani being the biggest clown I've ever seen in my life—when I saw someone acting so messy and so chaotic that Rudy Giuliani was trying to reel her in, I couldn't believe my eyes," he said.
Yahr's followers regularly tag him to lip-sync along with various right-wing figures, but he cautiously chooses his clips so as not to spread harmful messaging. "I always want to do something that has a level of absurdity to it that it's funny and entertaining. People send me clips to lip-sync sometimes of conservative, Republican people that are spouting their nonsense, but sometimes it's not absurdist to the point of funny. It's just sad and scary and damaging. I never want to broadcast and amplify that negativity and poison," he said.
Yahr said he doesn't expect to change anyone's minds with the lip-syncs, and most of his followers tend to agree with him to begin with. He did point out another message that he felt people could take away from his videos.
"I'm just hoping to remind people that this isn't normal. Where we are in terms of what has become mainstream for Republicans to say out loud is not okay. It's not normal. It's not safe, and I just hope to be reminding that all the time, and in addition [to] making people laugh," he said.
Later in the call, he said, "There was a time when people like that kept these thoughts to themselves, where they didn't feel so emboldened and activated like they do now. I don't want to just accept that at face value. I want to say, 'No. Your racism, your conspiracy theories—all these things—do not deserve to be publicly broadcasted in this magnitude.'"
More information about Yahr can be found on his website.