'Bendy and the Ink Machine' Chapter 4 Almost Destroyed Its Creators (Exclusive)
In frigid early April, tucked away in a corner of the Boston Convention Center, Mike Mood doesn't have time to crack under pressure. The PAX East booth for his game, Bendy and the Ink Machine, teems with fans clamoring to see the creators behind this indie darling. Moms bring kids dressed in their homemade Bendy cosplay of papier-mâché devil-horned masks and black leotards, who pose for selfies with Mood. Business partners who helped bring Bendy action figures, shirts and POP! Vinyls to store shelves want to shake his hand. And all Mood actually wanted to do was head back to Canada and continue working on the game's next chapter, which he had told fans would be done "by the end of April."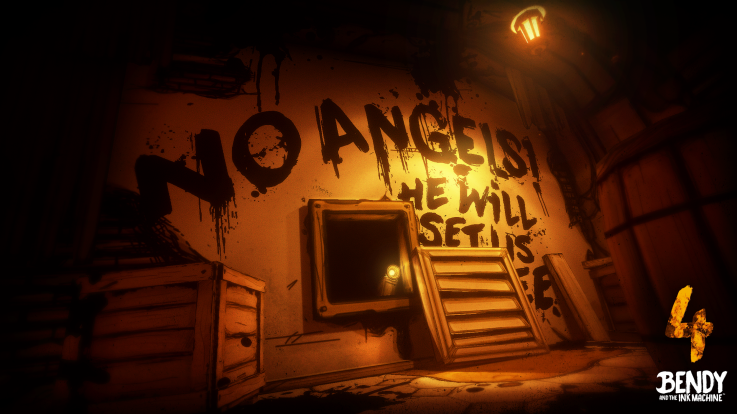 Bendy and The Ink Machine is a horror game with a simple premise: what if an artist loved his creations so much, he used demonic ink magic to bring them to life? Mood and his partner TheMeatly, who represents himself with an ambiguous puppet avatar, released the first chapter free online without expectations. Overnight, the game became a success, thanks to the help of YouTube Let's Players thrusting Bendy into the jaws of a young, hungry fan base. Over the past year, the team has released (and then reworked) three chapters, a console adaptation is in the works with Rooster Teeth and merchandise has flooded stores like Walmart, GameStop and Hot Topic.
Mood has struggled to keep up. Weeks after PAX, Bendy's newest adventure still isn't ready for release on Steam. With just days to go before Chapter 4's intended April 27 launch, Mood, sleeping on fellow programmer Matt Goles' couch, has been working overtime to make sure they hit the deadline.
Staying up till 3 a.m. every night and living off a mountain of Rockstar and Monster energy drinks, the duo scramble to finish. A save feature still had to be created, bugs continued to appear in playtests and the chapter's two bosses still had to be fined tuned. This is the first Chapter in the Bendy lineage to have traditional boss fights with combat, which meant more work for Mood.
The pair replayed the same boss fight for an entire evening, until they were delirious. "Am I having fun right now?" Gole asked Mood, who couldn't help but laugh at the question. When developers do their own quality assurance testing, the boundaries between between rewarding and agonizing behavior become unclear. They hope they get the balance right this time, but only the fans can make that distinction.
The rest of TheMeatly Games staff is still only seven deep, with 10 to 15 contractors working at all times. It's constant crunch, but it's the only way Mood and TheMeatly know how to work. The pair still do most of the coding, rigging and art work themselves, even though they don't have to. They can afford to hire more employees, but they choose to keep their team as small as possible so that vision never gets muddled.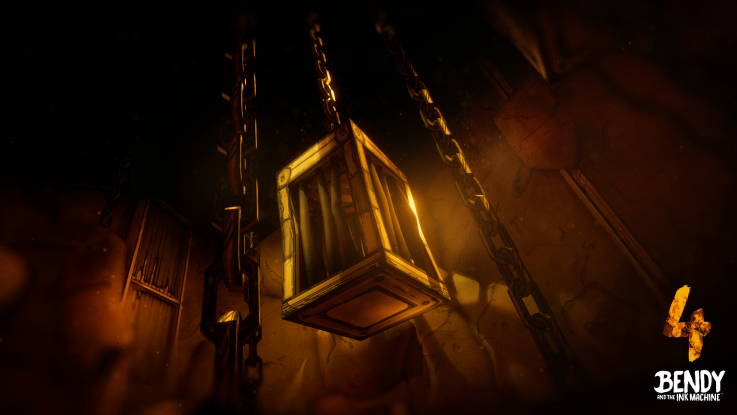 Mood missed the intended April 27 Steam launch date, even working 24/7 in the home stretch. A larger team would have certainly helped them hit that deadline, but that's just not how they work.
Chapter 4 officially released on the last day of April, completing Mood's promise to fans.
"After the release of Chapter 3, I swore I'd never work like this again," Mood told Newsweek. But with the game's console release set for the fourth quarter of 2018 and thousands of hours of work still yet to be done, TheMeatly Games can't slow down just yet.
Spoilers for Chapter 4 ahead:
For Bendy and the Ink Machine's fourth chapter, the team wanted to create something more eerie. "It's a completely new game, in terms of scale, audio, quality and horror," Mood said. Audio contractors added a level of "ambient horror" with more "jump scares that are done in a good way" to try and give Bendy some fright without alienating its young fan base. Fetch quests were unpopular in Chapter 3, so the team shifted its focus to problem-solving puzzles and high-octane boss fights.
Chapter 4 begins right after the ending of Chapter 3, with the main character Henry hurtling toward the bottom of an elevator shaft. Boris, his floppy-eared dog sidekick, is missing and it's your job to travel through the abyss to find him. You'll make your way through a haunted accounting firm, use a new weapon called the "Ink Maker" that can create objects out of thin air and find yourself in Joey Drew's sick, twisted fantasy.
"Joey Drew had a much grander vision for Bendy," Mood explained. The creator of the rascally devil planned to make an entire theme park dedicated to Bendy right before his untimely demise. The chapter was originally supposed to take place inside a warehouse, but theMeatly Game's creative director came up with Drew's love letter to the ink, alongside a scale-model city. Minigames like a strongman and ring toss were inspired by early 20th century Coney Island, which created a few unexpected problems. "Back in the 30's, everything was extremely racist for carnival games," Mood said.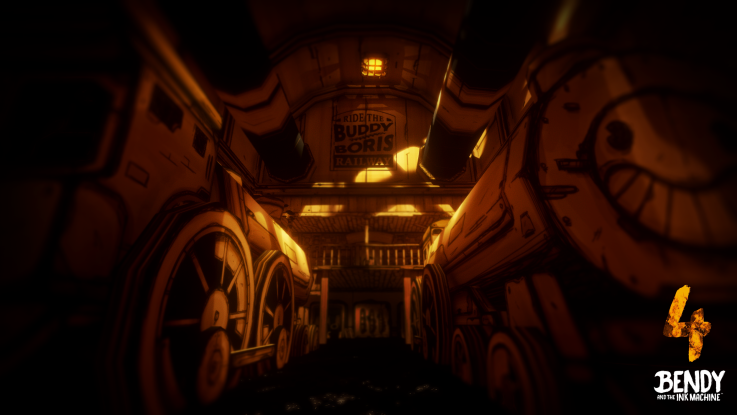 The ending to the latest chapter introduces two new characters. which Mood describes as "creepy as fuck." If the fans think the same, then he's done his job. No matter what, Mood accepts that Bendy will be part of his legacy and wants to make sure that it's perfect before moving onto bigger projects.
Find out for yourself what lurks below the ink and download Bendy and the Ink Machine Chapter 4 on Steam now.
'Bendy and the Ink Machine' Chapter 4 Almost Destroyed Its Creators (Exclusive) | Gaming