Benedict Cumberbatch writes to Santa for U.K.'s National Letter Writing Day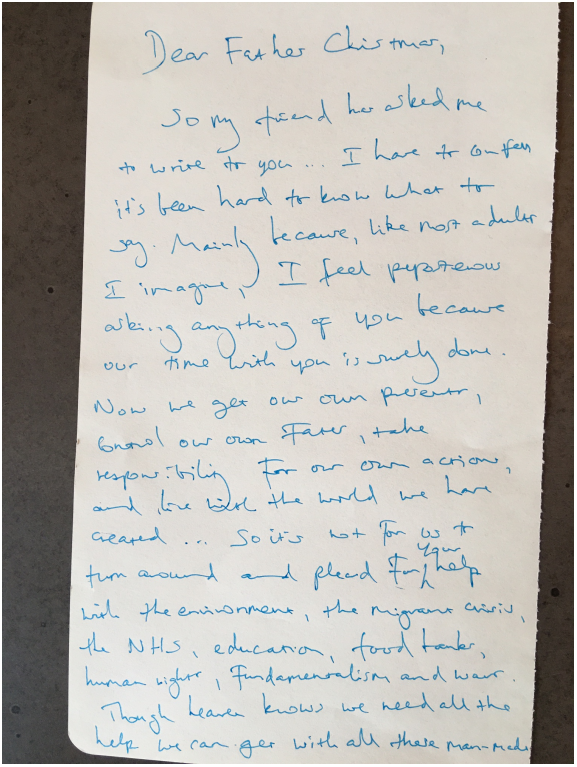 For some, Father Christmas was a mere fantasy—a ridiculous tale about a man, dressed in red, climbing down the chimney. But, for British actor Benedict Cumberbatch, the idea is very much alive. To mark the U.K.'s National Letter Writing Day on Monday, the Sherlock star penned a heartwarming letter to Saint Nick, asking him to help keep childhood "magical."
After acknowledging that it would be unkind to ask Santa to resolve just about every problem in Europe—the health system, humanitarian issues and world hunger—Benedict then asks Santa to extend the, often too brief, period of innocence for children around the world.
"It's not for us to turn around and plead for your help with the environment, the migrant crisis, the NHS, education, food banks, human rights, fundamentalism and wars," he writes. "You are for the children. Children who need some magic in a world where the borders between innocence and responsibility, playful imagination and cold, adult obstacles are continually shrinking."
Cumberbatch, who, in recent months, has been vocal about the treatment of children, in particular refugees living in Europe, asks for childhood to be augmented. "A little more time for children to be children," he writes. "Stretch the moment of magic and playfulness. Distract them from the realities of a world gone mad so that they can laugh with their breath rather than sob with their tears.
"Especially those caring for family members, or suffering illness, hunger or poverty. Especially those hiding in buildings as bombs rain down, or being handed over, shaking with fear or cold, onto a boat to escape environmental disaster or war. Please help to light up their worlds with a moment of joy and hope."
On October 12, the 36-year-old told Sky News that he wanted to "sit down" with British Home Secretary, Theresa May, to discuss the U.K.'s response to the refugee crisis.
Cumberbatch told the broadcaster that the U.K. is "not doing enough" to support refugees. "I'd like to sit down with Theresa May and get a full understanding of how her political [and] economic model works for structuring an argument that there is virtually a zero-degree of financial benefit from an immigrant population," said Cumberbatch. A month earlier, on September 11, he appeared on a fundraising video on behalf of charity Save the Children.
Benedict rounds the letter off by apologising: "I feel a little sorry for you. And I guess I've done exactly what I said I wouldn't… Asked you to help with adult problems and solve some of the greatest worries we have for our children." He adds a light-hearted touch, saying: "I promise to leave some extra port and mince pies for you!"
Celebrities, musicians and actors—including British comedian Russell Brand, Radiohead frontman and musician Thom Yorke, and singer Annie Lennox—contributed to the Letters of Noel event, a way to promote another run of the hugely successful Letters Live events in which celebrities read some of the most startling correspondences from the books.
Thom Yorke opted for a similar approach to Cumberbatch, asking Santa not to treat those, who he believes, are causing climate change. "I won¹t ask you to solve the problems of the human race. Those are our problems alone, but perhaps this year you would consider not giving any presents to oil-company executives and the politicians whose influence they buy...and for me, some reading glasses.. the blue ones."
The first 2016 Letters Live shows are held in March in London's Covent Garden and comprise six evening shows, a matinee, and a family special.