Benedict Cumberbatch Reveals Plan to Open His Home to Ukrainian Refugees
Benedict Cumberbatch has revealed that he plans to open the doors of his home to Ukrainian refugees, as Russia's invasion of the country displaces millions of citizens.
On Sunday, the British government announced a new "Homes for Ukraine" program, in which the public can welcome refugees into their homes as part of a drive to boost efforts in helping Ukrainians escaping to destinations throughout Europe.
Attending the BAFTA ceremony at London's Royal Albert Hall hours after the news broke, Cumberbatch shared that he would be taking part in the initiative.
Speaking on the annual awards show's red carpet, The Power of the Dog star Cumberbatch wore a badge of the Ukraine flag as he urged action.
He told Sky News: "We have brothers and sisters who are suffering in our industry, who are in Ukraine, or have managed to escape it, whose homes and families are at risk. And civilians at large who are being shelled and shot at and killed and made homeless without power, without water.
"It is a really shocking time to be a European, two and a half hours' flight away from Ukraine, and it's something that hangs over us."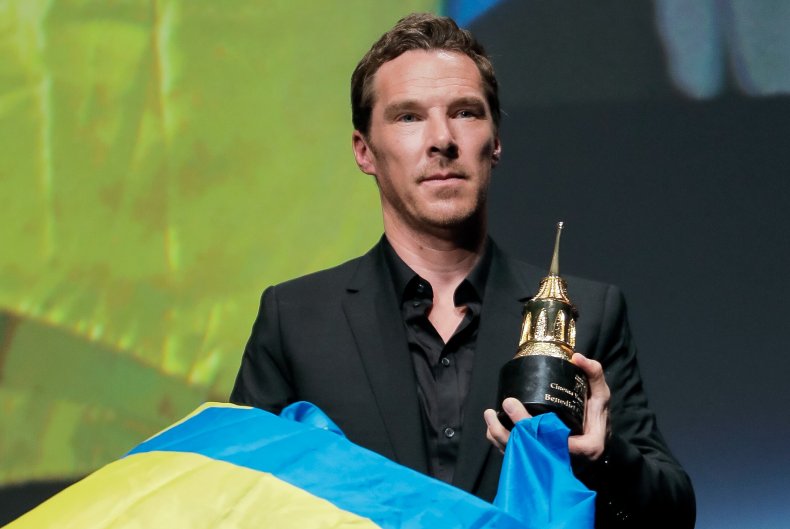 Cumberbatch went on: "We all need... to do more than wear a badge. We need to donate, we need to pressure our politicians to continue to create some kind of a safety and a haven here for people who are suffering.
"Everyone needs to do as much as they can... there's been a record number of people volunteering to take people into their homes, I hope to be part of that myself."
Those who host Ukrainian refugees will receive the equivalent of $450 a month of government funding per household to help with costs.
Cumberbatch also showed his support for Ukraine several days earlier, when he attended California's annual Santa Barbara International Film Festival.
The Oscar-nominated actor unfurled a large Ukrainian flag while attending the event as show of solidarity with the country and its citizens.
As Russian President Vladimir Putin continues his attack on Ukraine, refugees have been fleeing into other countries across Europe.
Most of the the refugees have been women and children, as men between the ages of 18 and 60 have stayed behind to fight and have been barred from leaving the country.
According to The Independent, more than 1.5 million refugees have made their way to Poland since since the February 24 start of the Russian invasion.
With 2.7 million people having fled Ukraine so far, the United Nations High Commissioner for Refugees has estimated that the number could exceed 4 million if the invasion continues.
Follow our live blog for updates on the Russia-Ukraine conflict.