Bengals, Dolphins Make NFL Draft History With First Round Picks in 2021
The Cincinnati Bengals made NFL draft history Thursday night when they selected former LSU wide receiver Ja'Marr Chase with the fifth overall pick. Combined with last year's overall No. 1 pick with former LSU quarterback Joe Burrow, the Bengals became the first team to ever draft a quarterback-receiver combo from the same college who were both top 10 picks for the same NFL team.
With the sixth overall pick, the Miami Dolphins did the same. The Dolphins selected former Alabama wide receiver Jaylen Waddle, who'll join former Crimson Tide quarterback Tua Tagovailoa, who was drafted fifth overall in the 2020 draft.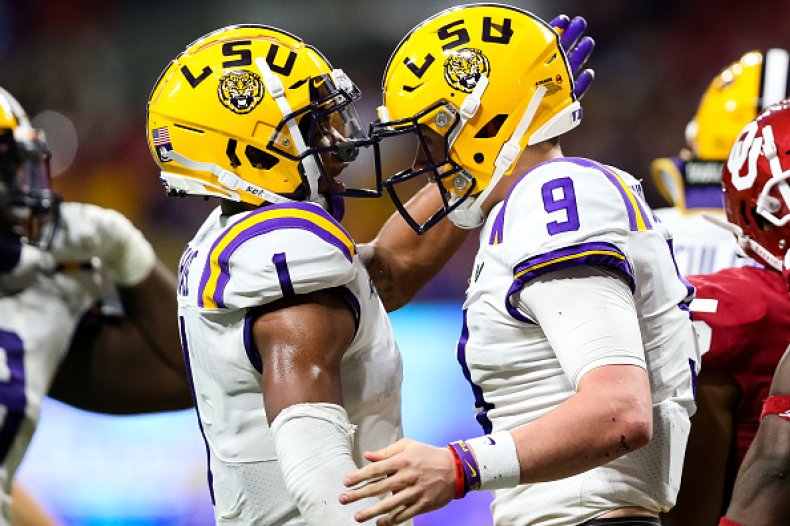 The rivalry between Alabama and LSU apparently doesn't just end with SEC West games.
The Jacksonville Jaguars selected Clemson quarterback Trevor Lawrence with the No. 1 overall pick on Thursday night. Lawrence will play for new Jaguars coach Urban Meyer, an offensive guru who won three national championships on the college level.
Quarterbacks were selected for each of the first three drafts, with BYU's Zach Wilson going second to the New York Jets and North Dakota State's Trey Lance going third to the San Francisco 49ers. Alabama quarterback Mac Jones and Ohio State's Justin Fields are also expected to go in the first round.
The first non-quarterback selected was Florida tight end Kyle Pitts, who went fourth overall to the Atlanta Falcons. Pitts became the highest-drafted tight end in the common era of the NFL Draft.
"I've been waiting for that call my whole life," Pitts said Thursday night. "I see my phone ring and it's just—felt my heart drop. It's step one into the right direction, so I can't wait to get to Atlanta and start a new journey."
The previously top tight ends were Mike Ditka (Chicago, 1961) and Riley Odoms (Denver, 1972), who were both selected fifth overall in their respective drafts.
Chase then went to Cincinnati and Waddle to Miami. DeVonta Smith, who was last year's Heisman Trophy winner, was still on the board with the 8, 9 and 10 picks coming up.
An offensive player was chosen for each of the top seven picks, with Oregon offensive tackle Penei Sewell going seventh overall to the Detroit Lions.
The Carolina Panthers broke that streak when they selected South Carolina defensive back Jaycee Horn eighth overall.
The Denver Broncos selected Alabama defensive back Patrick Surtain II with the ninth pick. The Dallas Cowboys its 10th pick with the Philadelphia Eagles, who selected former Alabama receiver DeVonta Smith, who was the Heisman Trophy winner last season. Smith will join former Alabama quarterback Jalen Hurts, but Hurts was not a top 10 pick.
The Cowboys received a third-round pick from the Eagles in addition to the 12th pick on Thursday night.