Joe Burrow Soars Into NFL MVP Race With One Game Remaining
It seems like an eternity since Joe Burrow sat in the Superdome and smoked cigars to celebrate LSU's national championship and one of the greatest college seasons of all-time. In just two years, the former Heisman Trophy winner has done the unthinkable and turned around the Cincinnati Bengals franchise.
Burrow led the Bengals to a 34-31 win over the Kansas City Chiefs on Sunday afternoon, capping a worst-to-first sequence for Cincinnati. The Bengals wrapped up the AFC North championship with Sunday's win, and they will host a first-round playoff game in two weeks.
In the process, Burrow has catapulted into the top four MVP favorites for the 2021 NFL season, according to FanDuel. Burrow is tied for third with Indianapolis Colts running back Jonathan Taylor at +1400. They trail only Green Bay quarterback Aaron Rodgers and Tampa Bay quarterback Tom Brady.
Here are the odds favorites to win this season's MVP award:
-400 • Aaron Rodgers, QB, Green Bay
+550 • Tom Brady, QB, Tampa Bay
+1400 • Joe Burrow, QB, Cincinnati
+1400 • Jonathan Taylor, RB, Indianapolis
+4000 • Josh Allen, QB, Buffalo
+4000 • Patrick Mahomes, QB, Kansas City
How do the odds work? If someone bet $100 on Burrow now to win the award, the payout would be $1,400 if he won the award. If they bet on Aaron Rodgers now, it would take a $400 bet to win $100.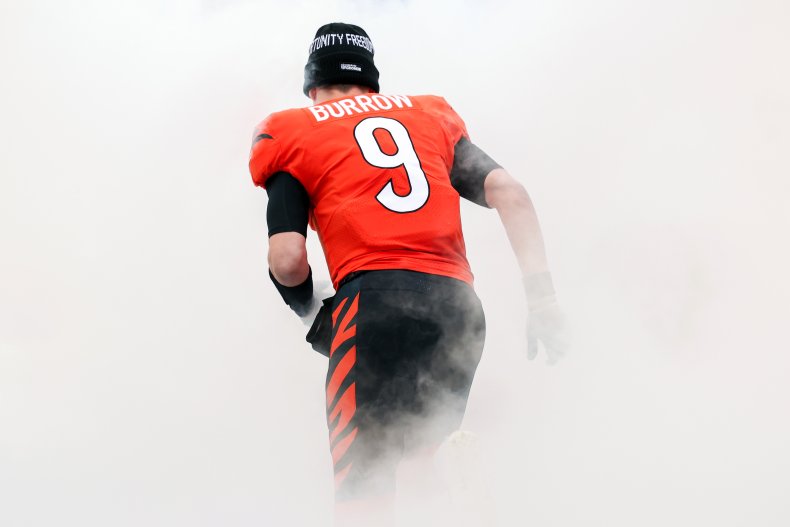 Burrow has thrown eight touchdowns and for nearly 1,000 yards over the last two games, which were both vitally important to his team's playoff hopes and a divisional championship. Here are the mind-boggling stats for Burrow in that stretch.
In a 41-21 win over North rival Baltimore Ravens on Dec. 26, Burrow threw for 525 yards and four touchdowns. The yardage was the fourth-highest ever in a single game by an NFL quarterback.
In Sunday's (Jan. 2) win over the Chiefs, Burrow threw for 446 yards and another four touchdowns. The Chiefs held a two touchdown lead at three different times, but Burrow led a comeback to knock off the two-time defending AFC champions.
Most importantly, Burrow has the surprising Bengals at 10-6 with a divisional title just two years after the team was so bad they went 2-14 in 2019 followed by a 4-11-1 campaign in 2020 that saw Burrow have a season-ending ACL injury in Week 11 against Washington.
Burrow has passed for 4,611 yards and 34 touchdowns with one game remaining in regular season. He could eclipse the 5,000-yard mark this weekend against the Cleveland Browns.
Burrow's top receiver this season has been former LSU teammate Ja'Marr Chase, who's the FanDuel favorite to win NFL Rookie of the Year, surpassing New England quarterback Mac Jones in the latest odds. Chase has 1,429 receiving yards and 13 touchdowns this season. His yardage is the most-ever by a rookie (all others only had a 16-game schedule).
The Bengals are currently third in the AFC standings behind the Tennessee Titans and Kansas City Chiefs, who are both 11-5 heading into the final week. A win on Sunday would guarantee the Bengals at least third in the AFC, but could be higher if the Chiefs lose at the Denver Broncos.
Cincinnati can finish no worse than fourth, and they will host a playoff game regardless of what happens this weekend.
Burrow led the LSU Tigers to the 2019 college national championship, winning the Heisman Trophy in record fashion. LSU's offense that season, which included both Chase and Justin Jefferson, is widely considered one of the best in college history.
Burrow was selected first overall by the Bengals in the 2020 NFL Draft.