Benghazi, Clinton Investigator Trey Gowdy Plays It Straight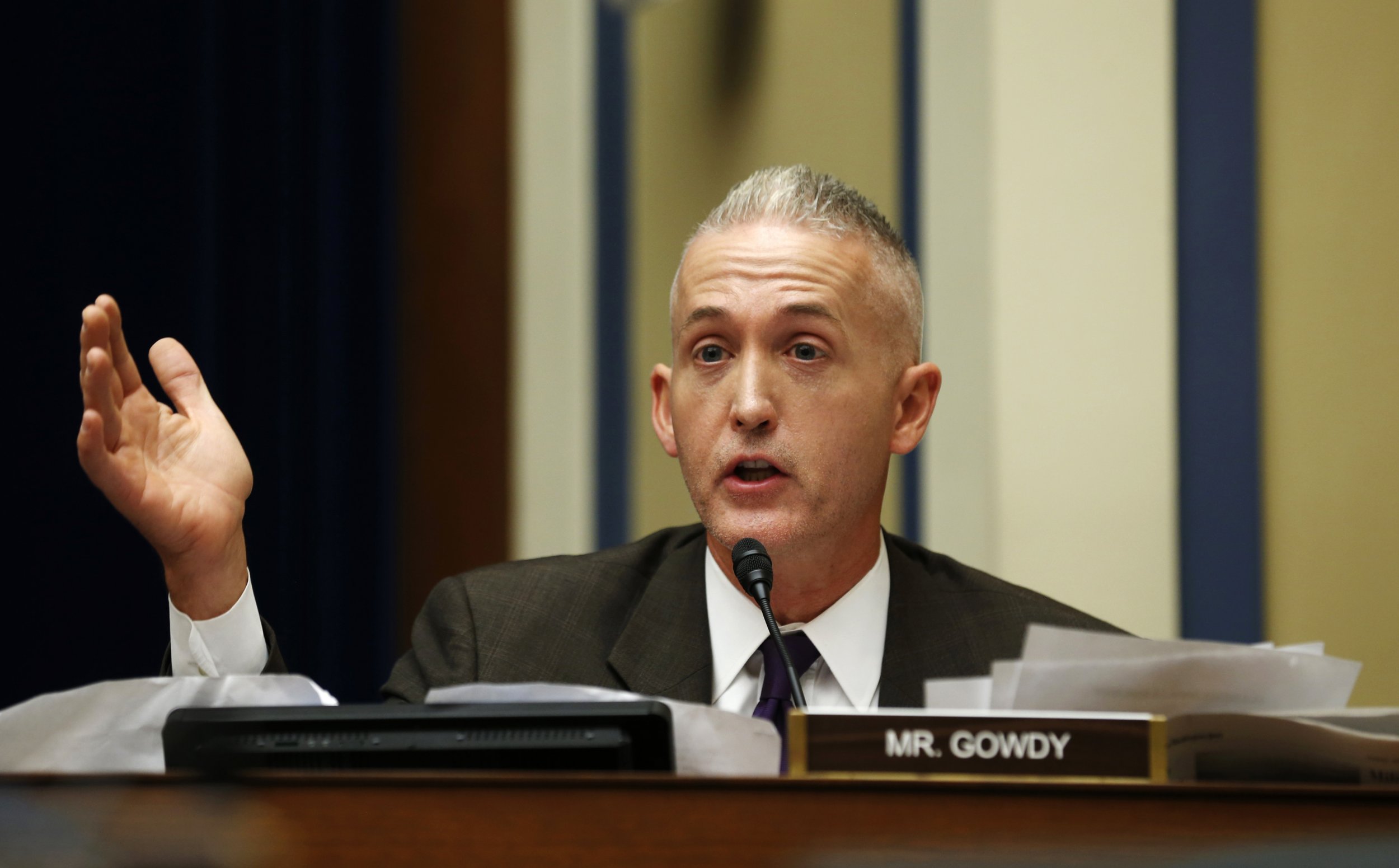 U.S. Representative Trey Gowdy, the South Carolina Republican leading the seemingly never-ending investigation into the Benghazi attacks and now Hillary Clinton's emails, has had some issues with his hair.
A few years back, it resembled a mullet, long in the back and short in front, making the skinny, heavy-lidded congressman look like the redneck groom out of a Jeff Foxworthy routine, the guy who takes his vows smoking a cigarette and clutching a can of beer. Lately, Gowdy has been wearing his hair military-style, with the sides of his head shaved, leaving a short gray tuft on top.
But don't let his low-country affect deceive you. Gowdy, now in his third term, is a seasoned former U.S. prosecutor who has built a reputation as a principled lawmaker and a hard-nosed congressional overseer.
To the consternation of some Republican colleagues, Gowdy's probe last year into the September 2012 attack by extremists on the U.S. mission in Benghazi that killed Ambassador Chris Stevens and three other Americans was a low-key affair that eschewed the partisan pyrotechnics that had animated previous Benghazi investigations in the House. But with the revelation that Clinton used her personal email and a private server for all of her email correspondence as secretary of state—including those that dealt with Benghazi—Gowdy is back in the spotlight at the helm of a revived investigation that could overshadow the launch of Clinton's expected presidential campaign.
Gowdy could prove to be Clinton's worst nightmare. He has subpoenaed her personal emails that pertain to his probe, asked her to turn over her private server for independent review and says he wants Clinton to appear before his committee at least twice next month—just when the announcement of her candidacy had been expected to drop. Gowdy also has signaled that he may broaden his investigation beyond the Benghazi attacks.
"Secretary Clinton alone created this predicament, but she alone does not get to determine its outcome," Gowdy said in a statement. "These public records at issue are broader than Libya and broader than Benghazi."
Gowdy's probe is proceeding after several independent and bipartisan investigations already concluded that the State Department provided inadequate security at the Benghazi mission and the U.S. military didn't have enough assets in the region to intervene and save the Americans. An inquiry by the House Intelligence Committee dismissed persistent Benghazi conspiracy theories, concluding there had been no intelligence failure, no missed opportunity for a military rescue and no evidence that that the CIA was secretly shipping weapons from Libya to anti-government fighters in Syria.
Yet the Benghazi issue has remained stubbornly alive, largely because Republicans insist that President Barack Obama and his top aides tried to downplay the terrorist attack just weeks ahead of his second election bid because it undercut his claim to have brought down the terrorist threat. Now, as both parties gear up for a 2016 election in which Clinton appears likely to be the Democratic frontrunner, Republicans are demanding that she be held accountable. The possibility that her private emails could provide damaging new details about her handling of the attack has only added more chum to the political waters.
Not surprisingly, the Democrats on Gowdy's special Benghazi committee are now accusing him of unvarnished partisanship, charging his investigation has become "a surrogate for the Republican National Committee" as it tries to wound Clinton's presidential bid. They're demanding he withdraw the subpoena for Clinton's personal emails, publish some 300 Benghazi-related emails she has turned over to the committee and schedule a hearing for Clinton to testify immediately to clarify any misconceptions about her handling of the attack. Their effort to vilify Gowdy's investigation appears to be part of a broader effort to put the Benghazi issue behind Clinton as soon as possible so she can move ahead with her presidential bid.
But Gowdy is hardly the partisan boogeyman these Democrats would suggest. Although he says there are long gaps in the emails she's turned over to his committee so far, he's said repeatedly he's open to the possibility that there is no case against her. He was trained as a lawyer, and says he's just looking to establish the facts of the case and go where they lead him. The political priorities of his Republican colleagues don't concern him in the least, he says. "We haven't seen obviously any evidence of a crime," he told Fox News Sunday. But he added: "I have no guarantee that we have everything that we're entitled to be able to do our jobs."
This just-the-facts-ma'am approach is consistent with Gowdy's background. After studying history at Baylor and law at the University of South Carolina, he served six years as U.S. attorney in Spartanburg County, making a name for himself by tackling—and resolving— cases that had long languished. Later, he won election as the solicitor for South Carolina's 7th Circuit. In 2010, Gowdy defeated six-term Republican Representative Bob Inglis in a runoff and then cruised to victory in the general election.
In his first term, Gowdy established a judicious reputation as chairman of the House oversight and government reform subcommittee that oversaw the District of Columbia. While his GOP predecessors often meddled in the district's affairs to win points at home, Gowdy adopted a hands-off approach, demonstrating a principled respect for local rule. Eleanor Holmes Norton, the district's long-serving Democratic congresswoman--and no fan of the city's Republican overseers--praised Gowdy as an honest "gentleman."
But Gowdy also can be a hard-charging overseer. Serving on the House Judiciary's immigration and border security subcommittee, he used his well-honed courtroom skills to grill Justice Department officials about Operation Fast and Furious, a bungled sting that allowed guns into Mexico to build a case against drug cartels. The operation resulted in the death of Border Patrol agent Brian Terry in a shootout--with marked guns from the sting being found at the crime scene. Gowdy delivered an emotional floor speech on behalf of the slain officer's family. "They want answers, they want justice, and they don't want part of it. They want all of it," he said.
Last May, House Speaker John Boehner tapped Gowdy to lead a new Benghazi probe because an earlier investigation headed by California Republican Darryl Issa, chairman of the House Oversight Committee, had become so partisan that it had lost its credibility. Gowdy held a handful of hearings in which he probed why U.S. personnel at the Benghazi mission had not been provided better security or evacuated from the city, which had grown increasingly dangerous. But his principled side was also on display when he arranged conference calls at the hearings to include Democrats who couldn't be there for personal reasons. Earlier this month, he canceled an appearance at a Republican fund-raiser in Virginia after the organizers said he would discuss the Benghazi attacks. "I have never sought to raise a single penny on the backs of four murdered Americans," Gowdy said last May on MSNBC's Morning Joe. "Even in a culture of hyper-partisanship, certain things ought to be above partisanship."
When the new Congress convened in January, Gowdy noted that his panel had received some 15,000 pages of new documents but still needed more cooperation from the State Department and other government agencies to conduct its probe. "Letters haven't worked. Southern politeness hasn't worked. We're going to ratchet it up," Gowdy said.
Predictably, his remarks sparked Democratic accusations of partisanship, including that Gowdy and his Republican colleagues had excluded the committee's Democrats from interviews with at least five witnesses and were withholding possibly exculpatory testimony. Responding to the charges that he was running a politically motivated witch-hunt, Gowdy told PBS: "To me, facts are not red or blue. They're not swing-state facts. They're just the facts."
He later reminded his critics that during the hearings he held, "I mentioned Hillary's name a whopping zero times."
The finger-pointing has only intensified now that Clinton's emails have become part of the investigation. Elijah Cummings of Maryland, the panel's senior Democrat, complains Gowdy's investigation is moving at a glacial pace to maintain a cloud over Clinton's presumed presidential bid. He says he and other Democrats have "grave concerns about the partisan path this committee has taken."
"There will be people critical of the process and the results no matter what," Gowdy told the Associated Press in response to his Democratic critics. "That's not the jury. That is not the audience. The jury is reasonable-minded, open-minded people who say, 'Show me a fair process, let me draw my conclusions and let's finally...get to the bottom of what happened in Benghazi.'"