Benghazi Hearings Put Spotlight on Democrat Elijah Cummings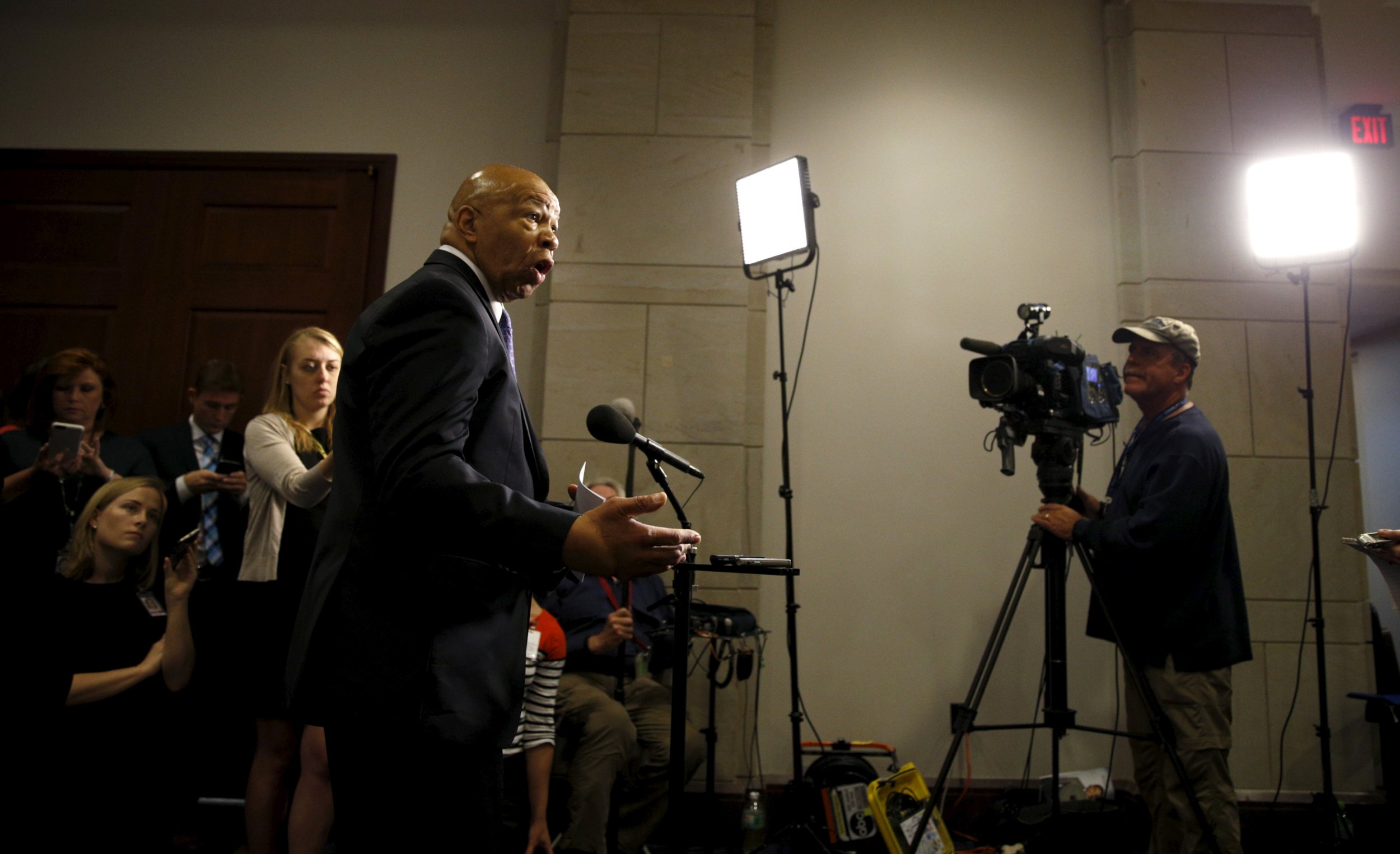 Republican Congressman Trey Gowdy was trying to remain calm Sunday on CBS's Face the Nation, but it was obvious he was growing agitated by the repeated questions suggesting the Select Committee on Benghazi he leads is nothing but a partisan sham. Interrupting host John Dickerson, Gowdy's voice cracked as he argued that two GOP colleagues who have suggested the panel's work is politically motivated weren't well-informed about its work.
Dickerson's next guest, Maryland Congressman Elijah Cummings, couldn't have offered a more marked contrast to Gowdy's edgy appearance. With his somber, even-keeled delivery and gravelly baritone, the veteran Democratic politician and one-time litigator has a knack for defusing highly charged debates. Rarely ruffled or knocked off message (except for an infamous incident when his mic was cut off at a House Oversight Committee hearing a few years back, prompting an outburst), the longtime politician has managed to come away from some of Congress's ugliest food fights of recent years looking like the adult in the room.
It's a role the 64-year-old lawmaker assumed with particular success during four years as the Democratic counterpart and frequent sparring partner for pugnacious House Oversight Committee Chairman Darrell Issa. Made wealthy through a car alarm business, Issa led fraught investigations into the IRS's targeting of conservative groups and the failed Fast and Furious gun sting as well as the security failures in Benghazi that left four Americans dead.
Now Cummings is bringing that experience to bear as Democrats' lead on the Select Committee on Benghazi (he also remains ranking member of the Oversight Committee; Issa stepped down in January due to committee term limits). Cummings's skill at turning Republican attacks on their head have already tripped up the GOP-led panel several times this year. When Hillary Clinton appears before the committee on Thursday, Democrats will once again be counting on the 10-term member of Congress to lead the Benghazi pushback.
Related: Benghazi Biopsy: A Comprehensive Guide to One of America's Worst Political Outrages
After it's over, Cummings is expected to announce a decision regarding the race for Maryland's open Senate seat. A recent Washington Post poll shows he would be the clear favorite in the Democratic primary next spring. In large part, he can thank his base of support in his home city of Baltimore for that. But the gravitas he's acquired as the Democratic face of two high-profile congressional committees certainly doesn't hurt.
When the House Republicans voted in May 2014 to create the special committee to investigate the terrorist attack on the American facility in Benghazi, Democrats were still unsure if they should even participate. They wanted an even number of members from the two parties on the panel and a limit to its duration, but they got neither. Speaking at a Democratic press conference on May 21, Cummings told reporters, "I do not believe a Select Committee is called for after eight reports, dozens of witness interviews, and a review of more than 25,000 pages of documents." However, he said, that after serving as the minority leader on the Oversight Committee, whose own multiyear investigation of the attack was highly contentious, "I believe we need someone in that room to defend the truth." The leadership appointed Cummings ranking member, the highest Democratic post on the committee, along with four Democratic colleagues. The GOP majority has seven members, led by Gowdy.
Republicans would have probably been better off if the Democrats had stayed away. After launching quietly in the summer of 2014 with a promise to avoid politics and work in a bipartisan fashion, the committee's review has become the source of divisive public debate, mostly revolving around former Secretary of State Clinton and her use of a private email server. And every move by Gowdy and his staff has been met by a muscular retort from Cummings, whose minority has set up what amounts to its own Benghazi rapid-response operation. "His experience…has come in very handy in being able to anticipate what the Select Committee would do, in knowing what requests to make in terms of process," says Congressman Adam Schiff, a member of the Select Committee as well as Democrats' ranking member on the House Intelligence Committee.
With no bills to write, few public hearings to consume their time and staff leading the panel's 54 private interviews conducted to so far, most of the minority's focus has been on providing counterpoints to Republicans in the media, painting the investigation as a fishing attempt to tarnish Clinton. Democrats' emphasize, for example, the preponderance of State Department officials the committee has interviewed versus just a handful of Pentagon and intelligence brass. And they've released additional documents and context in response to selective GOP releases. "Much of our time is spent responding to misleading leaks," says Schiff.
A recent example: the juicy news, leaked to the press in early October, that informal Clinton adviser Sidney Blumenthal had sent a note to the then-secretary on her private email account that named a CIA source. Contrary to Clinton's protestations that she never sent or received classified information on that account, the name of a source is "some of the most protected information in our intelligence community," Gowdy wrote in a letter he sent to Cummings that was obtained the same day by several press outlets. Direct hit.
Or maybe not. The State Department and CIA were conducting a second review of that Blumenthal communiqué and other emails for public release. Ten days later, on Saturday the October 17, the CIA told the committee that the information in that particular note, including the source in question, was not classified. Cummings didn't waste any time, penning a letter posted on the select committee minority's website early Sunday contradicting Gowdy. "The problem with your accusation—as with so many others during this investigation—is that you failed to check your facts before you made it, and the CIA has now informed the Select Committee that you were wrong," he wrote.
Gowdy quickly responded with his own letter, saying Cummings was being misleading and suggesting that the information could still be sensitive or classified, even if the CIA didn't require the name to be redacted. But the focus of the discussion had shifted: from Clinton's potential malfeasance to who had redacted the information and whether it was necessary. To make matters worse, Gowdy posted the original Blumenthal email—including a subject line naming the source in question—along with his retort to Cummings online, revealing the very name he'd accused Clinton of endangering.
The episode is strikingly reminiscent of another Benghazi investigation snafu. In 2012, Issa's House Oversight Committee posted more than a hundred pages of State Department memos and emails that ended up containing a number of individuals and groups the Americans worked with in Libya. Issa's wound was entirely self-inflicted, but Cummings and other Democrats pounced immediately, emphasizing the error was the outgrowth of a bungled attempt to smear the Obama administration. Issa's series of headaches leading the Benghazi investigation contributed to Republicans' decision to back a select committee to take over the review.
But Cummings has proven to be equally deft in the newest committee, as well. A review of his public statements and press releases reveal that, after an initial lull, he and his Democratic colleagues ramped up their counteroffensive this past January, as comity on the panel broke down. Democrats complained their push for committee rules was rebuffed, and Republicans excluded them from initial witness interviews. Democrats also protested that Republicans on the committee "started leaking information, all the while…protesting they were not leaking information," as Schiff describes it. Republicans counter that those early interviews were informal, and note Democrats have been included in all 54 transcribed witness interviews they've conducted. And one GOP aide suggests that Democrats, themselves, started playing politics—growing more combative as party leaders grew worried the early cooperation was lending the panel too much legitimacy. By March, when the committee leaked the news it had discovered Clinton's private email server, any hint of bipartisanship had been snuffed out.
"It is worth noting that following [former Clinton chief of staff Cheryl] Mills's testimony to the Benghazi Committee, she thanked the committee for its 'professionalism' and 'respect,' and the work the committee is doing," Select Committee Republicans' spokesman Jamal Ware said via e-mail. "This is a far cry from the Democrats' deliberate misrepresentation of the committee's investigation."
Clearly, the bad blood between the two sides has continued to build, but Cummings and his members have remained disciplined about not letting their pushback get too personal. Asked Sunday on CBS if he thinks Gowdy has been acting in bad faith, Cummings paused, then replied, "I think Mr. Gowdy is a good man, I think he's been pressured from the right." It's a strategic calculation as much as an ethical one: It's harder to accuse the other party of slandering a political opponent when they're engaged in the same sort of rhetoric.
Schiff, for his part, ducks a question on whether his GOP counterparts are being disingenuous in insisting they only want the truth about Benghazi.
Instead, he pivots to Republican Majority Leader Kevin McCarthy's ill-fated Fox News interview, where the erstwhile House speaker candidate linked the committee and Clinton's plummeting poll numbers. "I think that Representative McCarthy spoke the truth," Schiff says, "and I think that's what's so galling to the committee, because their own leadership said to the committee, 'The emperor has no clothes.'" That's proven to be Democrats' most potent weapon of all.