Here Is Why Netanyahu Is Staying on as Israel's Prime Minister—Despite Dead Heat With Rival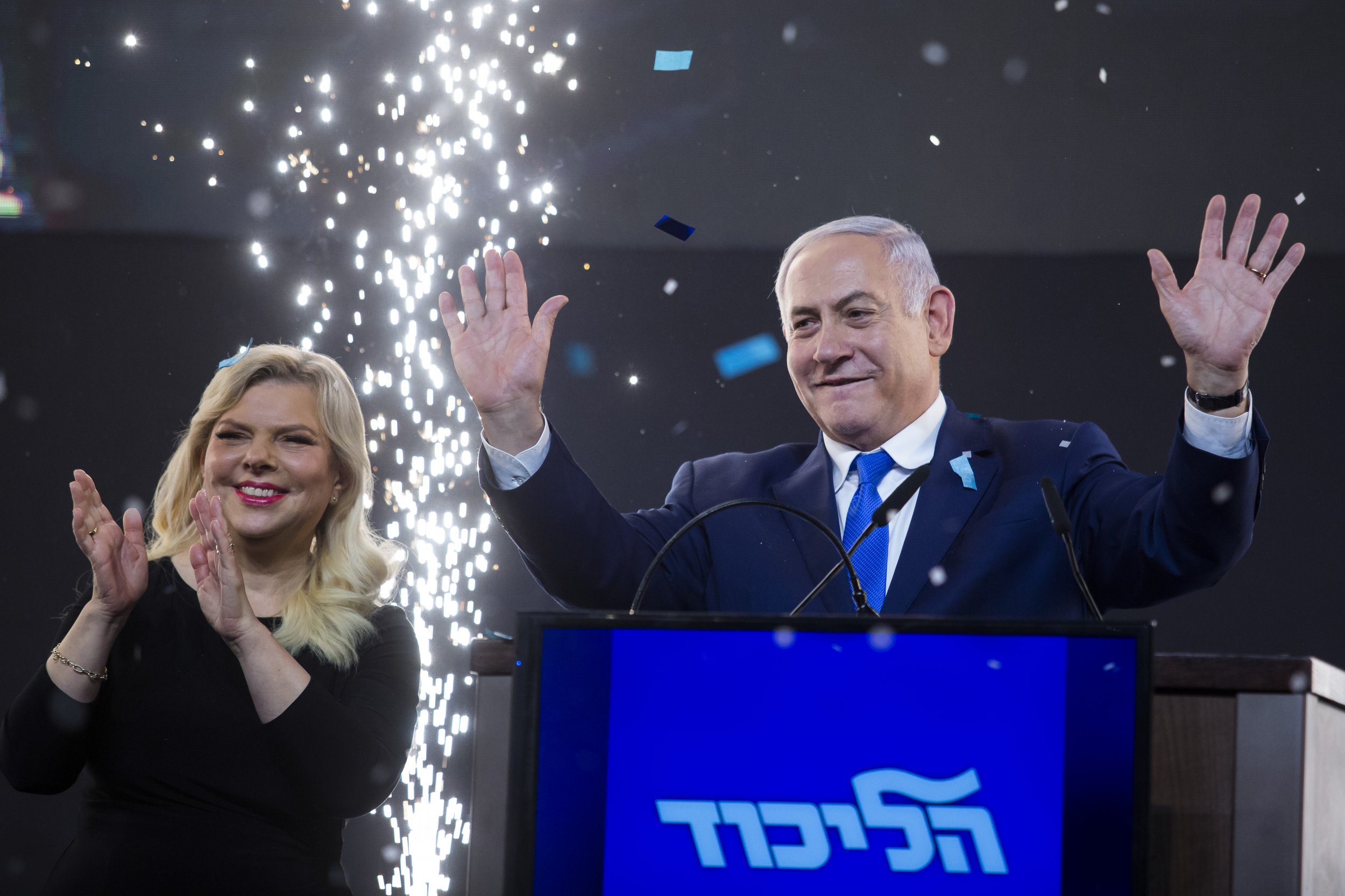 Israeli Prime Minister Benjamin Netanyahu looks to have secured his fifth term in office, putting him in position to become the country's longest ever serving premier.
Israelis went to the polls on Tuesday to select their new leader, with Netanyahu and his center-right Likud Party running neck and neck with his prime challenger—former Israeli Defense Forces General Benny Gantz, who leads the Blue and White coalition.
Pre-election predictions of a dead heat between the two military veterans proved accurate. With around 97 percent of all votes tallied, Likud has secured 26.27 percent of the ballots, giving the party 35 seats in the 120-seat Knesset, according to the parliament's website. Gantz's Blue and White coalition won 25.94 percent, which would also give him and his allies 35 Knesset seats.
Though Likud was unable to best Blue and White, Netanyahu's wider right-wing coalition—of which he is also the leader—means the 69-year-old has a clear path to forming a majority government.
Netanyahu—who has shepherded his party and country markedly to the right since he was re-elected in 2015—secured alliances with a number of far-right and ultra-Orthodox parties in the lead up to the election. Between them, five such parties managed to win around 30 seats. Their support would put Netanyahu over the 61 needed for a majority.
Once all the votes are in, the leaders of each party that secured a seat in the Knesset will meet with President Reuven Rivlin. Each leader will tell the president which party head they think should be invited to form a government.
Even before the polls opened, many analysts gave Netanyahu the best chance of garnering the support of his fellow lawmakers, and these predictions now seem to have come to pass, even though he is facing bribery and fraud indictments.
Netanyahu lauded the result—which was his best ever return—and his party's best since it won 38 seats in 2003 under the leadership of Ariel Sharon. "I am very moved on this night," Netanyahu told gathered supporters on Tuesday. "This is a night of an incredible, incredible victory."
The veteran politician said the exit polls suggested a "fantastic achievement, an enormous achievement, which is almost unfathomable," and praised his supporters for their success despite a "biased media."
A spokesperson for the Central Elections Committee told The Times of Israel that all votes would be counted by Thursday afternoon. Coalition talks are already underway, but it could take weeks for Netanyahu's discussions with his various allies to produce a working government, The Guardian noted.
According to Tel Aviv University and IDC Herzliya lecturer Emmanuel Navon, the only question is "the political price [Netanyahu's partners] will exact from him." Navon told a press briefing Wednesday that Netanyahu was now is "a shoo-in to form the next government," though that may well demand that his coalition partners do not topple the government if and when he is indicted.
This article has been updated to include comments from Emmanuel Navon.