Benji Madden on Good Charlotte's Comeback, Cameron Diaz and Society's Celebrity Obsession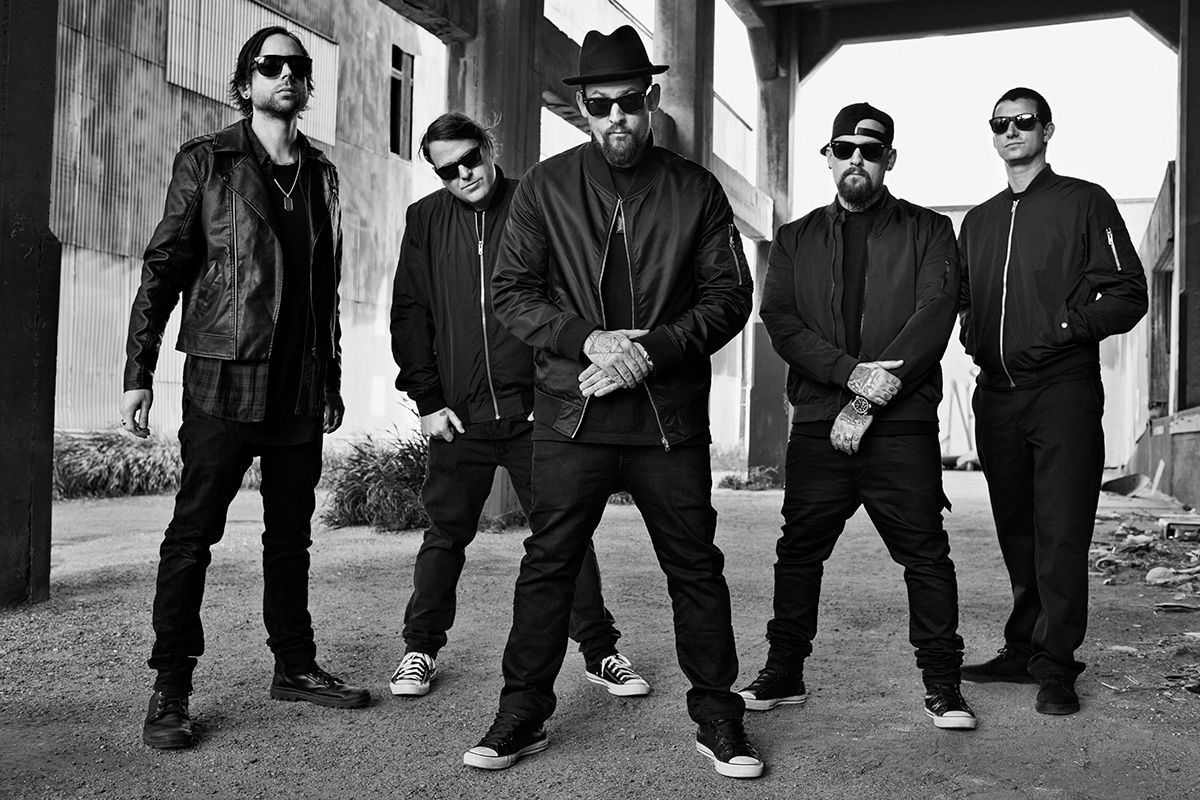 In September 2011, the members of the American pop-punk band Good Charlotte, including Benji Madden and his twin brother Joel, decided it was time to put the group on hiatus. Truthfully, Madden now admits, he didn't know if "we were going to come back." Burned out by the music industry's focus on money making, the band had lost their creative drive.
Good Charlotte was formed in smalltown Waldorf, Maryland, in 1996 by the then-teenage Madden brothers, bass guitarist Paul Thomas and drummer Aaron Escolopio (who left in 1998). For the brothers, it was a way of escaping a tumultuous youth—their father Roger Combs walked out on the family on Christmas Eve 1995, their mother Robin was in and out of hospital battling autoimmune disease lupus, and they were evicted from their home. But by 2011, "we let people take our band away from us," Madden tells Newsweek .
With their anarchic punk-rock image—lip piercings, spiked hair and tattoos—Good Charlotte began their careers performing small shows, which ultimately led to recognition by the music industry and a record deal. Their self-titled debut album was released in 2000 and received high praise, yet its sales remained modest, selling just 500,000 copies in the U.S. It would be the band's second album, The Young and the Hopeless , released in 2002, that would really signal their arrival in the music business, domestically and internationally, charting at No.7 on the Billboard 200 album chart, and selling 4.9 million records worldwide. Joined by rhythm guitarist Billy Martin—who remains a member of the group along with drummer Dean Butterworth, recruited in 2005—the band enjoyed a string of hits from the album, including "Lifestyles of the Rich and Famous," that perfectly fused catchy pop melodies with booming rock guitars and drums.
The band would continue to record and tour together for a further seven years, releasing three more albums, but Madden admits the sheen of Good Charlotte had started to dissipate in the latter years. The group started to succumb, as many do, to the bottom-line-driven machinations of record industry executives. That's when Madden knew it was time to exit stage left.
Good Charlotte was put on the backburner but Madden, now 37, never truly left the spotlight. He and brother Joel released music as a duo, The Madden Brothers, and in 2015 he joined Joel as a judge on singing reality competition The Voice Australia . His name has also remained in the headlines due to his high-profile marriage to Hollywood actor Cameron Diaz in January 2015 following a whirlwind eight-month courtship.
With Good Charlotte marking their 20th anniversary in 2016, ending the band's hiatus finally made sense. The band announced their return in November 2015, and will release their first record in five years, Youth Authority , Friday. Although they've been down this path before, this time they're fully in control—the record will be released through the brothers' own independent label.
But even with a new album, Madden believes Good Charlotte's role in the music world has changed—hardened by their past experiences, the group hopes to act as mentors to younger acts; the Maddens have set up a music management company MDDN which counts British singer Jessie J among its clients, as well as younger artists such as Sleeping with Sirens. "I think our mistakes and failures were more important than our wins because we have them to share with younger artists now," Madden says reflectively.
Newsweek: Good Charlotte is back and you have a new mission statement—you want to guide young artists. What spurred that decision?
Benji Madden: We feel like we have this new quest in our careers to tell artists the truth—to take our experiences and share them with younger artists and help nurture [them]. How many people survive this career? They may be alive, but do they really survive? Elvis [Presley] died overweight, on a toilet, as bad as that sounds—he was one of the greatest of all time. Michael Jackson, I feel like he was almost not really here long before he passed away in such a bad way. All these artists were chewed up and spat out.
We went into the world and got served. It was a rude awakening in so many ways. We had all the success a couple of records in. In a very genuine way, we really wanted to make people happy, we wanted approval—the label, the industry. The last couple of records we were making for other people, not for ourselves. We were trying to have a hit so people would say "good job.'"
So, my brother and I feel blessed to have survived and still have loving, connected relationships with each other, with our wives, with our family. We feel like: "Hey, there are a lot of artists who might be able to use our experiences." We've been able to withstand a lot of things in the industry because we had each other. We feel protective of other artists.
That led us full circle back to this place where all of a sudden Good Charlotte belonged to us again and it felt like it was time. I don't think this happens for a lot of bands but we outlived all of our [record] deals so we decided to go independent, we have our own label. It didn't feel exciting to move laterally to another major label.
The late music legend Prince highlighted how important it is for artists to protect their legacy and own their music—he famously kept his music off streaming services such as Spotify and YouTube. Is that part of the appeal of going independent—to be more in control?
Prince led by example. As prolific as he was as an artist, he was just as courageous in the business. As artists we need to stand up for each other. This is not a business that is set up in favor of artists. It's important for artists to value themselves—whatever that means. Everyone's going to take that in a different way. If you don't value yourself, you will be bought and sold.
Where does the new music fit into all of this? Is it secondary to your mission as mentors?
I don't feel [ Youth Authority ] is going to be our most successful album ever…I don't think it's going to not be successful but will it be our biggest album in our career? It feels like the most successful because we've made it special again. The reason for Good Charlotte in 2016 is to help lift the younger bands coming up. [Indeed, the Maddens manage younger bands like Waterparks and Sleeping with Sirens and enlisted the latter group's frontman Kellin Quinn to feature on the track "Keep Swingin'" on the new album.]
I don't know how many more records we'll make. I can't see us doing this too far past 40. But I think we have a few years left in us—maybe we'll make another record—but I think we are transitioning into a different role.
Youth Authority was important for us to go out the way we came in. It was really important for me that Good Charlotte, when we close the book, we go out on our terms.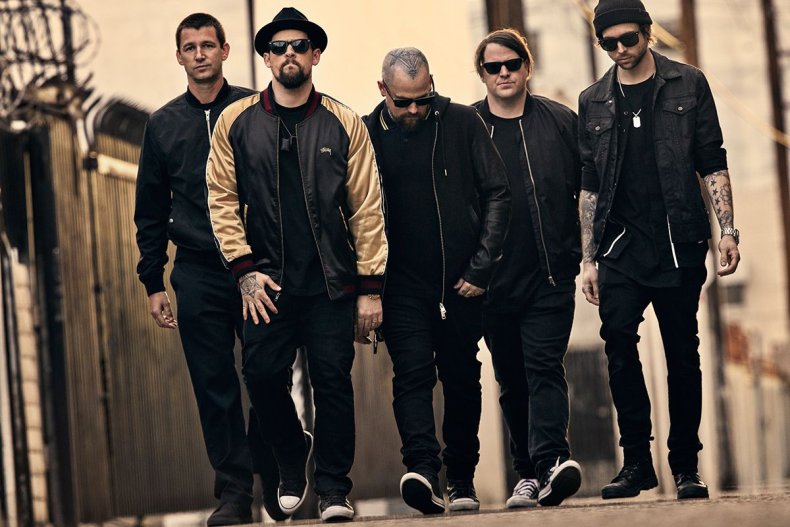 What was the recording process like this time after such a long absence?
One thing we decided when we made this record is that we were going to do it old school. One of the most harmful things in the music industry is "record-by-committee," where 10 people from the label gather around and they make you write a 100 songs and decide which one's a hit. That takes the inspiration out of it.
Our first three albums we wrote a song and we recorded it. We had 13, 14, 15 songs. It was instantaneous. On this record we decided we would do it like that again. You can hear the energy on the record.
The title Youth Authority is significant given the goings on in America—the youth is engaging in the upcoming presidential election and speaking out on civil unrest on social media, for example. What does the title mean to you?
Youth authority is happening all around us. We came from nowhere, we were poor. Now I have an education, I have a doctorate now in the fucking music industry. I have the best education I could ever ask for. But we came from nowhere.
Youth authority is the idea that there's a kid out there right now who has a guitar, or a microphone, or a laptop, with a dream that is going to beat the odds. The youth is always going to decide the future. Youth Authority felt appropriate for where we were coming from and our idea of what we want to do in the music industry: helping lift up younger artists.
"Lifestyles of the Rich and Famous," one of Good Charlotte's most popular songs that reached No.20 on the Billboard Hot 100, was released in 2002, yet it still feels relevant today. We as a society seem to be more obsessed with celebrity culture than ever before.
I think the idea of that song is always going to be relevant. It's the haves and the have-nots. We were saying in that song, "Be thankful for what you've got; if not, we'll take it."
I think it's a very unhealthy trend that will eventually be broken when people realize how hollow it is for our minds, it's very cancerous...it's like fast food. Fast food companies are trending down, lots of places are going out of business. People figured out: "This is killing us, it's fucking terrible." The celebrity obsession is doing the same thing for our minds—it's very hollow and I think that trend is going to break soon enough.
You have a front-row seat to celebrity obsession—your wife is one of the most talked-about women in the world. How do you think she manages to deal with that?
I'm extremely proud of what she uses her platform for. She just released The Longevity Book, and before that she had The Body Book [a lifestyle guide to diet and health], and she spent thousands of dollars doing all the research, to get information to share with women who don't necessarily have the resources to get that information. She's a modern day feminist—she wants to change the conversation that's being had about women and ageing. With The Body Book, she wanted to share all this information she has gathered over the years with women so they can live happy, pain-free lives.
I'm proud of her because of what a light she is in a world where it would be so much easier to use that stage to promote products. But she's using that platform she has to share positivity. It's been one of the most inspirational things in my life watching a woman be so courageous...she's got so much integrity. I'm a lucky guy that I get to experience that.
And what about your relationship with Joel? You work together on Good Charlotte and The Voice Australia—do you ever fall out?
It's definitely gotten easier as we've gotten older. We enjoy working together. We never fall out, but we fight sometimes—but that's normal. It's nice to be real with someone and never worry you're going to break up.
Man, I wish that Liam and Noel [Gallagher] could figure out how to communicate with each other. They're the absolute best. They're the last true rock stars. They make incredible music when they actually focus. I wish we could spend a weekend with them, me and Joel.
Are you suggesting an intervention?
Not even an intervention. But I think everyone wants to feel appreciated in life. I guarantee, at the heart of it, they really do love each other. Listen to those records, man. Listen to them playing on those Oasis records. I would give anything for one more Oasis record, one more classic.
Good Charlotte's sixth studio album Youth Authority is out now.